HONG KONG – A few years ago, you may or may not have seen the viral photos going around of a giant KAWS Companion floating about in the waters of Seoul, Taipei, Japan and Hong Kong. If you loved it, then you'll love everything else conceptualised by AllRightsReserved (ARR), a Hong Kong-based creative studio.
Founded by SK Lam, ARR's aim is to seeks collaborators with different creative individuals and collectives. Since 2003, ARR has designed and organized numerous bespoke branding and marketing solutions for leading international labels, and has found success thanks to their network of friends and colleagues to help engineer the most relevant and potent projects.
We spoke to ARR founder SK Lam about what lies in the future of ARR, how they've dealt with the COVID-19 pandemic, and how design will save the world. SK Lam was also recently featured as part of Hong Kong's annual Knowledge of Design Week. Read the interview in full below: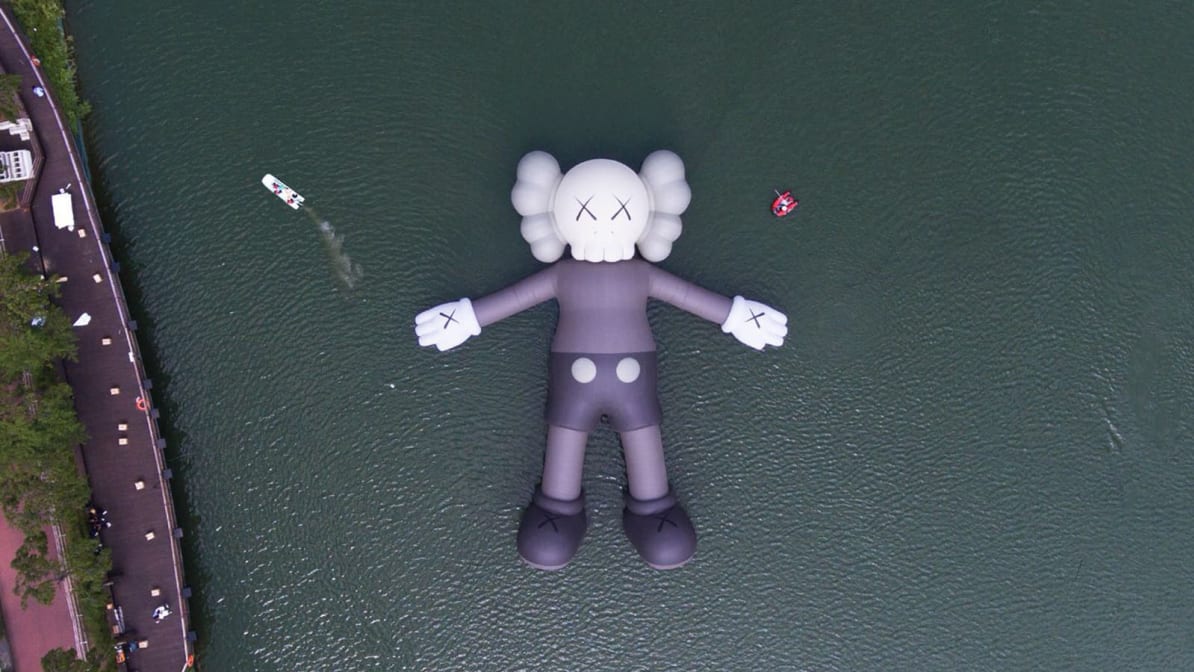 Bakchormeeboy: ARR is best known for large scale installations, such as the KAWS floating sculpture. In a time of COVID-19, are such spectacles still viable? Or is there a need to innovate within the digital space to create similar spectacles online instead?
SK Lam: Monumental installations are one of our favourite works, we are happy to share with the audiences around the world and good to see such appreciation. Creating an installation for the city is interesting. The work itself looks like an observer to accompany and grow with the city, especially a permanent piece.
In a time of COVID-19, people might find it hard to walk by and visit the installation outside. Yet there is always no standard and boundary for creative projects. The need for innovation is greater than ever. People are changing and the digital experience is now transformed. Like the recent KAWS:HOLIDAY SPACE and EXPANDED HOLIDAY projects that we collaborate with KAWS, I believe the digital innovation going beyond the larger public and amplifying the projects to historic levels. People can still experience safely from home and engage with the work through the innovation of augmented reality and social media. It's always excited to explore the evolution of digital experiences. 
Bakchormeeboy: ARR has launched the DDT Store online. What spurred this idea, and how do you see it as different from say, putting these art products on a pre-existing sales channel? 
SK Lam: The world keeps changing in different ways. It's like the shift from painting to photography. It's good to have our own platform and distribution channel, DDT  Store, to deliver our creative ideas and reach the potential audiences. Art is a universal language. We found that people are looking for art collectibles with the uniqueness that worth collecting. The art piece itself projects one's tastefulness and improves quality lifestyle. People can more easily access art nowadays as there are more platforms and ways of production or fabrication. They can own small piece in their home or office. That's good. 
Bakchormeeboy: Launching an online store comes with its share of challenges – beyond the creative design, ARR also has to deal with the business aspects of it such as manufacturing and marketing. How has the team been handling these new responsibilities? 
SK Lam: We have to customise for each work and spend a lot of time thinking and building. Nothing is impossible just challenging. We consistently reach out to wherever creativity occurs, working with artists and creatives from all over the world in a spectrum of disciplines – painting, sculpture, installation, photography, digital art and more. Incorporate art into our everyday lives from creative development, production and manufacturing, strategy planning, marketing and PR communication to e-commerce distribution.
Bakchormeeboy: Hong Kong is home to many creatives and up and coming designers. How does ARR still support them, in terms of hiring and getting them prepared for the outside world?
SK Lam: In the last 20 years, the creative industries in Hong Kong created lots of interesting works. We are just facing a huge challenge at this moment to keep on and be more competitive. Hong Kong still has the advantage in terms of location and opportunity. It's still one of the biggest and active cities among Asia-Pacific regions. Art Basel has been held in Hong Kong for years and people are still investing and focusing on monetary value. Yet, it's a pity we didn't have much support for creatives and artists, they have to be on a difficult road. 
It is meaningful for us to do a good cause for the local community. In June 2020, we have been joining the social effort to combat coronavirus through the campaign "MEET AllRightsReserved", an online auction collaborated with Sotheby's to let the public bid from a variety of iconic collectibles which had brought rounds of buying frenzy since their release, in support of families with members who have lost their jobs or businesses due to COVID-19, or have been infected by COVID-19.
Bakchormeeboy: ARR is committed to growing the creativity, content curation and exciting possibilities for experimentation. Could you talk more about the initiatives? 
SK Lam: The scene has been changed since the COVID-19 outbreak. We still cannot foresee the future whether it can be sustained or eliminated, I just hope people with aspirations could save and restore the atmosphere for the city. Luckily we can still work on the projects being appreciated. We will just keep doing anything interesting and what we want, be passionate for creative and look into details for perfect work.
Bakchormeeboy: What would you say is the core design philosophy behind ARR – what allows the studio to remain relevant over the years and stay ahead of the game?
SK Lam: It's just a process of trial and error and an experiment for us. If you don't try, you will never figure out the problem. I would say the value and public engagement of the projects is far more important than the result. We should have a vision to build a better space together and not only look for the monetary value.
SK Lam spoke as part of From Content Curation to e-Commerce: New Future of Contents on 26th August 2020. Find out more about AllRightsReserved on their website, Instagram and Facebook.
KODW 2020 takes place online from 26th to 29th August 2020. Register for free on their website here