Headed by British film director Steve McQueen (12 Years A Slave, Widows), this November, the BBC is releasing a brand new miniseries of five films centering on London's West Indian community between the late 1960s to the mid-1980s, and characters showcasing immense force of will to make it on their own despite the rampant racism and discrimination faced.
Among these films, mainstream audiences are most likely to recognise the stars of Mangrove (episode 1) and Red, White and Blue (episode 3), starring blockbuster film stars Letitia Wright (Black Panther) and John Boyega (Star Wars) respectively. While Wright stars as Altheia Jones-LeCointe, former leader of the British Black Panther Movement, Boyega takes on the role of Leroy Logan, a figure who may be less known, but is by no means less influential in his own way.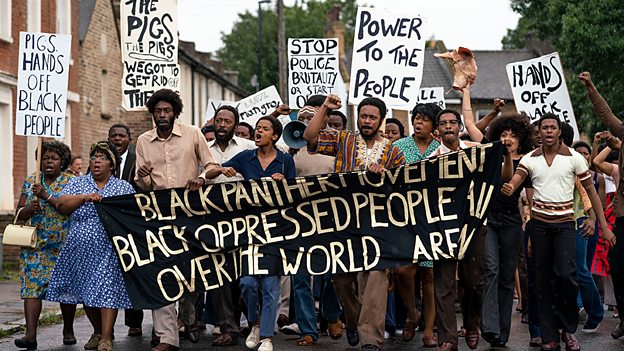 Leroy Logan is best known as a former forensic scientist who makes the surprising decision to become a cop. Experiencing the violence and overbearing racism firsthand when his own father is assaulted by two policemen, he wishes to use his position as the lone black man in the force to change racist attitudes from within. Naturally, there is plenty of room for drama here, not only from the blatant racism he faces from his colleagues, but also his own father's disapproval and discrimination from the community labelling him as a turncoat and traitor to his race. 
While it can be hard to carve out a career for yourself after being forever immortalised as a character in a major franchise like Star Wars, John Boyega's performance in Red, White and Blue is all the proof one needs that he's a man of immense talent and capability, bringing the intensity of Leroy's rage and frustration with the system to the screen. There is a deep complexity to his performance that we see in almost every scene, levelling with himself as he continues to stay in the force despite the hurt and pain he witnesses, from racist locker room graffiti, to a life-threatening lack of backup when he calls for it. That's not to say the film doesn't have moments of levity too, with Boyega capturing the comfort of his personal relationships within his family, and the bond he shares with his fellow minority officer, an Indian man who faces similar degrees of racism when asked not to use urdu to speak to victims of a racially-motivated attack. Leroy is told it is better to blend in, but it's the last thing he can or wants to do, and if anything, this is a film that convinces us that as hard as it gets to fight the system, it has and always will be a necessity to see change. All it takes is someone to dare to take the first step, and set an example for the rest to follow.
In a Zoom interview session we sat in on, John Boyega shares more about his involvement in the film and black representation in the media. "It was really about his decision making, you have to understand that this is a black man that decided that, especially when your community, your people don't really support this institution, you decide to join. Especially when your father goes through a personal experience in which he is assaulted by two police officers and you still decide to join," says Boyega. "So I wanted to understand the man behind that decision, the man that's strong enough to swallow the conflicts and give us the representation that the police force needed, and those questions just based on me just being honest, saying "Bro if it was me, I probably wouldn't handle it like this, but why did you make those decisions you made" and understanding his intention really informed me about, you know, making sure the portrayal was accurate."
"It's a conflicting position because if you think about it, if many of the individuals that joined the police force at that time as well including Leroy, decided to stay home, we might be having perhaps a different conversation in terms of the way police relate to our people specifically," he continues. "Maybe that culture wouldn't have been so integrated now to the point where we can sometimes see a familiar face or we know someone's coming. I have a friend who's a police officer, and there are people that grew up the same way we grew up, which I think is very important to have on the other side. So it definitely was a conversation that went back and forth between us, for me it's just to understand so that when I'm portraying this guy, I can't show you guys what I don't believe for, at least what I don't trick myself to believe sometimes as playing these characters, so it was just about backing up that process with really tangible dialogue."
"I think the most beautiful thing about this, and this is why it's so important for us to continue to do stories that are of us, is because on set, you have discussions of relation that helps you get closer as characters. I had to speak to him about my father and our dynamic and he spoke to me about his father and their dynamic. And we were always either laughing about something we went through, or it was a serious chat about a real fundamental moment. I think there's a part in 'Red, White and Blue' where he (Steve) says "If you dig grave and you've got your education and that's all you've wanted to do, then that's your choice to dig a grave but if you're going to have no education and you're there, it feels like it's suppressing energy". That's a story that Steve told, so straight off the back Steve's just like yeah, leave that in, leave that in the scene. So it was a lot of spontaneous conversation and just creativity."
Compared to the ways that the USA has seen racism, backlash and how it has presented itself this year, the UK has seemingly been able to better handle the need for greater representation and platforms for people from other ethnic groups. Especially with programmes such as Small Axe and figures such as Michaela Coel, Boyega is pleased with the new wave of representation, but still sees some way to go. 
"We need to start seeing representation in terms of producers and executives. We need more writers to fill these spaces. We need IPs from owners who are black. It is very important to help influence this change and collaboration with the mainstream industry. We need to also see these projects which give us the opportunity to collaborate and mix up with cultures," says Boyega. "But people are not going to feel comfortable delving into that until we also have our own solid representation and we start to build that."
"Just like Michaela Coel's I May Destroy You, it is definitely one of those projects that is at the forefront of this kind of endeavour. And for me, the reason being is because Michaela also has an ownership with this which I find really inspiring even when she spoke about this. I was listening in the morning and watching her interviews. She spoke about the importance of ownership and that's one thing I want to see more of because I am also a producer and I get an insight behind the scenes. For development, especially in terms of black women, we need more perspective with these roles that are written and are casted to represent you. It needs to come from you, and I think that's one of the ways in which industry wise, we can see some steady change. Those decisions are very important because now her influence and experience will be able to transcend into the projects that she now has to secure so that will help in this kind of current change."
Ultimately, much like how Leroy made the step towards becoming a police officer, Boyega is glad that British black history is getting its time onscreen, documented and broadcast to the general public. "It is an  important project, and it's going to inspire more. I've already been talking with Steve and we're going to work with each other again and we are going to do something ad hoc so it's inspired much more of these collaborations, which is great."
Photo Credit: BBC Studios
Catch the premiere of Small Axe express from the UK on Monday, 16th November 2020. Available on BBC First (StarHub Channel 502) and BBC Player.