Singapore Art Museum (SAM) at Tanjong Pagar Distripark has launched a new suite of exhibitions for audiences of all ages and interests. In Lonely Vectors, the exhibition takes its cue from the Distripark's proximity to the port, exploring global economy, and its choreography of movements. In Superfluous Things: Paper, artists explore the role of paper in today's world as a carrier of ideas.
Following other presentations at the museum's hoardings and public libraries around Singapore, Lonely Vectors arrives at SAM at Tanjong Pagar Distripark, and examines the global economy through art. From the construction of special economic zones to patterns of migration, seed distribution to peasant movements against mega-plantations, and the uneven flow of land and water to the cosmologies and worlds lost over time, these are multifaceted, imaginative work that cut across the spectrum of mediums to craft a unique, almost immersive experience into this abstract topic.
Split across three categories, the first of these is Choreographies of Labour, which examines the role of labourers as a force often brushed aside in spite of their facilitation of the global flow of goods and capital, where workers are more moved by these economic forces than being in control of their own 'choreographies'. Visitors are first greeted by Bo Wang's Fountain of Interiors, a light-based installation based on research into the different light temperatures from various locations around Singapore. Compared to the warm lighting in shopping malls, Bo Wang found that migrant worker dormitories were subject to sharper, bluer lighting. The resulting work then uses such harsh lighting to form a blindingly bright 'waterfall', while also surrounded by real and plastic plants, imitating the artificial landscapes found at tourist spots in Singapore. Altogether, the work reminds us of the labour that goes into making our urban environment, and the demanding conditions they are subject to.
Within the Gallery, visitors will then encounter local dance company P7:1SMA's Loading/Unloading, which comprises an installation and series of somatic interventions. The main structure is a modular one, and through performances by the company's associates, will be disassembled and reassembled. Over time, the structure will eventually flatten out and lose elasticity, and questions the super-efficient nature of such man-made megastructures, and to acknowledge the invisible workers propping up such systems.
In Cian Dayrit's Penitent Plant, the Philippines' role as the third largest exporter of banana is explored. Dayrit examines the global chain of supply and demand, in particular, the labour that goes into it. At the heart of the work is a textile that features a banana tree surrounded by references to organisations and industry players dominating the business of growing and exporting the fruit – at the top are greedy corporations, and the bottom shows the workers making it all happen. The work is also accompanied by drawings and texts that show the artist's reference points in making this work.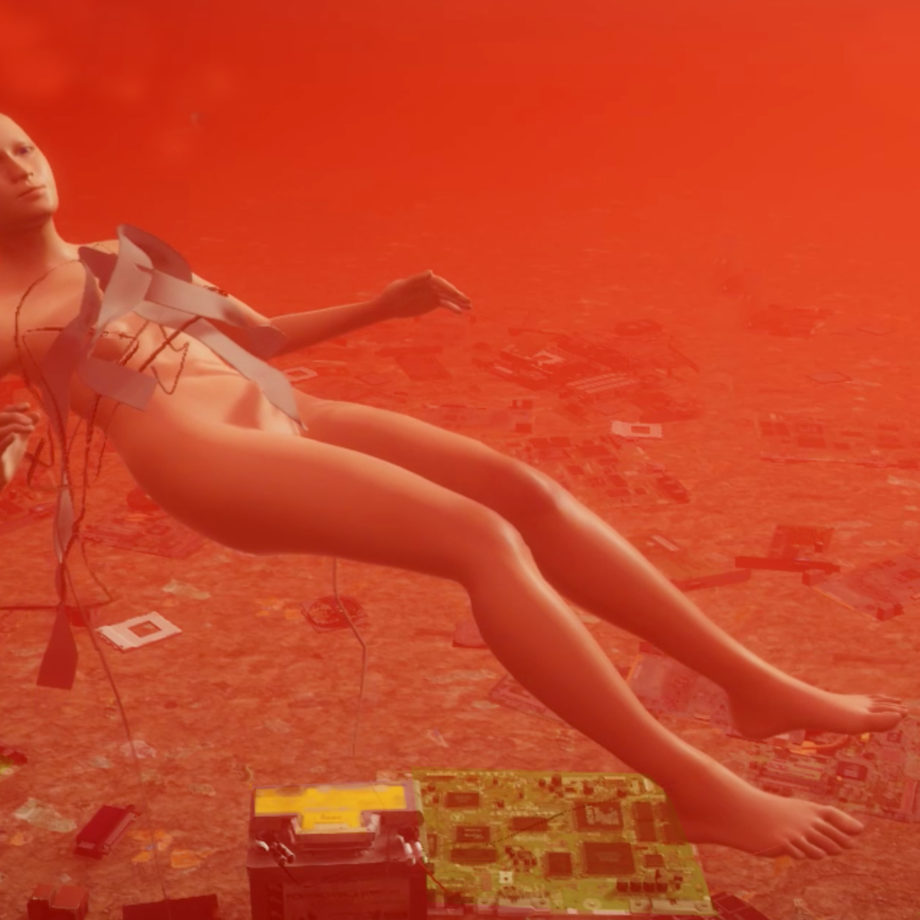 In the second section, More-than-Human Ecologies, visitors are encouraged to reconsider the boundaries between the human and nonhuman, as the global economy continues to reshape and damage the earth over time. Shu Lea Cheang's ongoing UKI series of videos imagines an entire futuristic dystopian world, where android replicants litter the Earth. In UKI VIRUS SURGING, after being discarded and decommissioned, life still finds a way, as these replicant shells find other digital objects and electronics to merge with and activate, showcasing human potential and our ability to be more-than-human as we continue to evolve and find means of survival in a new social order.
In Zarina Muhammad, Joel Tan and Zachary Chan's Dioramas for Tanjong Rimau, the artists explore the islands off Singapore's Southern Coast, particularly Tanjong Rimau, which has been earmarked for further redevelopment. The installation focuses on creating a soundscape while lcharting the land's layered history, ancient cosmologies and spirit paths as a way of remembering how things used to be, the past forgotten amidst our urban environment.
Ho Tzu Nyen's H For Humidity draws from his work A Critical Dictionary of South-East Asia, and expands it into this exploration of Southeast Asia as worlds of water and air. With some of the highest humidity levels in the region, the work invites visitors to engage in a VR experience that has them exploring a trippy, kaleidoscopic world. Beginning in solid form, we eventually dissolve into a liquid upon falling into a canal, letting the current take us to the open sea. The heat evaporates us into a gaseous state, and in a tongue-in-cheek reference, gets us sucked up into a massive air-conditioning vent in the sky, before free falling back to the ground as precipitated droplets, returning to solid form. How then, can we 'be like water' as sea levels continue to rise, and climate change is upon us?
Finally, in Heatmaps and Hotzones, artists recentre maps on human stories and micro-histories, to facilitate our understanding of the space around us. Both Penitent Plant and UKI VIRUS SURGING fall under this category, alongside Tiffany Chung's Reconstructing an exodus history: boat trajectories, ports of first asylum and resettlement countries. Chung traces the movement of refugees between 1979 and 1989 with an embroidered map. Using stitches of varying intensity and spacing, she alludes to gaps in the maps and charts and omission of refugees' personal histories, an how Southeast Asia migration contains both voluntary and forced movements.
Finally, in Ho Rui An's The Economy Enters The People, the artist examines Singapore's role in China's economic transition, where an entire generation of Chinese leadership followed the Singapore style of taking the economy as their primary object of government. The installation refers to multiple assemblies and meetings between Chinese and Singaporean representatives, a boardroom given form and containing archival photos of meetings. Ho will also be delivering a performance lecture by Ho Rui An himself.
Interested audiences can also experience the full multi-sited exhibition by visiting the presentations of Australian artist-duo Zheng Mahler's The Green Crab: A Diagram of Auspicious Spatial Organization at SAM's hoardings and local artist Chu Hao Pei's Seeding Sovereignty at public libraries around Singapore.
In Superfluous Things: Paper, the ubiquitous but often-overlooked material of paper is examined in all its forms, particularly with the key question – "In an increasingly digital world, is paper still relevant? How do artists think through paper?", as artists transform paper into objects of visual feast and emotional resonance, conveying the artists' experiences and evoking personal and cultural memories. As part of the museum's commitment to sustainability, up to 80% of the material used is paper-based, a renewable resource.
In Cheryl Teo's Just a Little at a Time, the contemporary artist and paper sculptor puts on display over 80 miniature sculptures, each featuring a tiny scene on a matchbox-sized stage, toying with our perception of reality through the elements of surprise and scale. Each one was created in a day, taking five to six hours, and through the project, allowed her to gain a better understanding of the medium of paper, experimenting with more complex processes and narratives.
Writer Nabilah Said presents 100ish Meaningless Statements, a collection of more than 100 sentences that explores the role of paper in our lives, as an exercise in performativity, poetry and visual design. Absurdity ensues, but also asks visitors to consider just how immense and diverse the use of paper can be for all.
Jumaadi's Joli Jolan is imbued with a poetic sensibility, affording audiences a glimpse of his grand private cosmology, weaving together a personal iconography of human and organic motifs, where natural and spiritual worlds converge. The work's title is coined from the Javanese term ijol ijolan, referencing ideas of exchange, as he shares with us these stories and an altogether fascinating, peculiar world.
Other works include Li Hongbo (李洪波)'s Land of Fairy Tales (童话世界), an imaginary map of the world where borders and boundaries can be laid flat, twisted, or stretched. The sculptures draw attention to the hidden essence of an object, these continents colourful and malleable, reflecting the malleable nature of geopolitics and boundaries.
Finally, PHUNK and Keiichi Tanaami present Eccentric City, an imaginary floating city that consists of tatebanko or Japanese paper dioramas⁠ popular in the Edo period (1603-1867) and Meiji period (1868-1912). One side of them features PHUNK's black and white, carnivalesque theme-park universe, while the other features Tanaami's psychedelic dreamscapes, reflecting the pulsating energy of urban living, each artist's experience and memories of life so different while existing within a metropolitan state.
As part of the experience, an extension of Superfluous Things: Paper at The Engine Room will feature interactive activities to spark imagination and curiosity. To expand on the themes explored in the exhibition, there will also be a variety of programmes where visitors can engage in activities such as crafting decorative paper boxes and shadow puppet performances. These are primarily aimed at younger visitors, but are also immensely educational, such as exhibits that showcase how different weight or finishing can affect how it looks and can be displayed.
Apart from a variety of art programming, SAM at Tanjong Pagar Distripark will also be home to Epigram Coffee Bookshop. Operated by independent local publisher Epigram Bookshop and Balestier Market Collective, the newly launched coffee bookshop features all-local items made in Singapore such as locally roasted coffee and brands such as Fossa, Harri Ann's, and Yeastside. It will also be Epigram's only physical store in Singapore, carrying over 450 titles spanning a wide spectrum of genres.
"From the playful and vivid exhibits of Superfluous Things: Paper, to the varied explorations of the impact of today's global economy and society on our lives with Lonely Vectors, we want SAM at Tanjong Pagar Distripark to be a place where different communities can gather and encounter diverse, immersive art experiences that expand their perspectives and reflect upon our contemporary condition," says Dr Eugene Tan, Director of SAM. "By making contemporary art accessible to audiences across all ages and interests, SAM hopes to offer visitors a new way of experiencing art through different entry points and site-responsive installations, as we continue to shape our space at Tanjong Pagar Distripark into a key art destination in Singapore."
Images courtesy of Singapore Art Museum
Lonely Vectors will be held from 3rd June to 4th September 2022, while Superfluous Things: Paper runs from 28th May to 14th August 2022, both at SAM at Tanjong Pagar Distripark. More information available here