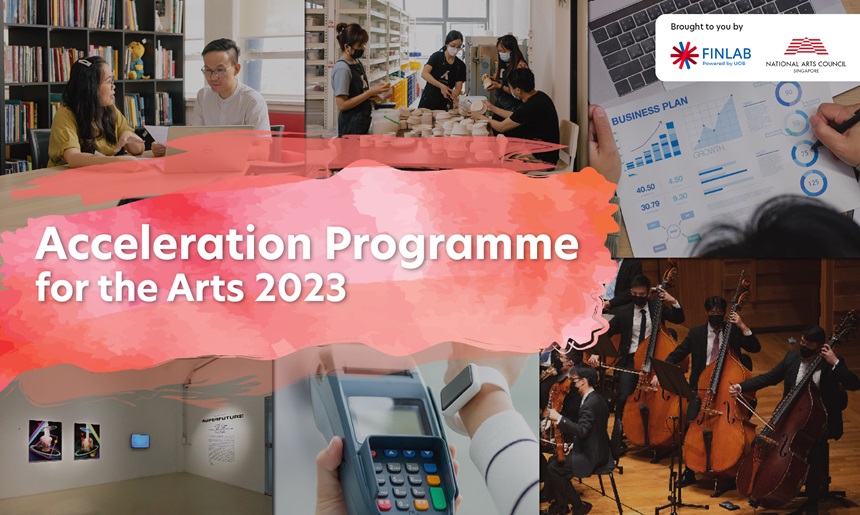 Jointly organised and sponsored by the National Arts Council (NAC) and UOB, the inaugural Acceleration Programme for the Arts, has been inaugurated. Launched under the Memorandum of Understanding (MOU) between NAC and UOB, the programme aims to equip artists and art organisations with business and digital capabilities to enhance their business and financial competencies.
During the four-week programme, NAC and UOB will provide the tools, knowledge, and resources for participating artists to build up their business acumen, giving them a head start in widening their visibility among audiences and stakeholders in Singapore and beyond. Participants will attend a series of in-depth workshops and panel discussions with industry experts, covering topics such as building a brand identity and position in the market, marketing insights and analytics, and maximising business efficiencies. There will also be a session each week for participants to network with fellow artists and business leaders. At the end of the four weeks, participants will receive a certificate of completion for the programme.
Said Janet Young, Managing Director and Head of the Group Channels and Digitalisation at UOB: "We want to help artists cultivate a livelihood in art, with a programme that allows art and the art ecosystem to mingle. Many things changed due to COVID, from attending fairs to even art jamming with the community. How then can we better help artists thrive? That's why we want to help them build capabilities, and use this platform to grow their art and interact with other parties to consume, appreciate and invest in art."
Invited workshop trainers and panel speakers comprise a range of industry experts, from local mixed-media artists to gallerists, technology experts, and marketing specialists. Some of these include the first UOB Painting of the Year winner and Cultural Medallion artist Goh Beng Kwan and his daughter who is the founder of ArtAF, Hazeleen Goh, Founder of Gajah Gallery Jasdeep Shandhu, as well as Managing Director for Meta Singapore, Damian Kim.
Says Kuo Jian Hong, Artistic Director of bilingual theatre company The Theatre Practice: "During the pandemic, we had to figure out how to recalibrate relationship with audience and artist, especially when we couldn't perform traditional live shows anymore. We knew there had to be two elements to differentiate us from videos and Netflix – that it had to have live elements, and engagement. And because that platform didn't exist yet, we had to build our own platform and tools to present that, from our own ticketing portal to digital theatre, and integrate our team and partners into it. Even with live shows returning now, there is no more separation between live and digital, and we want to better integrate technology into our work."
Says Hazleen Goh, founder and CEO of ArtAF, and daughter of pioneer artist Goh Beng Kwan, who won the inaugural UOB Painting of the Year competition in 1982 and received the Cultural Medallion of Visual Arts in 1989: "Growing up, whenever I told my friends my father was an artist, we would search for information but found very little information. So that's partly what got me starting to inventory and categorise all his art, as a means to create a repository and collection online, and reach out to the younger generation, who may not even know about these pioneer artists."
Says Lynette Pang, Deputy Chief Executive Officer at the National Arts Council: "UOB is setting a great leadership example, and hope that in the next phase, more corporations lean in and also recognise the importance of the arts and artists in connecting society, building a beautiful distinctive city and developing a vibrant creative economy. We hope this succeeds in equipping artists with business capabilities in a disruptive operating environment, to cater to fast growing demographics and changes, transform arts organisations and practices, and to enhance art making and distribution such that more audiences around the world appreciate Singapore art."
The UOB NAC Acceleration Programme for the Arts National Gallery Singapore programme starts on 14th March and will conclude on 4th April. The programme's second run is slated to begin in the second half of 2023, with open call details to be announced at a later date.
More information about the UOB NAC Acceleration Programme for the Arts available here