Organised as part of the Singapore Book Council's #BuySingLit movement 2020, the former Pasir Panjang Power Station transformed into SingLit Power House for one weekend, filling the space with exhibitions, book sales, burgers, and performances; all in the name of promoting Singapore literature.
As a space, there's a brutal beauty to the industrial nature of Pasir Panjang Power Station, with its high ceiling and wide open floor. It's a challenging space to use, but with this project, the team has managed to limit the space by closing off certain areas, allowing our focus to remain on the performances and exhibitions at hand, with their charming, almost guerrilla-style set-up. Considering the space's long history, one could practically imagine the stories that lived in these walls, and with the presence of both familiar faces in the arts scene and young, curious visitors, the atmosphere felt warm and welcoming. Milling around the space, we found ourselves perusing local literature on sale (pertaining to Cake's performance later on), while appreciating the burgers and popsicles provided by SingLit Supporters VeganBurg and Popbar.
The night began proper at 6pm with Modern: Resonance II, as Singaporean artists Li-Chuan Chong, Deborah Emmanuel and Alecia Neo came together to explore the power station's 'essence'. Combining installation, music, spoken word poetry and performance, we watched as the power station was taken over by these artists, celebrating the building's architecture, purpose and history. Inspired by the German movement of Bauhaus. Climbing up stepladders, speaking juddered words into a mic, or running around in jumpsuits, there was a sense of ritual to the performance, feeling as if the artists were drawing from the building's walls themselves to tell stories, the ghosts of the past summoned momentarily as tiny lights glowed across the floor.
In the hour that followed, we roamed the premises and viewed Cake's installation An Exercise In Nothing, with words printed on cloth cubes and lit from behind. Taking the context of a writer's perspective from her apartment, noticing the world outside her window, we read and think about the value of her words, elevating the ordinary and realising the quiet sadness and rich inner life hidden beneath our facades, searching for a meaning to life and existence itself.
Glorious, Monstrous Hantu Tales From Singapore by Cake
★★★★☆ (Performance attended 6/3/20)

Finally, we reached the highlight of the evening, with Cake's performance of Glorious, Monstrous Hantu Tales From Singapore. First performed last October at London's Southbank Centre, as part of the London Literature Festival 2019, the performance takes extracts from a number of local literature texts, each one revolving around the strange, the spooky or the supernatural.
Directed by Natalie Hennedige, the stories retold in Hantu Tales find themselves teetering on the edge of fiction and reality, with fantastic situations and characters set against cold reality. From snake-haired gorgons in small Malay villages, to a horrifying account of World War II comfort women, the words of Nuraliah Norasid, Lee Jing-Jing, Sharlene Teo, Cyril Wong and O Thiam Chin come alive, their voices amplified and an evocative, visceral atmosphere in each scene.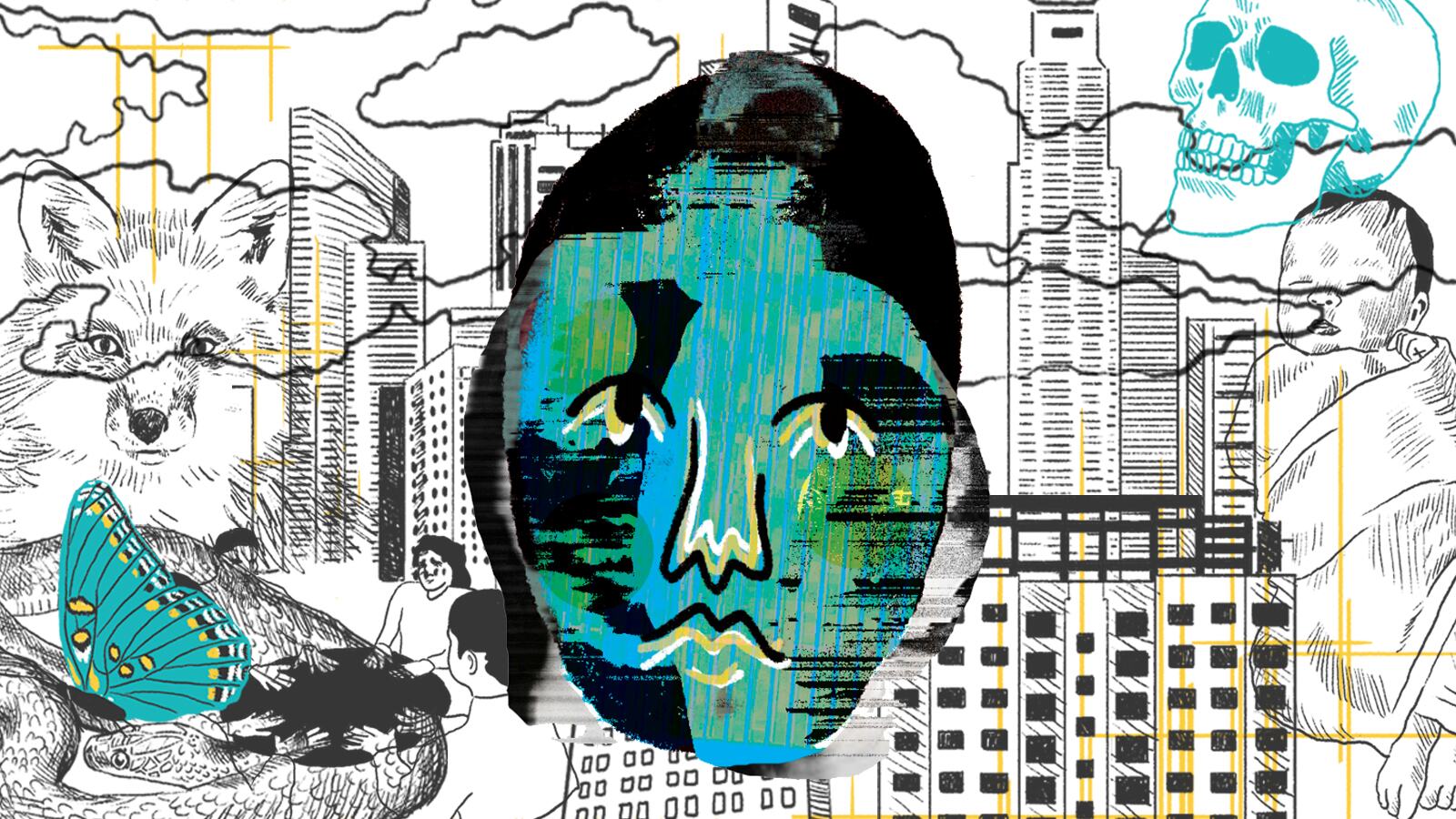 The bulk of the work's strength can be attributed to the joint creative efforts of director of photography Brian Gothong Tan, multimedia designer/editor Natalie Soh, and composer Darren Ng. In each story, actresses Mikaela Perez and/or Jean Ng perform in front of three projection screens, which display psychedelic, hallucinatory film montages. These films feature local actors (Edith Podesta, Timothy Nga, Siti Khalijah, Ghafir Akbar, Seong Hui Xuan, Lian Sutton, Julius Wong and Karen Tan, among others) who play various characters from each tale, often appearing seemingly out of nowhere, and a heightened sense of the uncanny is created through the obvious use of green screen.
Highlights include Sharlene Teo's Ponti, where Jean Ng effectively captures both the youthful innocence of a young starlet-to-be and her growing madness in her later years through her performance, while the video feed behind her pays hilarious homage to the titular film. In O Thiam Chin's Fox Fire Girl, Mikaela Perez possesses a savage charm to her performance that gives her an air of a lusty predator, while Lian Sutton onscreen listens in horror, blood running down the monochrome walls around him (by far the most atmospheric film sequence). Storyteller Kamini Ramachandran even makes an appearance in one sequence, dressed in a white pantsuit as she reads Cyril Wong's heartbreaking The Boy With A Flower That Grew Out of His Ass, assisted by hand-drawn illustrations onscreen.
Ranging from the noir to the camp, Hantu Tales lives up to its title of being both 'glorious' and 'monstrous', taking us from one bizarre scenario to the next through effective use of both design and performative elements. What results is a heady miasma of Asian folklore and history, a presentation of fundamental human suffering as told through monsters and men of literature, and a performance that leaves us emboldened and hungry to re-read these texts with these strange images running through our heads.
As a whole, SingLit Power House serves as a teaser as to the potential that SingLit has for creative adaptation and how audiences can experience it in new ways, along with the possibilities that Pasir Panjang Power Station holds as a space. Certainly, more support is necessary from both the producers of SingLit and members of the public if they want it to flourish, and SingLit Power House is testament to the value of our local writing, if only we learn to look at it with an open mind and let our imagination run wild.
SingLit Power House ran from 6th to 7th March 2020 at Pasir Panjang Power Station as part of #BuySingLit 2020. More information available here
#BuySingLit returns from 6th to 8th and 13th to 15th March 2020. For more information and the full list of programmes, visit their website here