As the CEO of SISTIC, it may come as a surprise to some that Joe Ow does not come from an arts and entertainment background. But with his wealth of experience in digital solutions, his role at the helm seems to be perfectly poised to bring the company into the future, and expand the role and scope of what a local ticketing agency can offer its clients.
While they've been busy preparing for their move towards the digital for some time now, that move has finally taken off with the official launch of SISTIC Live, an in-house developed streaming platform that helps stream film and footage, while also providing marketing and ticketing services for such streams. Coinciding with the ongoing COVID-19 safety measures, such a platform then allows companies an alternative way to provide content to audiences, even if they're unable to physically perform live shows at a venue.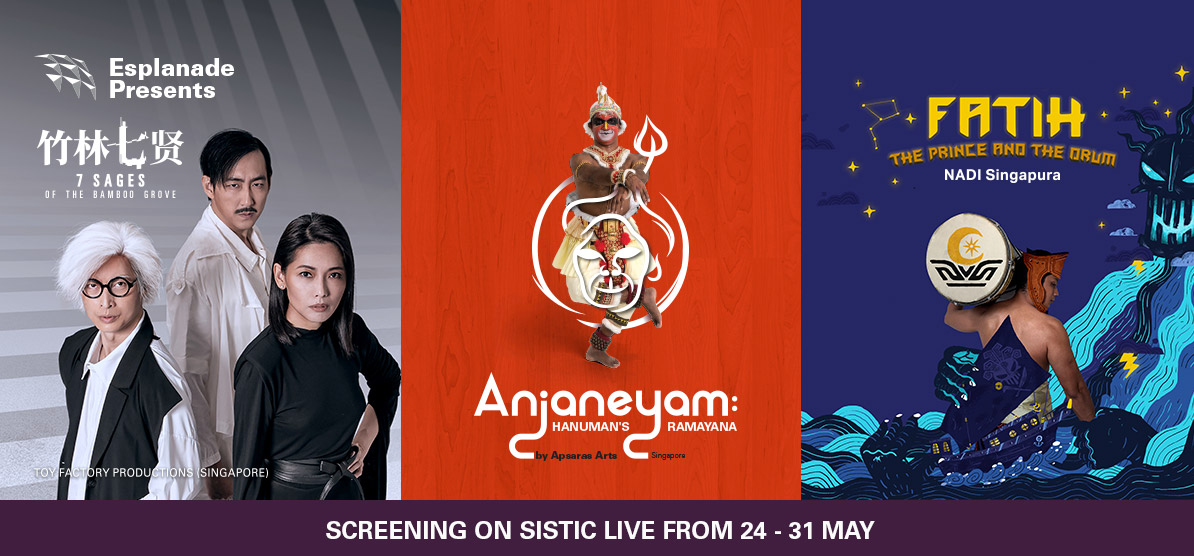 While Joe recognises that the digital will never completely replace the live experience, digital presentation does serve as a possible alternative in these times, and possibly, an option for the future. "We recognise that a new cohort of potential arts consumers are coming of age, and we were brainstorming for ideas on how to make it more accessible," says Joe. "Maybe some of these new audiences don't like the idea of dressing up to go to the theatre for example, and much prefer watching something from the comfort of their home."
With SISTIC Live, not only will theatre and concerts be streamed, but might even allow SISTIC to break into the realm of sports. More specifically, e-sports, which are fast growing in popularity, with ticketing options for either attending the live event or streaming it online. Adds Joe: "I do believe that live and digital content can coexist at the same time, and do not cannibalise each other. Livestreaming could in fact grow attendance, by reaching out to new audiences who might not have had the chance to attend live events otherwise."
Looking at the number of local arts companies turning to streaming and digital presentations during this period, SISTIC could be on to something, and use their platform to provide companies with a form of revenue rather than simply having them hope that viewers will donate after watching it for free. In future, SISTIC even intends to further their plans by launching a mobile app, and continue developing their services to offer customers and clients an experience that goes beyond simply using SISTIC as a middleman to purchase their tickets.
"We're constantly listening to the people we serve, and thinking ahead as to how we can move with the times," says Joe. "Recently, we even changed one of our mission statements, no longer just a 'ticketing service provider', but to actively help our clients fill their events and venues. I see the ticket as just the start of the experience, and want to value-add to that and be more."
Perhaps it's a good time to briefly look back at SISTIC's own history. Way back in 1991, SISTIC was nowhere close to being the biggest ticketing agent in Singapore as it is today. Instead, it was just the ticketing department of the Singapore Indoor Stadium. Eventually, they broke off to form their own private limited, and struck it out by developing their own ticketing system, refusing to let a pre-existing commercial company run it. This cemented its position as one of Singapore's earliest tech companies, and today, their system is still used throughout the region for ticketing, such as having been in Hong Kong for the last 10 years.
"Even today, we're still developing and improving the system," says Joe. "But at the heart of it, SISTIC is only as strong as the shows and events that we promote. People don't think twice about the ticketing company, just the event that catches their eye. But because of the sheer volume of things that we do, people are bound to comment on our performance and the experience they're given. But we always strive for customer satisfaction and fairness. Take for example our $4 booking fee, something that people have raised concern with in the past. We actually haven't raised that fee in over 10 years, something most other businesses would have done."
In the meantime, SISTIC has been taking the circuit breaker as an opportunity to develop their own skills during this period, investing in online courses and e-learning for their staff. "Health and safety is the most important thing, but even with live events coming to a halt, we still must find alternative ways to operate and survive," says Joe. "We can't just hunker down and wait because we don't know how long this drought will last, and we're working closely with our clients to figure out how to co-operate and get through this together."
At the end of the day, SISTIC certainly hasn't ceased operating during this period, and has their sights set clearly on the future, one that integrates technology, streaming and liveness into a single seamless experience for all. "Maybe sometime in the future, you won't even be coming to the SISTIC website anymore to book your tickets," says Joe. "SISTIC Live is definitely something we're looking at for the long term, with new features still to come, and always providing audiences with new ways to keep supporting their favourite companies and performers. We're living in a new normal now, and we believe streaming can continue to be integrated into our daily lives, even alongside live performances, something you'll have to look out for when we enter the next phase of our development."
Find out more about SISTIC Live on their website here