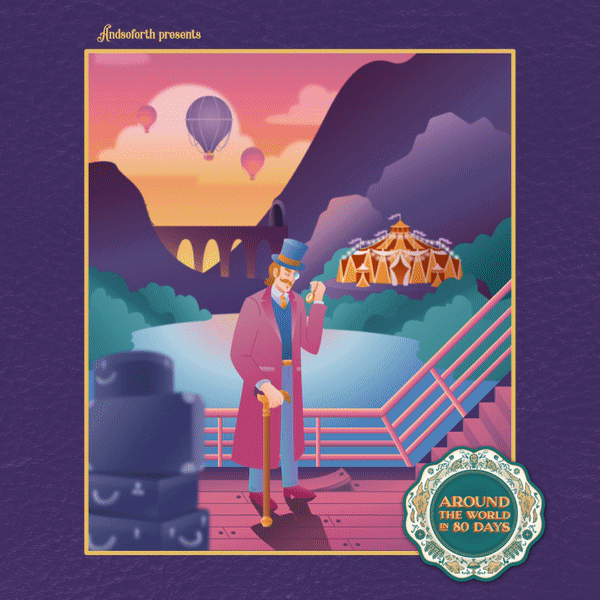 ANDSOFORTH, Asia's largest immersive theatre company may have had their wings temporarily clipped by the COVID-19 pandemic, with their latest show Around The World In 80 Days postponed from its original planned date earlier this year, but not all is lost. Still maintaining most of their original set and ideas, they've reimagined and repurposed it as an all-new Book Analysis Workshop from October to December!
But what exactly is a Book Analysis Workshop? It's kind of exactly what it sounds like – where attendees will get up close and personal with Jules Verne's iconic novel that inspired the show in the first place. By the end of the workshop, attendees will be more familiar with the book than ever before, getting to know the various scenes and characters Verne dreamt up in 1873. The twist? It's going to be a whole lot more entertaining, as ANDSOFORTH combines it with their signature immersive ideas to produce a wholly original experience that promises this workshop to leave quite the impression.
Certainly not an ordinary run-of-the-mill workshop, this one-of-a-kind experience sees ANDSOFORTH assembling a team of professional facilitators to guide attendees through one wondrous room after another, each one recreating recreating key scenes from the book. Using beautifully constructed sets and a thoroughly engaging series of programmes, this Book Analysis Workshop won't just remind you what happens in Verne's novel; it'll also be filled with plenty of activities that will up your general knowledge and equip you with skills to impress your mates the next time you're at a party.
Start off in London, where you'll learn about the UK's many alcohols and even make your own cocktail. Head to the Suez Canal where you'll get to sample a traditional French seafood stew while learning how to be a sailor of yore, with traditional star maps and how to tie a sailor's hitch knot. Find yourself in Calcutta, where you'll be taught how to fold banana leaves into cups while being wowed by a life-sized elephant puppet. In Asia, you'll be 'riding' a replica steam train, where you'll get to taste some Cantonese cuisine, before learning about the oldest coal mine in Japan, and how sake is made. You'll even get to go under a big top in 'New York', and make your very own popcorn-inspired dessert, before checking out a glorious 15 square metre map to see just where you 'travelled' around the world. 
With the circuit breaker measures still in place, places are limited to just a few audiences per session, alongside all the requisite safety precautions in place. Guests with a temperature of 37.5 degrees celsius and above will be turned away, and all guests must check-in with the government mandated SafeEntry. Social distancing measures will be enforced throughout the experience, and guests are free to use the hand sanitisers available in every room, best used before and after every tasting session. All attendees must also wear masks at all times, except when consuming food.  
All facilitators will also go through strict health screenings, and don a mask and face shield, while attendees must wear a face mask at all times, except when consuming food. Facilitators will always be conducting the workshops while standing in a designated demarcated area as per regulations and instructions from the authorities, while attendees will be given specific seat numbers, so as to reduce contact. 
Says ANDSOFORTH co-founder Stuart Wee: "Even in these difficult times, life still has to go on, and people still need to find something exciting to do. As theatremakers, our job is to deliver that while assuring them of their safety in our production, and we hope we can counter the fear and uncertainty with this journey around the world with Phileas Fogg." 
Come on the journey you've been craving with ANDSOFORTH's Around The World In 80 Days Book Analysis Workshop. In the 'new normal' we live in, come embrace ANDSOFORTH's new format before they're allowed to resume their shows again, and stay safe while enriching your mind and soul with the cultures of the world, and brand new knowledge you never needed, all through a highly entertaining lens that's sure to make you fall in love with literature all over again.
Around the World in 80 Days Book Analysis Workshop runs from October to December 2020, with tickets now on sale from their website here.