In a year that's seen the world undergo forced change and expedited evolution, it seems only appropriate that the 2021 edition of the annual M1 Singapore Fringe Festival (M1SFF) would be dealing with related themes of revolution, transformation and resistance. Now in its 17th edition, the festival returns from 20th to 31st January 2021 with nine events from local and international companies, available in the theatre and/or as video-on-demand.
For this edition, the Fringe continues to be helmed by leading local theatre company The Necessary Stage (TNS), with TNS Artistic Director Alvin Tan returning as Artistic Director of the Fringe following Sean Tobin's departure after a 6-year tenure. Under Alvin's direction, the Fringe now aims to move towards a more socially engaged, process-driven direction, in alignment with TNS' ethos and philosophy.
With the theme of Quiet Riot, the Fringe intends to feature art that explores meaningful
transformation and revolutionary change, attained through dogged and peaceful resistance, reflecting and amplifying the voices of people around the world who have been rising up to speak truth to power, and whose struggles demonstrate a celebration of diversity and inventiveness. 2020 has seen the world afflicted by multiple crises – COVID-19, climate emergency, economic depression, the rise of authoritarianism, escalation of social injustice. Resistance is no longer an option, but a necessity against these disasters. As such, all nine events for this edition form a front as they grapple with topics ranging from climate crisis to censorship, all with a sense of exigency and hope despite the odds, in their own "quiet riots". All shows will be available as video-on-demand, while local productions will be available to watch live, in the theatre, with a limited audience.
Originally performed in September 2019 by the Intercultural Theatre Institute, the 2021 M1SFF is headlined by Koh Wan Ching and Andrew Sutherland's a line could be crossed and you would cease to be, dealing with the ever present threat of climate change wreaking havoc across the world. But even as that happens a mother searches for a lost son, humans look for otters, and a Merlion keeps track of change. These characters, both real and mythical, will be performed by Grace Kalaiselvi, Irfan Kasban, Jeramy Lim, Liz Sergeant Tan and Shahid Nasheer for this new staging.
For their collaboration with Nanyang Academy of Fine Arts this year, Fringe 2021 presents Havoc Girls & Kamikaze Boys, a multimedia performance by the BA (Hons) Theatre Arts students, as led by Brian Gothong Tan. Written by Nabilah Said, the play explores how youths negotiate socio-political upheavals that have
arisen in response to decisions made by adults that affect young people and their future, from the Arab Spring, the Hong Kong riots and the Thai cave rescue.
India's The Lost Post Initiative presents dance-theatre performance i am not here, regarding the censorship of women's writing, with two women battling it out in a boxing ring, using an 'eight-step guide' to look at the ways female writers determinedly struggle against being silenced by censors and history. Dark, funny and brutal, the women explore the ways female bodies are written, restricted through history, and silenced, as it complicates the relationship between the audience and the performers.
Local theatre company Rupa co.lab presents Hazwan Norly's Pandan. Directed by Rizman Putra, Pandan follows several characters as they each deal with their own issues, from dual identities to online dating and livestream baking. An old public swimming complex is set to be demolished, and private lives are forced into the public eye, as Pandan contemplates the intersections where our faith, public identities, online
avatars and personal ruminations meet. In the modern world of multiple identies and faces we project, where do our true selves lie?
Canada/Ecuador company Ay, Caramba! Theatre presents I, Frida, as it explores a newcomer's journey to Canada and her attempts at trying to fit into Canadian culture. Written and performed by Yulissa Campos, as inspired by her own experiences, I, Frida portrays a young activist's fight for immigrants' rights, while struggling with segregation, stereotypes, and her own traditions, as she discovers the meaning
of family, home, culture, and identity, in a time where the world is struggling with unprecedented numbers of forced migration.
In local thespians Saiful Amri and Anwar Ramli Hadi's WAN BELANTARA: Enjet-Enjet Semut (KING OF THE JUNGLE: As the Ants Go Marching In), an army of ants embark on a journey to send gifts and tributes to their new king, who has ascended to the throne, for the first time, via democratic election. Drawing inspiration from Farid ud-Din Attar's poem Conference of the Birds and fables and well-known stories from the Malay Annals, WAN BELANTARA: Enjet-Enjet Semut examines what would make the people be loyal to, or betray a leader, and what injustices may drive people to mengamuk (run amok).
From New Cambodian Artists comes Snow Whitening Revisited, a self-reflexive dance-theatre performance exploring the contemporary female Khmer identity and social and gender issues. Its unique choreography
fuses Apsara classical dance, pop culture, and contemporary performance styles. Watch as two Cambodian dancers in their early twenties reflect on their efforts to get a grip on their lives as female contemporary artists in a popular provincial tourist destination, as COVID-19 transforms their town into a dystopian movie set: a huge temple complex with no visitors, hundreds of hotels, restaurants and bars closed and empty, all expats gone, no tuk-tuks. Unemployment is rife and the government made a new law that forbids women to wear short skirts. How will they get through as artists, with naysayers and criticism from all sides?
Finally, the Fringe also presents Emergency Stairs' Offstage 3.0, the next stage of development in their long-term Offstage project. In Offstage 1.0, the company reimagined offstage roles as characters. In Offstage 2.0, the entire creation process was opened up to our audiences and the performance was staged behind closed doors, with no audience. Now, in Offstage 3.0, the team continues to question the value of theatre – quantitative instead of qualitative, product-centric instead of process-centric, short-term instead of long-term, and market-oriented instead of focusing on artistic development. Are there alternatives for an artist?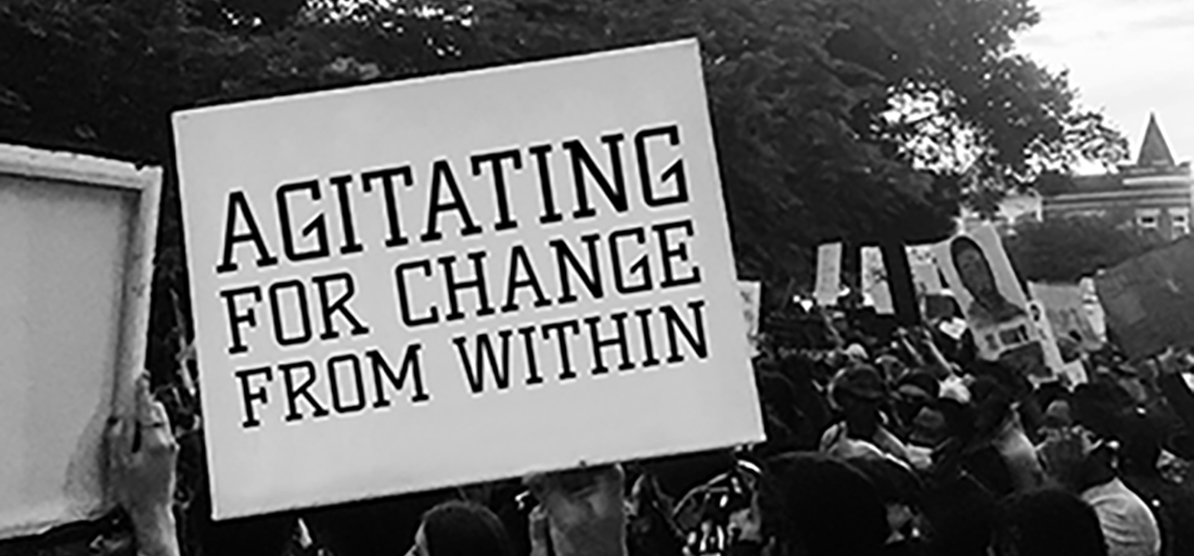 The Fringe will also present their first webinar – Quiet Riot: Agitating for Change from Within, featuring a
panel of young female activists and change makers who have persisted in their journeys for social justice
whilst working with or within institutions. The panel includes Carrie Tan (Founder and Strategic Advisor, Daughters Of Tomorrow), Izzaty Ishak (Lead Artist and Community Worker, Beyond Social Services), Thenuga Vijakumar (President, Cat Welfare Society), and will be facilitated by Shiao-Yin Kuik (Director and Co-Founder, The Thought Collective, and former NMP).
Whether quiet or loud, riotous or ponderous, at home or in the theatre, take some time out this January to reflect on the issues plaguing the world, as the artists of Fringe 2021 provide a prime opportunity to look back on the chaos of 2020, and ahead to a (possibly) hopeful future.
The 2021 M1 Singapore Fringe Festival runs from 20th to 31st January 2021. Tickets available from SISTIC
For the first time, the Fringe is launching a special stay-home package to catch all performances at the festival via SISTIC Live. For an exclusive rate of $95, get access to all videos on demand of the Fringe performances throughout their screening periods.
Check out more information and the safety measures at venues the Fringe will be held at on their website here