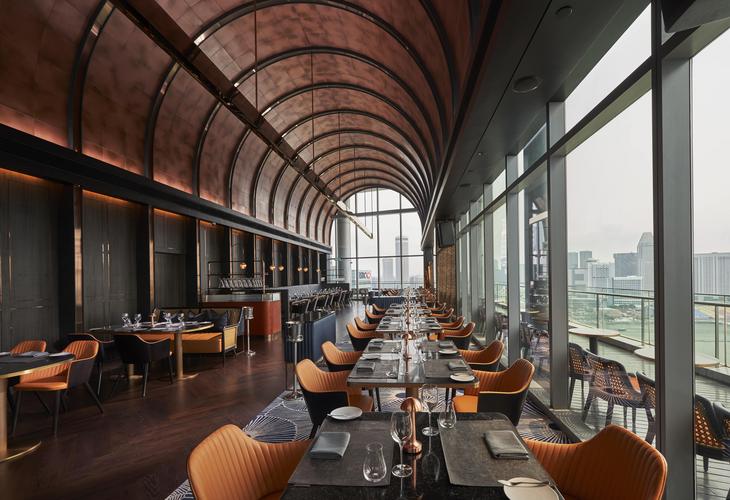 They say that the quickest way to a man's heart is through his stomach, a saying that also holds true when it comes to falling in love with a country – through its food. As with every edition, the 2020 vOilah! France Singapore Festival once again showcased the very best of French cuisine in Singapore, ranging from pastries to desserts, wines to fine dining.
But of course, being in Singapore, and this being the France Singapore Festival, some of these experiences had a little twist to make them stand out all the more. Take for example our experience of a café gourmand at the rustic Tanglin Mall in Orchard, and found ourselves seated in the cosy House of AnLi.
A café gourmand concept typically comprises an espresso and a selection of petits fours. In this case, against the picturesque backdrop, with the bright skies clearly visible from our seats, with wide windows and antique furniture around us, the atmosphere was just as important as the food, prepared by Executive Chef José L. del Amo. The selection comprised five of France's most renowned pastries – a vegan lemon tart with eggless meringue, a canelé infused with Rum; a madeleine made with Bordier and dipped in raspberry chocolate (hence the pink colouration); the iconic Paris Brest with hazelnut and almond praline cream; and ending off with a Gateaux opera with Grenada single origin 76% chocolate. And to top it all of, we went full on French by pairing these bites with a Perrier-Jouët champagne, for a perfect afternoon tea.
But perhaps the gastronomic experience that stood out most for us was our dinner at Wild Wild West (of France) at VUE. Sitting atop OUE Bayfront, with a magnificent view, we were eager to taste the 7-course menu by Executive Chef Sam Chin, showcasing more than just your usual French cuisine, as he dived in to flavours from the Western part of France to tickle our tastebuds.
While the star of our first dish was the Specialé Geay Oyster N02 from Champagne, we found that every ingredient here came together very well, with profound layers of flavour to it. Popping the entire poached oyster into your mouth, you immediately get a taste of the ocean it was fished from, before the earthy porcini mushroom espuma hits you. Topped off with a spoon of caviar, and this dish has just the right touch of luxury to begin our night, and helps marry the flavours together.
Our second dish looked nothing liked what we expected – the Rougié Duck Liver, sourced from Alsace.
We were definitely impressed by the presentation, with the dish resembling a cheesecake more than foie gras. With a miso duck liver mousse tart, a buckwheat crust, poached pear, pear gelée, and pine nut, this was a great starter, and just enough to whet our palate.
The Sturia caviar "Oscietra" took centrestage for our third dish, and was served atop a 'potato brûlée'. Taking on the appearance of a crème brûlée, while tasting more similar to a potato gratin, this was a beautifully done dish, with a potato 'glass' we had to break through to reach the smooth potato beneath. Combined with the generous dollop of caviar atop it, it doesn't get any more luxurious when you spoon up some potato with the caviar, and the creaminess of the potato and the saltiness of the caviar blending well in each mouthful.
It was obvious what our next dish was all about the moment it was served. Sourced from Loire, the langoustine tail was nestled atop a dish of barley porridge, and pan-seared to perfection. The langoustine retains its natural sweetness and texture, and when eaten with the barley porridge (with kelp and brown butter), complements rather than overwhelms it. What we really enjoyed about this this is how each element is able to stand on its own with a distinct flavour, yet still comes together well in every spoonful.
For our meat dish, we were served Mieral pigeon from Rhône. The pigeon was cooked to perfection – pink on the inside and supple on the outside. This was complemented by the Japanese sour plum glaze, the sweet, grilled nectarine purée and Bayonne ham shavings, all of which worked in tandem to make this dish shine.
For our first dessert, we were served Mons cheese from Sauternes, and this for us, was the dish of the night. We definitely didn't have this in mind when looking at the menu, and when it was served, the plating makes it resemble an exquisite work of art. The gabietou cheese in filo pastry was fried such that it was crispy on the outside, before revealing melted cheese inside upon first bite. The Hungarian honey truffle dressing was apt for the dish, and together with the pistachio and figs, brought to mind the beauty of a relaxing French autumn.
We ended off our evening with another exquisite dessert that ticked all the boxes for us, with a spiced pumpkin crémeaux, pickled pumpkin rolls, caramelised pecan crumble and a sea buckthorn sorbet. The featured ingredient of course, was pumpkin, and this dish was unafraid to capitalise on this bold flavour. The pumpkin crémeaux reminded us of a spiced pumpkin drink we might have had around a bonfire, while the pickled pumpkin roll and pecan crumbles gave the dessert different textures to play with. A dessert tends to act as a palate cleanser to end off a meal, and with the sea buckthorn sorbet, made from a berry found in Scandinavia, this gave the sorbet an unusual but bold flavour that was tart and refreshing, something we appreciated greatly.
At the end of the meal, gazing out at the panoramic view of the Singapore skyline at night and were reminded of this event as part of the France Singapore Festival and its position as a celebration of French culture in Singapore. Seated with other Singaporeans indulging in these French ingredients, we thought about how good food brings about good friendships and relations at the table, thanks to Chef Sam's culinary skill and willingness to try new things. While it's been a difficult year, it's certainly nice that these days, we once again have the opportunity to be back sitting with friends around the table, chatting and enjoying a nice meal together, with the hope that these establishments will soon be as lively and full as our pre-pandemic days once again.
And having been stuck in Singapore for so long with no travel, it seemed that going on a photo walk to re-discover our city through a new lens was exactly what we needed to appreciate our country a little better, with a photography walking tour with French photographer Xavier Keutch.
Waking up early on a Sunday morning isn't our usual routine, but one I challenged myself to do, as someone who enjoys taking photos and the experience of taking photos. Arriving at Telok Ayer in the early hours of the morning was an interesting experience, watching people going about their activities in these quaint surroundings. We felt relaxed on this casual walk led by Xavier, who was open to any questions we wanted to ask. Bringing us to various parts of the district, we had good opportunities to capture photos in different styles and various angles, while Xavier gave advice on how best to frame our photos for the best effect.
In all, this just proves that photography is incredibly accessible, and suitable for almost anyone interested in taking it up. Photos play such an important role in capturing the mood of the moment, the memories that we made, and really, was simply an enjoyable one, as we walked together, conversed, and experienced the city in a new light. For us at least, that was the best way to end off vOilah! 2020.
Café Gourmand took place on 4th November 2020 at House of AnLi. More information available here
Wild Wild West (of France) took place on 3rd November 2020 at VUE, OUE Bayfront. More information available here
Photography Walking Tour with Xavier Keutch took place on 25th October, 1st November, 15th November and 22nd November 2020. More information available here
vOilah! 2020 ran from 22nd October to 22nd November 2020. For more information, visit their website here, and their Facebook page here