The highly anticipated 9th edition of Art Basel Hong Kong closed on Sunday, May 23, 2021, amid reports of consistently strong sales across all sectors and market segments, both to collectors present in the halls and those connecting with galleries digitally. Running in parallel to the physical show, 'Art Basel Live: Hong Kong', brought the experience of the fair to audiences around the world through a rich digital program featuring Online Viewing Rooms, public and VIP walkthroughs live-streamed from the Hong Kong Convention and Exhibition Center, as well as daily broadcasts and virtual experiences.
The fair's many virtual walk-throughs were attended by private collectors from over 30 countries and territories, notably Mainland China, South Korea, Taiwan, the United States and Sub-Saharan Africa as well as representatives from leading international museums and institutions, including the Museum MACAN, Jakarta, Art Gallery of New South Wales, Sydney, Galleria d'Arte Moderna e Contemporanea di Bergamo (GAMeC), Bergamo and the Belvedere, Vienna. Patrons from all major Hong Kong institutions participated in the onsite program, including M+, Para Site, Asia Society, 1a Space, Asia Art Archive, Hong Kong Art Centre and Hong Kong Museum of Art.
The 2021 edition of the fair featured a strong line-up of 104 galleries from across Hong Kong and overseas, many of whom opted to participate with a satellite booth, a new concept introduced to support gallerists whose physical attendance in Hong Kong was not possible due to current regulations. Exhibitors amplified their on-site participations with complementary presentations in the Online Viewing Rooms, connecting with patrons and audiences worldwide.
Adeline Ooi, Director Asia, Art Basel, commented: 'It has been truly moving to return to the Hong Kong Convention and Exhibition Center after what has been an extraordinary and challenging year. I am proud and honoured that Art Basel has continued to fulfill its role as the leading international art platform in Asia, rising to the current challenges with new models and approaches.
"We are deeply grateful to our participating galleries for their commitment to our show here in Hong Kong this year, and the city's institutions and nonprofits for offering their full support by putting together a range of programs and events alongside Art Basel Hong Kong.'

– Adeline Ooi, Director Asia, Art Basel
Galleries who participated in the show spoke highly of their experiences and participation, such as Leo Xu, Senior Director, David Zwirner, Paris, Hong Kong, London, New York. "The Fair has provided a positive and important opportunity for us to see the recovering and emerging changes of the art market in the second year of the pandemic, and we have been pleased to place works from our artists with significant Asian museum collections," he says.
"In spite of the difficulty of overseas travel, we have had the pleasure of engaging with the collective emergence and strength of Hong Kong's collectors and patrons, in addition to maintaining valuable connections with international collectors online. At Art Basel Hong Kong this year, we are excited to herald a new trend in the future—the deep mining of localization."

– Leo Xu, Senior Director, David Zwirner, Paris, Hong Kong, London, New York.
"After a very successful Hong Kong Spotlight by Art Basel, we couldn't be happier to be back at Art Basel Hong Kong! There is something really special about seeing the art and our community in real life—all under one roof," says Shasha Tittmann, Director, Lehmann Maupin, Hong Kong, Seoul, London, New York. "We're all here embracing the disruption brought on by the past year, which has accelerated much-needed digital innovations to the fair experience. In a way, this marks a huge step forward for the future of art fairs."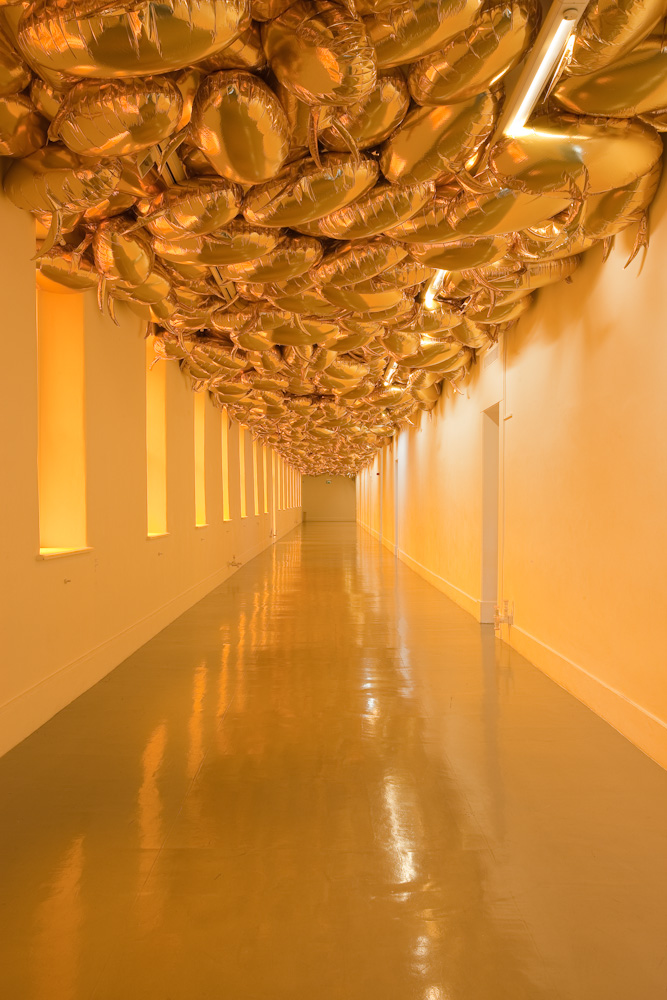 The main sector of the show featured 86 of the world's leading galleries presenting the highest quality of painting, sculpture, drawings, installation, photography, video and digital works, ranging from contemporary positions such as Philippe Parreno's 'Speech Bubbles', at Gladstone Gallery, Danh Vō presented by Take Ninagawa, and historical presentations ranging from Spanish Filipino pioneer of abstraction Fernando Zóbel at Mayoral to a deep dive into the early experimental artists of 1970s Korea with Arario Gallery.
Bringing together 10 galleries this year, Insights illustrated the modern art history of Asia and the Asia-Pacific through curated presentation of works by important artists from the region. Highlights included a series of new works by Korean photographer Heeseung Chung at Gallery Baton; Leo Gallery's presentation with Lin Yan, whose work interprets ink and Chinese rice paper in a contemporary way; first-time participant Shibunkaku's booth of works by post-war Japanese artist Morita Shiryū, a pivotal figure in contemporary calligraphy in Asia; and Axel Vervoordt Gallery's presentation of 'Encounter – A Mirror Woman' by Korean artist Kimsooja.
Focused on solo shows by emerging artists, Discoveries this year featured 8 galleries, including first-time participant Anat Ebgi, showcasing new paintings by Greg Ito. Other highlights included High Art's presentation of paintings by Hun Kyu Kim that take inspiration from the tradition of Korean silk painting technique, and Shanghai-based conceptual artist Liu Ren presented by Don Gallery. Capsule Shanghai presented Hong Kong-based artist Leelee Chan, while Vanguard Gallery showcased a multi-media installation by Shandong-born artist Zhu Changquan.
Launched in 2015, the BMW Art Journey is a collaboration between Art Basel and BMW, created to recognize and support emerging artists worldwide. Since 2020, the circle of eligible artists has broadened and includes not only emerging and mid-career artists from the Discoveries sector, but also artists represented by galleries founded no more than ten years ago at Art Basel's show in Hong Kong. The three shortlisted artists for the 10th BMW Art Journey are Julien Creuzet represented by High Art, Kelvin Kyung Kun Park represented by Vanguard Gallery, and Alice Wang, represented by Capsule Shanghai. The shortlisted artists are now invited to develop the proposal for their ideal journey, with the winner to be announced in summer 2021.
For its seventh time, multi-media artist and film producer Li Zhenhua curated a program of 11 film and video works inspired by the current sociopolitical climate, which were screened at the Louis Koo Cinema, Hong Kong Art Centre and free to the public.
"The past year has brought forth the art world's astonishing resilience and capacity for innovation and experimentation, and this year's edition of Art Basel Hong Kong is a real testament to that," says Marc Spiegler, Global Director, Art Basel. "We are delighted to have been able to share the excitement and vibrancy in the exhibition halls with our audiences around the world through our digital initiative Art Basel Live: Hong Kong, which is part of our long-term commitment to developing the fairs of the future. And we look forward to reuniting physically next year in Hong Kong."
Art Basel Hong Kong ran from 19th to 23rd May 2021. For the full gallery list and more information, visit their website here.