The Hong Kong Arts Festival (HKAF) has announced its programme for its 50th edition, taking place in February and March 2022, with the return of live in-venue performances as well as online programmes, alongside diverse PLUS, outreach and education events. The 50th HKAF officially opens on 25th February 2022 at the Concert Hall of the Hong Kong Cultural Centre with the Hong Kong Philharmonic Orchestra's concert of Mahler's Symphony No 4 and closes on 26th March 2022 with the Shanghai Opera House and the Suzhou Symphony Orchestra performing a programme juxtaposing past and contemporary music from Chinese and Western composers.
"In welcoming the 50th anniversary of the Hong Kong Arts Festival, we will bring back a host of live performances and online programmes across the city, with some themed under Arts and Technology. You will be amazed by the numerous innovative works in which the artists have harnessed new technologies," says Mr Victor Cha, Chairman of the HKAF.
"The launch of this 50th anniversary project would not be possible without sponsorship from The Hong Kong Jockey Club Charities Trust. We are immensely grateful for their tremendous support over the years. Our heartfelt gratitude also goes to our partners, donors and sponsors, participating artists, and, of course, the Leisure and Cultural Services Department of the Hong Kong SAR Government, who have all made substantial contributions to the Festival."
Ms Tisa Ho, Executive Director of the HKAF, highlights the Festival's tagline this year. "This Festival is all about Connections," says Ms Ho. "It has always been our mission to connect artists and audiences through great performances. Deeply rooted locally and at the same time with an international outlook embedded in the organisation's DNA, we also connect across borders and cultures—serving as a platform for cultural exchange. We are also connecting both backwards and forwards in time, paying tribute icons of the past, and looking forward to the future in exploring new methodologies, new forms, and the use of technology both in delivering and in creating performance experiences. The classics will always have a place in the Festival, and we hope that some of the new work premiered will become part of the canon of the future. This year, arts and technology is an important strand in the programming as we look to new possibilities to be explored in the next 50 years."
Much like the Festival's journey over the past 50 years, the programmes encompass past, present and future ways in which audiences experience the performing arts, exemplified by two special programmes, A Tribute to Cantonese Opera Legend Sun Ma Sze Tsang and Laila. Cantonese opera, grounded in heritage and lineages, has been a part of the HKAF since Sun Ma Sze Tsang starred in its inaugural "analogue" programmes in 1974 and 1975. By contrast, decades on, cutting-edge digital and multimedia technologies are employed in an immersive opera experience redefining the meaning of the "stage" in 2022.
Committed to encouraging artistic innovations, the HKAF shows a special focus on arts and technology in its upcoming edition. Unleashing both artistic and technological potential, arts and technology takes an interdisciplinary approach to creating works in the performing arts and finding new ways of applying information and scientific technologies. Boundary-pushing works have begun to break free from long-standing physical and institutional limitations.
Laila, for example, is an immersive and interactive opera experience, and one of the major highlights of the 50th HKAF in 2022. A co-production of the HKAF and the Finnish National Opera and Ballet (FNOB), Laila will receive its international premiere in Hong Kong, the first time it will be performed outside Finland. Scheduled to take place at the Hong Kong Maritime Museum from 25 February 2022, the experience will be free of charge to the public upon registration. There will also be a series of outreach and education events fronted by the HKAF's Laila Outreach Ambassador Zeno Koo. Together with a series of outreach and education events, the special project Laila is solely sponsored by The Hong Kong Jockey Club Charities Trust.
Meanwhile, technology and music meet in a piano-hypermedia recital by Chinese pianist Yu Xiangjun, with Nirvana – Yu Xiangjun Piano Hypermedia Recital, who puts a new twist on Chinese and Western compositions. Yu teams up with new media artist Da Yan in this imaginative presentation in which a live piano performance is married with a multimedia installation, performing—alongside herself—the piano duet version of The Rite of Spring using Stravinsky's own arrangement.
The Jockey Club InnoArts Series premieres a concert-installation Shuffle Dimensions, a musical promenade which weaves contemporary music, installation and digital arts; and SHH, a theatrical VR immersive experience set during the Covid-19 pandemic that celebrates resilience while creating a space to mourn the departed.
Using Augmented Reality, 0AR by British-based company AΦE makes screen time on tablet computers educational, fun and mesmeric without losing touch with reality. With iPads, groups of up to five people interact with and influence the performance in a unique 3D communal experience, with a collection of short dance works created by AΦE — choreographers Aoi Nakamura and Esteban Lecoq.
Audience interaction also takes on new meanings in two theatre productions from familiar Festival names: Ontroerend Goed (Belgium) presents the live interactive one-on-one experience TM; while Dead Centre (Ireland) returns with an exciting online adaptation of To Be A Machine, Mark O'Connell's Wellcome Prize-winning non-fiction work on transhumanism.

Other highlights of the upcoming Festival include the Hong Kong Philharmonic Orchestra, conducted by Wilson Ng, in the Festival Opening concert featuring Mahler's Symphony No 4, a masterpiece that stirs the heart to euphoric heights, in a musical extravaganza and celebration of Hong Kong Talent.
Closing the 50th HKAF, two of contemporary China's most well-established and innovative ensembles: the Shanghai Opera House and the Suzhou Symphony Orchestra will perform Tristan und Isolde and Chen Qigang, led by renowned conductor Xu Zhong, where the masterworks are imaginatively juxtaposed, drawing inspiration from both Western and Chinese operatic traditions.
Distinguished theatre veteran Fredric Mao collaborates with the HKAF to create new classics of Cantonese opera, combining the best of opera traditions and the essence of modern theatre vision in his new production Cantonese Opera Creative Studio. Following an enthusiastic popular and critical response to his earlier work, this brand-new creative initiative will reimagine beloved highlights from the Cantonese opera repertoire.
In Jockey Club Local Creative Talents Series – Dance Opera: Love Streams, a stellar cast of outstanding dancers from the Hong Kong Dance Company, renowned opera singers, and a live music ensemble perform an ambitious double bill of the chamber works Heart of Coral (2013 HKAF) and Women Like Us (2021 HKAF) and adapted as dance operas with top opera vocalists and live musicians.
The Bamberg Symphony Orchestra, led by conductor Jakub Hrůša, live-streams three concerts from its home venue, the Joseph Keilberth Hall in Bamberg, featuring works by Smetana, Bruckner and Mahler.
One of the oldest ballet companies in the world, the Paris Opera Ballet, treats Hong Kong audiences to a dance extravaganza with the Asian video premiere of Rudolph Nureyev's Romeo and Juliet, newly filmed in 2021; Patrice Bart and Eugène Polyakov's interpretation of Giselle; and Crystal Pite's Body and Soul.
The eminent Bayerische Staatsoper (Bavarian State Opera) brings you superlative music and innovative staging in two filmed productions: Korngold's Die tote Stadt (The Dead City), conducted by Kirill Petrenko and starring tenor Jonas Kaufmann; and Shostakovich's spectacular satirical opera The Nose.
Australian choreographer Stephanie Lake presents Hong Kong's own version of her hit show Colossus, on which she worked long-distance in rehearsals with the bright young dancers of the Hong Kong Academy for Performing Arts to bring a "wildly mesmerising" dance about the individual's place within the collective.
Multi-international prize-winning pianist Chen Sa dazzles in a solo recital of works by Beethoven, Chopin and Schumann, before joining forces with conductor Yu Lu and the HK Phil for Beethoven's magnificent "Emperor" Concerto.
In a new version of Miss Julie, co-commissioned and co-produced by the HKAF and Singapore Repertory Theatre, Strindberg's psychological, naturalistic 19th-century drama is transplanted to colonial Hong Kong in 1949, starring a Singaporean and UK cast.
The Jockey Club Local Creative Talents Series: Yat-sen Musical premieres in full staging, bringing together a stellar creative team and local performers to tell the origin story of a monumental historical figure in modern Chinese history.
The four rising stars of the Esmé Quartet explore the passionate, romantic and sensuous masterpieces of the European classical quartet tradition, creating a universe of emotions on an intimate scale.
Originally slated to premiere in 2020, We Are Gay is acclaimed playwright Candice Chong's gripping portrayal of intergenerational tensions and how complicated relationships are navigated in the gay community in a play based on extensive research.
Making their third appearance on the Festival stage, the King's Harmonica Quintet showcase the endless possibilities of the harmonica in a wonderful spectrum of works spanning across classical and contemporary.

HKartsFestival@TaiKwun 2022 is part of the 50th Hong Kong Arts Festival, which invites audience to connect with artists and the community across two weeks of immersive and interactive art experiences at Tai Kwun (12-20 February 2022). Featuring retrospective and forward-looking themes, the free outdoor and indoor programmes are created for participation from members of the public.
Showcase programme include: The Wolf Pack, a large-scale outdoor intergenerational dance by Natasha Gilmore featuring around 60 local community members across three generations; Harmonica Heroes, a concert celebrating Hong Kong harmonica history curated by world champion CY Leo; The Island Whispers…, an outdoor site-specific dance performance by internationally renowned choreographer Helen Lai; Stillness, features a one-on-one site-specific dance performance and multimedia installation; Glasshouse, a sound installation created by three Hong Kong youth artists; and Mix: Re/Tape 2.0, an enormous sound installation incorporating cassette tapes and music, reflecting on music storage and consumption.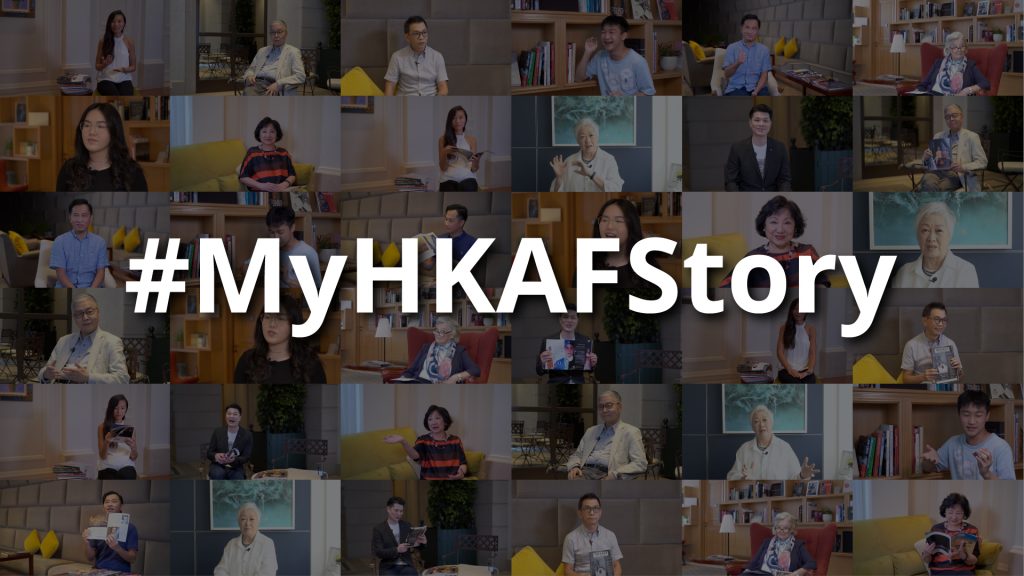 To commemorate the 50th edition of the Hong Kong Arts Festival, the team has decided to express appreciation for everyone who has contributed to and been a part of the HKAF over the past five decades, and invites them to take part in "#MyHKAFStory" and share their favourite memories of the Festival by either tagging @HKArtsFestival and #MyHKAFStory on social media or by submitting their stories to the Festival at http://myhkafstory.artsfestival.org.
The Festival has also prepared a bilingual anniversary commemorative publication comprising multiple perspectives and untold stories from the HKAF's long history. Comprehensive and richly illustrated, the book, soon to be available to buy, is testimony to the Festival's dedication to serving Hong Kong through cultural exchange and promoting the arts. Images, narratives, reminiscences and future projections make up a composite picture of the celebrated institution that is the Hong Kong Arts Festival, as it has developed over the last 50 years and heads into its next half-century.
Festival PLUS continues its mission to broaden audiences' Festival experiences beyond the stage. Adding to the list of great performances, PLUS offers a fusion line-up of in-venue and online activities, including a piano-hypermedia installation, enriching the experience of music programme of Nirvana from Shanghai; an artist sharing by choreographers from mainland China, France, and Australia, exploring the dance creations by distance of Xiao Ke and Colossus; and an online behind-the-scenes of The Greek Passion from the Czech Republic, revealing the production process of this opera masterpiece. Additionally, there are films and screenings, masterclasses, workshops, meet-the-artist sessions, and pre-performance talks, to give audiences a deeper engagement with the artists and their works.


Young Friends of the Hong Kong Arts Festival, which has reached around 800,000 students since inception, will continue to "LEARN, EXPLORE, CREATE" performing arts. In 2021-2022, HKAF has offered outreach activities both in person and via online platforms, allowing flexibility and meeting the diverse needs of different schools and students. In addition, special STEAM education programmes, including the Arts x Tech Creative Competition and an innovative tour featuring in-school immersive experience, are launched to promote arts and technology to the young people of Hong Kong.
The 50th Hong Kong Arts Festival runs from 25th February to 26th March 2022. Programme and tickets available here