Following its origins in March 2021, where Singapore fellows presented digital keynotes, Ong Keng Sen and T:>works' PerForm project now returns next week, in the form of the Per°Form Open Academy of Arts and Activations. Running from 13th to 16th April 2023, the free event features the inaugural live gathering of 14 Per°Form Fellows from the Global South and its diaspora, presenting and sharing their strategies for activating contexts and communities.
Hailing from Africa, Arab World, Asia-Pacific, the Caribbean, South America – and its diaspora, the Fellows are intersectional practitioners representing diverse disciplines of curation, research, education, visual culture, performance and more. As such, with Per°Form, T:>Works aims to cut across silos, disciplines, and fields to support contextualised research, situated practices, and translocal knowledge production as shared resources for the future.
In particular, Per°Form focuses on the arts practitioner as a thought leader engaged in care and repair, actively bridging histories, the precarious present, and world-creating. For Per°Form Open Academy of Arts and Activations, Dr. Ong draws inspiration from his seminal work investigating nomadic alternative universities and world-creating in the arts: The Flying Circus Project (1996–2013), as well as the Curator's Academy (2018-2022) including the Berlin collaboration with Maxim Gorki Theater.
The idea of an Academy can be traced to the Greek classical centre of learning dedicated to wisdom and skill. Today, the Academy has developed into institutes of secondary and tertiary higher learning, generally with research or honorary membership, concerned about "the accumulation, development, and transmission of knowledge across generations, as well as its practitioners and transmitters." To this end, the Open Academy embraces alternatives to such a route, implying an openness which opposes hierarchical learning, refuses elite membership, and ultimately unpacks the institution into a porous space.
The Per°Form Open Academy aspires towards planetary consciousness. Achille Mbembe, the Cameroonian public intellectual, wrote: "For me, the planetary immediately evokes a connection between life and its futures on the one hand, and the Earth on the other hand. What comes to my mind is the biophysical organic material and mineral order — a geological magma-filled rock topped with the entangled orders of physical, organic phenomena such as plants, animals, minerals and so forth, as well as the artifacts and things and tools we have invented … I find it almost impossible to think of the planetary without thinking about life and about the Earth. I probably owe that to my interest in the animist metaphysics of precolonial Africa. That's the archive I draw on to propose this kind of understanding of the planetary as so closely linked to life, which itself is an indivisible process.
Dr Ong elaborates, "the idea of openness and porosity is even more important when we evaluate and redefine how we sustain liveability on Earth. We have arrived at a complex fusion of life and the Earth, rather than a separation of human and non-human. In particular, the planetary refers explicitly to the artefacts, things, and tools which the human has invented such as notations, writings, books, objects, stills, moving image recordings and the digital. There is also a connection made between animism and metaphysics, bringing in a spiritual, irrational realm which the human and non-human do not necessarily rationally include. Our emphasis in Per°Form is living, multiplicity, and transformation on this geological magma-filled rock."
Central to the Per°Form Open Academy of Arts and Activations is a marathon format on 15th April (Saturday) stretching from 11am to 1am the next day, where the audience is encouraged to visit for an hour or two, or stay for as long as they desire. This marathon format has its precedents in the legacy of T:>Works' The Flying Circus Project (1996 – 2013). At the end of the day, the marathon will conclude with a banquet and Q&A session with the Fellows, an opportunity to release at the end, collect one's thoughts, and talk.
The 14 Global South Fellows are Aouefa Amoussouvi; Chidumaga Uzoma Orji; Giuliana Kiersz; Helia Hamedani; Keren Lasme; Ladji Kone; Martha Luisa Hernández Cadenas; Mona Benyamin; Nirlyn Seijas; Rah Naqvi; Renan Laru-an; Rola Khayyat; Soukaina Aboulaoula; Tara Fatehi. Highlights of the workshops include: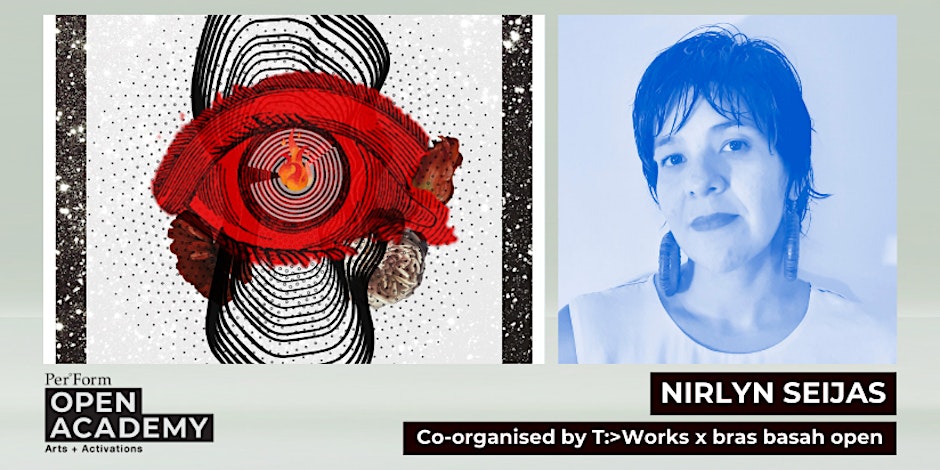 Nirlyn Seijas—The Latinas Grandmas Oracle: Artivist strategies from art history
This workshop is an on-going engagement with Nirlyn's curatorial research on 11 Latin American female artists. One of the findings of the research resulted in the creation of "The Latinas Grandmas Oracle" which will be presented as a possible strategy to connect with, reactivate and mobilise knowledge from art history.
During the workshop, participants will learn about each artist, each card of the oracle, and the meaning and interpretation of each card as proposed by the curatorial research outcomes. Through the experience with the Oracle, participants are invited to reflect how the knowledge gained is translatable and applicable to their contexts.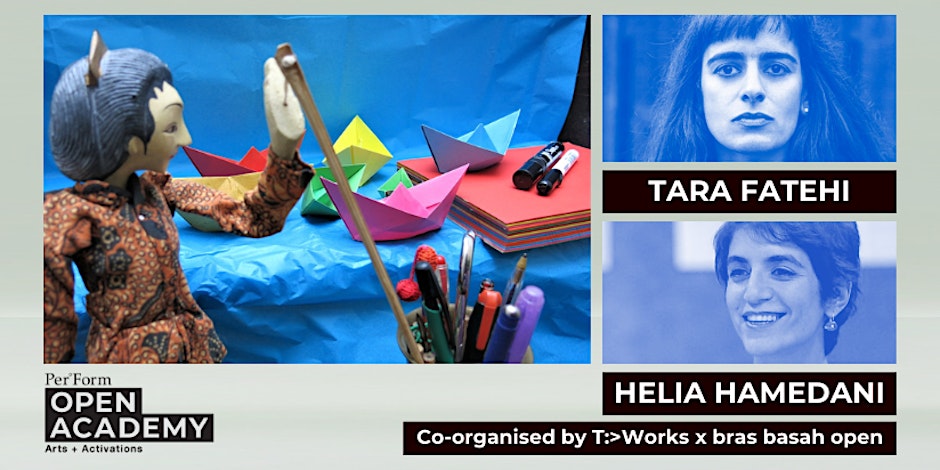 Tara Fatehi and Helia Hamedani—'Then she stood on the table and …': A Collective (Mis)Remembering
How do we activate forces of remembering as tools for global solidarity? How do we connect distant points on the map through sharing our experiences? What remains from a taste, a home, a passion, a dance, a togetherness?
This is a cross-generational, cross-disciplinary conversation between people who care: about the personal, history, the ordinary, global solidarity and your bodies together. Together, you will explore non-violent methods while finding joyfulness in simple everyday actions. 
Artists and creative-critical thinkers are interested in practices of listening and sharing, hospitality, conversation, and storytelling – nonsensical as it may be – through words and forms, and the body.  Participants need to have an interest in cultural, political, social, queer or feminist activism, conversation, social justice, sharing and questioning.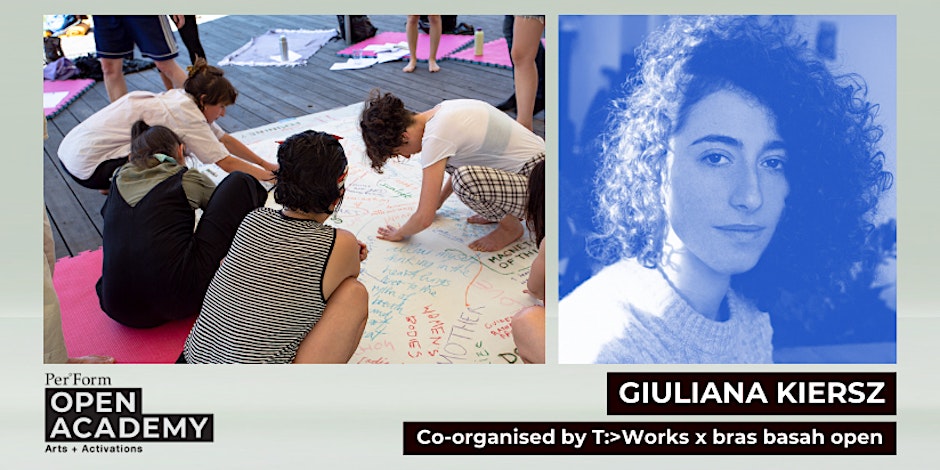 Giuliana Kiersz—Writing Gathering
What words do we use to describe the world? What ideas, structures, and beliefs inhabit these words? How could we, collectively, re-write our societies? The Writing Gatherings (2017 – ongoing) are sensitive spaces to enact writing as a social and communal practice. We aim to re-think and re-write the narratives that we have inherited, to create new landscapes for our thoughts, feelings, and relationships. We use an empathic approach, working in groups and from questions, letting our practice be contaminated by collecting, observing, and listening together.
Everyone is welcome to join, no previous knowledge is required and participants can write in the language they feel most comfortable in. While stationary and materials for writing is provided, we also invite participants to bring specific writing instruments of their choice, specifically if there is one of significance and resonance. 
Rola Khayyat — Reading Photographs
Both personal archives and personal histories help us better understand the complex forces that shape our world. In this workshop, we'll look at and talk about photos, letters, documents, and other artefacts from our own families' albums to communicate personal narratives that fit into a broader, more global context. Participants will be brought to a greater understanding of their own intentions, thoughts, and choices, as well as how to combine them while creating a personal body of work. Participants will be urged to think about how their personal archives fit into and speak to the larger framework of collective histories.
Participants are invited to bring their family photo albums and other personal archival or historical artefacts that may include letter, documents and objects to work with in the workshop.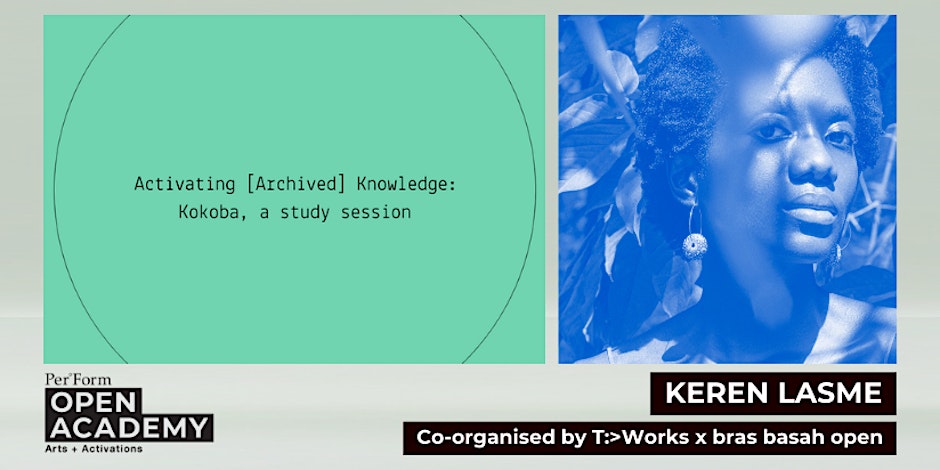 Keren Lasme—Activating [Archived] Knowledge: Kokoba, a study session
A curated sacred space for collective study that sparks new conversations about the richness and breadth of African literatures, literary arts and heritage. By tapping into the ancient technology of knowledge sharing and storytelling, we will gather in a circle to engage with a selection of provided texts from Kokoba's library in order to activate their archived knowledge. As we travel through the landscapes they reveal pages after pages, immersed into the writers' imagination, we will experiment with words, investigate themes and ideas and stretch our minds.
Visitors may also enjoy 72-13 being transformed into an urban picnic, with Art Labor installing the Hammock Café as part of their Keynote. Art Labor will serve Vietnamese Robusta coffee, representing a crucial part of Vietnamese drink culture and agricultural economy. Vietnam is ranked the second largest raw coffee exporter. The expansion of the coffee growing industry has had a complex impact on the Vietnamese agrarian eco-system and the lives of the Jrai people in the central highlands of Vietnam. Join in the coffee ritual upon arrival at 72-13 on 13 April.
Per°Form Open Academy of Arts and Activations runs from 13th to 16th April 2023 at 72-13. Register for free at Eventbrite. Full programme lineup available here