KUALA LUMPUR – Over the last five years, Ghafir Akbar has slowly but surely been making a name for himself in the Singapore theatre scene. Besides having garnered critical acclaim and our nod as Best Actor for his role in Singapore Repertory Theatre's Guards at the Taj (2018), the Malaysian actor has worked closely with some of Singapore's foremost theatre companies and who only seems to be getting better and better at his craft with every performance.
But then, who exactly is Ghafir, and amidst all the stories he's a part of onstage, what's his? We sat down with the man himself in his home city of Kuala Lumpur for a coffee, and listened to him before he embarked on yet another whirlwind series of shows in Singapore come 2020.
"I grew up in a family where as a kid, I was brought to concerts and magic shows," says Ghafir, as he takes a sip of his coffee. "Both my parents were performers in their own way at some point in their lives. But it was only when I was about 15, when my sister took me to see theatre shows, that was when I kind of realised what theatre was and how much I liked it."
"I ended up joining the drama club, and it was nice how it was basically a bunch of friends coming together, and recognising that we shared the same interest," he continues. "It was all kind of fun and exciting, and we saw ourselves as a family. It was a case of us all sharing the same interests, and that was something that really brought us together. Sure, people looked at us a bit funny when we wore silver capes and were prancing on the school stage, but when we were together, we felt invincible, and just didn't care. We were all supporting each other, and the teachers also liked us."
What Ghafir eventually went into however, might surprise you. "When I left secondary school, I embarked on an engineering programme, but my mind wasn't really there because I just couldn't figure out what I wanted to do," he admits. "In my spare time, I ended up auditioning, working at cafes, box offices and as an usher, mostly at The Actors Studio. Essentially, I still wanted to surround myself with theatre. I ended up meeting lots of people, and one thing led to another, where I kept getting cast, started working backstage and eventually I knew I wanted to pursue theatre professionally, and left the engineering programme."
"I don't think my parents ever saw me pursuing theatre full-time as a career, and when I did, they were initially reluctant, but eventually recognised I was working and it was a legit career," he adds. "My mum is a huge theatre fan and tries to see as much as she can. Whenever I'm performing, she really does want to see my shows, but she has such a strict routine in KL that travelling down isn't that easy."
After dropping out of his engineering course, Ghafir's next step was to find somewhere and some means of studying theatre. That would prove to be a problem, at least if he was planning to remain in Malaysia. "There weren't that many programmes regionally at the time, and in Malaysia, options were very limited," says Ghafir. "Maybe it's also to do with the fact that being with Jo Kukathas and The Actors Studio, I also had a certain exposure to Western, English theatre, so there was a part of me that wanted to go the America or the UK. Unfortunately, I couldn't afford it at the time."
But somehow, fate seemed to take a shine to Ghafir, and his lucky break came.  Says Ghafir: "At some point, I did a show in KL, and the Dean from an American acting school happened to be visiting and watching the show. I ended up meeting him after the show, we had supper together, and he said he liked what he saw onstage, and that the programme could have really benefitted from a student like me. So he offered me a place!"
"Of course I was enthusiastic, and I thought about how difficult the process of getting into acting school could be, from sending in a showreel to audition tapes. Plus, he was also offering partial scholarship, and at the time, it was mostly STEM students they were offering scholarships for. So I took him up on his offer, and spent the next two years working on making the rest of the money to make up what the balance."
The story behind that also came as a result of serendipity, where fellow Malaysian theatremaker and close friend Jo Kukathas helped connect Ghafir to a company that would end up partially funding his studies. "We ended up meeting atop KLCC tower in this big conference room, with Jo there with me," Ghafir recalls. "It was quite nerve-wracking because he kept asking how can we trust you're committed and will remain in the programme when you quiet engineering. I answered as well as I could, but at the end of the meeting I really thought I wouldn't get it."
"Then they told me that they were going to award me the scholarship, and I just broke down in tears and was so thankful that these people trusted in the investment they were going to make in me."
Ghafir took the opportunity he was given and ran with it, pursuing his studies in the USA and ending up spending 8 years there, pursuing his MFA thereafter, and also trying to get a foot in the industry. "This environment was incredible, and there were so many people my age wanting to study theatre, where everyone was as hungry for success and as interested as I was, and there was this driving force and energy that hung in the air," says Ghafir. "In my last two years in America, I wound up in New York and really did my best to make it work. I always describe that as both the best and worst years of my life, where the possibility and opportunity is surrounding you to end up on Broadway, where all these thespians and famous people were walking among you."
"But it was also very expensive, and that's where the struggle began," says Ghafir frankly. "There were so many people there chasing their dreams, and people who look like you and were as talented as you, if not more so. Competition was really strong, and if anything, being there taught me the humility of rejection, when you're constantly getting told you're not this enough or that enough, and lots of people ended up quitting after 1 or 2 years."
"Back in school, they tell you you're the best thing since sliced bread, but once you graduate and get out in the world, then people start telling you oh you're not tall enough, not brown enough or your hair is too curly," Ghafir elaborates. "I had this friend who was a casting director who reassured me that often, the problem never really lies with the actor, but that casting directors have this certain image of who they're going to cast in mind, and expect the actor to be able to solve all their problems and be absolutely perfect for the role. Usually, it has nothing to do with talent (unless you really are bad), but something as mundane as not wearing the right shirt or someone is having a bad day, or your co-star is tall so you end up needing a taller person to complement her. And you have to remember that this is not a personal attack on your talent."
At that time, Ghafir was on a visa with a time limit, one that was a ticking clock which once gone, would spell the end of his time in America. "I was really sad because it felt like I was on the brink of really making it and breaking onto the scene there," says Ghafir. "I was finally getting seen and getting paid work – I swear there was once, I was actually paid in sliced pizza."
Ghafir ended up staying with his sister in England a while, and finally found some work. Oddly enough that was set to take him to Italy, of all places, and Ghafir headed back to KL to sort out his visa issues. Things fell through however, and in 2011, Ghafir found himself stuck in Malaysia, with half his belongings in New York, half his belongings in England, and nothing in KL. "I guess I've always been resistant to coming back to Malaysia, and there was a bit of an adjustment period at first," says Ghafir. "But eventually, I went out and started talking to people and the opportunities just started coming in more easily than before."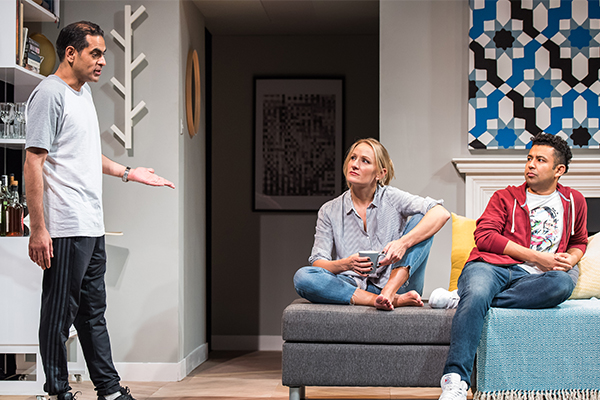 Ghafir finally decided to settle back in KL, and made his start with a children's theatre company called Jumping Jellybeans. While with the company, he eventually was given an opportunity to direct a new show involving kids and gamelan, something that made him finally realise that this was where he needed to be, and tell stories as an Asian in Asia. "It's interesting because I didn't actually do a lot of acting in that time, and I really only got back to that when I started working with Cake," says Ghafir. "Nathalie (Hennedige) came down do work on a collaboration in KL, and at that time, I was teaching, and also had a full time job working on doing tourism shows for KL."
"At the end of that I auditioned for W!ld Rice in Singapore in 2015, and tried for Another Country. When I got that, they offered Hotel and then Public Enemy, and my first season in Singapore ended up being me doing three shows with them. It was a case of right company, right time, and it opened up the opportunity to work and audition in Singapore a lot more."
That, in a nutshell, is how Ghafir came to become a familiar face in the local theatre industry here in Singapore. "Being in Singapore felt like a step closer to New York, despite leaving it," he adds. "One thing I always recognise in Singapore is a kind of professionalism that's lacking in Malaysia, with an infrastructure that supports the industry, and aesthetics that lean towards the Western canon. This was all stuff I was a bit more familiar with, along with regional work like Kuo Pao Kun, and it was just exciting to be a part of that industry."
"I thought that that season with W!ld Rice might have been the last, and I honestly didn't know what the future had in store for me," says Ghafir. "They ask you to think about that a lot in school, but all I knew is that I wanted to be global, and I never wanted to stay in the same place for too long."
"Being based in KL, I felt the need to perform in more KL shows, but the problem was, there weren't many shows to begin with. Couple that with how I was scheduled to be in Singapore so often, and the timings and scheduling often wouldn't work out, plus because of that, people begin to have the impression I'm based in Singapore, and so wouldn't work in KL."
"Earlier in 2019, with Gold Rain and Hailstones, there were these audience members who actually came up and asked 'oh is this your first show?' I was a bit taken aback at first, but I realised that even though I've been in this industry for 20 years, I've been away from the KL scene for so long that there's practically a whole generation of people who've never seen me onstage. It feels a little like being an outsider in my own country," Ghafir muses. 
"I talk a lot about how Malaysia's theatre scene is still very behind, but I feel guilty sometimes that I'm not doing as much work here to change that," Ghafir admits. "There's a constant want for me to come back, not to show them 'how' it's done, but to show them the work I'm doing, in the hopes they respond to it and find something they can connect to. In the late 90s, that was the heyday of KL theatre, and I left at the peak the late 90s. I think it's because a lot more people went into theatre after that, and a lot of them just come in without training."
We now turn the spotlight back to Ghafir as a person, and his own thoughts on what it means to be an actor, starting with the way he carries himself in public. "I'm actually quite a shy person, and sometimes after shows I'd pretend to be on my phone and sneak off instead of meeting people," Ghafir says, laughing. "I had a friend once tell me that as an actor, you should maintain a certain level of mystique. People love seeing actors they don't know and go wow, versus knowing them as people, and comparing their public persona and acting persona."
With so many strong performances under his belt, what's the next challenge Ghafir is looking forward to? "There's a lot I haven't done yet, and every play I do is still a new challenge," he says humbly. ""A good performance usually comes after reaching this point where you feel you can't give anymore, and then that's when you find the magic and sweet spot. I don't think I've ever looked at a piece and thought 'wow, this is going to be an easy piece to do', and even when I thought that briefly, I was proven wrong. It's about constantly morphing and picking up skills and translating that to other things. I do hope to direct more, and that one day, I'll get a chance to create an original show. The longer I stay in the industry, the more I feel a need to express myself not just via acting, but in other modes as well."
Commenting on his preparation process for his upcoming shows, Ghafir expresses the importance of keeping an open mind, and taking in not just theatre-specific prep, but life in general. "Everything you end up doing leading up to the play affects you, like how I was watching Marriage Story on Netflix. I was watching how Scarlett Johanson and Adam Driver were arguing, and you notice all these dynamics and different ways of playing a scene and how that translates into performance. In The Lifespan of a Fact, there's this long argument my character has with the fact checker, and it's a challenge to keep it interesting."
"A good actor also needs to be constantly 'stealing'. You never look at the world normal people do, because you're constantly observing others and taking that into the rehearsal room," he adds.
His secret? "One of the best places, I've found, is the airport. Usually, people are either alone, or going somewhere important, and it's always with a purpose, whether for a funeral or a wedding or a holiday. Airports, and other transportation hubs, represent that place where everyone moves with a motivation in mind."
For a person based in Malaysia to be working so much in Singapore is still a very unique case, and Ghafir comments: "It's so rare to have that opportunity where all you have to do is worry about getting your job done. It's such a luxury to be allowed to purely be an actor and do just that, to memorise your script and obsess over being in the play."
"It does get lonely sometimes however, especially when you have to decompress. You start to overthink and get so caught up in the world of the play, and it can be depressing at times. That's why it's so important to me to have friends from outside the circle, finding meetup groups or people with common interests outside of theatre that lets you just talk about something else for a change."
With so many plays one after another set for him, it's all good news for Ghafir's career. What may seem to be overwhelming for most, Ghafir takes in his stride, with pride. "It can be hard sometimes doing multiple plays in a row. But honestly, it's a case of putting on a new costume and seeing a different set, spending a little time onstage getting into the mindset and you're there," he says.
"I haven't been in a position yet where my character is too overwhelming, or I can't separate myself from him. Lots of that has to do with removing the costume, and putting on my own clothes. In particular, it's the shoes, because only your shoes end up fitting you perfectly."
"I think actors should have some quiet time between shows and home, like a walk or a bus ride home," he adds, commenting on post-show recovery. "You know how W!ld Rice has the lyf apartments in the same building as Funan? I don't think I would be able to stand living there, simply because it's literally beside the theatre, and I wouldn't have the distance to separate myself from the show."
As for the advice he has for actors hoping to catch their big break or make it in the industry, Ghafir leaves us with these words of advice: "It's about watching as much as you can, whether it's theatre and concerts and operas or galleries. To get into the scene, it's really about just dropping a particular company a message, or a simple note of appreciation to tell them you liked the work, and would like to work with them in future."
"Maybe when you do get a chance to audition, or when they have a new show, they might have you in mind. As for whether they'll ultimately choose you, it's often down to a case of talent first, but also, whether you can work well with the other actors and the creative team. People will always cast actors who are fun to work with, unless they're really very good. The industry cares a lot about surrounding productions with positive energy, and that's the advice I myself was given, and something I still believe in till today."
Catch Ghafir's next performance in Singapore, in SRT's The Lifespan of a Fact from 25th February 2020 at the KC Arts Centre. Tickets available from SRT
Ghafir will also be starring in W!ld Rice's An Inspector Calls (May) and the restaging of Hotel (June), both at the Ngee Ann Kongsi Theatre at Funan.