After being stuck at home for weeks on end, it's no wonder that most of us have developed a massive desire for travel. But with the restrictions placed on cross-country travel, how the heck do you get out of Singapore for a much needed holiday?
For intrepid travellers Marc and Anna, that's a problem they've managed to circumvent through the power of imagination and using all the simple but effective tools available to them. The Singapore-based couple are the founders of RandomDots, a brand new startup that aims to bring the world to you, using video conferencing technology and collaborations with food and drink vendors to produce a thoroughly unique experience within the comfort of your own home.
But RandomDots didn't start out this way. In fact, the project was born out of the couple's shared love for Singapore, and their drive to help friends and family experience the very best of our sunny island's hidden gems and activities. "Because of my background, I've always embraced the idea of instability and adventure, I guess you could say the randomness of it all," says Anna. "We thought about how Singapore itself was a little red dot, and how what we wanted to do was bring people together, and connect them through unexpected experiences, hence the name RandomDots."
"Anna and I are people who're passionate about creating great memories, and I think what surprised me is how meticulous she is at recording it all down," says Marc. "She pulled out this spreadsheet of interesting people and places she's seen since moving to Singapore and we thought a lot about how we can bring that same fascination to others. Even though we've travelled a lot, there's a part of us that wonders why is there this need to escape, when there's so much still to be discovered right here."
Marc and Anna's story is a fascinating one; Marc was an economics major born and bred in Lichfield, England, moving around various countries for work before finally landing in Singapore. Anna originated in China, but has always led a nomadic life, settling in places from the United States to even Syria. A law graduate, she continued to travel around, eventually moving to Singapore for a job. Quitting after just a year (much to her parents' bewilderment), the couple finally met via a stroke of fate and a little help from Tinder.
"Tinder is something that I've been using throughout my travels," says Anna. "Not just as a dating app, but because of how much I move around, it's the most effective way for me to build a social circle in a new place. So far, it's worked, and I've always managed to meet interesting people and make new friends because of it."
After a successful debut in January 2020, in which the duo planned a surprise weekend adventure for two, RandomDots seemed set to execute the rest of their 100 or so ideas in time to come. But future plans were abruptly brought to a halt with the announcement of tightened social distancing measures and the circuit breaker. Marc and Anna, however, were undeterred by this, instead harkening back to the core of why they started RandomDots in the first place.
"When circuit breaker happened, there was always the temptation to take the easy way out and just sit on it till things cleared up," says Marc. "But we had all these plans to work with local vendors and weave what they offered into a single story and experience for people to discover and enjoy. So we talked to them and tried to do our very first stay home experience, with about 25 people in attendance. It was small, but it was so great to see the vendors take a chance and to hear the great feedback we received. We were ready to go bigger, and see how else we could push RandomDots."
From there on, Marc and Anna didn't just limit themselves to Singapore, but decided to take on the world, from getting collaborators in Iran and India to teach card games unique to their countries, to their first big project – taking their guests (known as 'Dotters') on a virtual trip to Taipei. "We knew that Taiwan's lockdown wasn't strictly enforced just yet, and went online to find someone willing to work with us," says Marc. "So we found this lady named Agnes, and she brought us all on a 'walking tour' of Taipei, while we also included some Taiwanese food and drinks as part of the experience, which saw about 50 people in attendance."
That pivotal experience was what gave RandomDots the confidence to keep doing what they did, and bring these unique experiences to those craving it. "The most powerful experiences are usually the ones people least expect," says Anna. "There's lots of guys who love to buy our experiences for their girlfriends, and when they find out on the day itself that there's a dance class involved, they panic. But after that, they end up telling us it was the best part of the experience! Those are the anecdotes that make us believe in what we do, to see these people doing things out of their usual routine comfort zone and make new memories."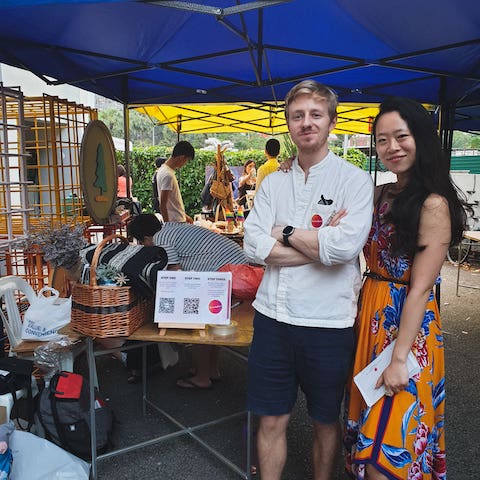 A RandomDots experience is as much powered by its founders as much as by its participants, and their willingness to let go and see where the adventure takes them. Most of the time, participants come for an experience looking forward to being surprised, whether it's discovering new things about a country, meeting new people, or simply enjoying the experience of say, a cook along, in which they prepare a meal with ingredients provided, as an instructor guides them.
"We actually receive quite a few return customers, and people end up seeing each other again a lot," says Marc. "In a way, there's this building up of a community here, and after a while, there's a very organic bond between the participants, with our main role having been to plan the activities and provide the platform, but not having to facilitate interaction."
From speaking to them, it's clear that both Marc and Anna's hearts are in the right place, with the relationships built not just between Dotters, but between themselves and their vendors always the priority. "We see so many vendors struggling during this time and losing their means to make a living, so RandomDots is all about finding a creative way to bring the latent talent together, and presenting them to our guests," says Anna. "A lot of them have never imagined presenting their craft in a certain way, and were pleasantly surprised by what we proposed. There was this one time our guests came together to record a song written by an artist, and at the end of the session, they each got a copy to take home! That's really special, since it's an experience captured in a non-perishable item, a piece of art."
If anything, the amount of effort the duo have poured into RandomDots has only been repaid with further kindness and opened new doors for them. In their most recent #StayHomeExperience, RandomDots 'brought' guests to Tel Aviv, and made sure to get things right and create an authentic experience by speaking to the Embassy of Israel. The response was enthusiastic, to the extent that the embassy officially endorsed RandomDots' event, and their Deputy Ambassador even gave the Dotters a warm welcome.
Even after things go back to 'normal', Marc believes that there will continue to be a place for RandomDots in everyone's lives. "We've gotten feedback that our Dotters would love to continue even after things start to open up again, even when they can physically travel," says Marc. "It can be both expensive and difficult to plan an actual trip, and an experience with us can be incredibly convenient for say, parents who need to juggle taking care of a child while still wanting to organise a date night."
Speaking about their own most memorable experiences, Anna recalls being in Costa Rica, climbing up a huge tree so high up in the mountains that when they reached the top, it was covered in fog, and simply immersing herself in the moment with her fellow travellers. Marc on the other hand, recalls travelling to Tokyo and being led to a restaurant in a back alley, meeting a chef who cooked unbelievable dishes, and sharing a mutual understanding despite not speaking the same language.
"We started out as a service that wanted to do something different, to connect locals with where they lived by showing how much potential there was in exploring what was around them," says Anna. But now, we're going a little further, and really here to be a platform for facilitating unique experiences in general, to tell stories with our partners, and bring people together. Often, our most meaningful memories are the intangible ones, and we want to help people create some of these with us."
All photos courtesy of RandomDots
Random Dots' next adventure to Rio de Janeiro, Brazil takes place on 20th June 2020 at 7pm. Find out more and purchase tickets from their website here. Read about past experiences RandomDots has hosted here