Malaysia dips its toes into digital presentation with a livestream edition of hit sketch show.
KUALA LUMPUR – Ever since the COVID-19 pandemic struck, the arts scene in Malaysia has been on break for a good few months now. Which is why any opportunity to see a performance from across the Causeway is reason to be happy, even if it's a digital one.
With that in mind, The Kuala Lumpur Performing Arts Centre (klpac) The Actors Studio Seni Teater Rakyat (TAS) have taken their hit indicinelive! revue online. Affectionately known as the 'Quaranstream' edition, not only does this edition mark one of the first original performances to have emerged since COVID-19, but also doubles as a fundraiser for both klpac and TAS, to help cover the losses sustained during this difficult period.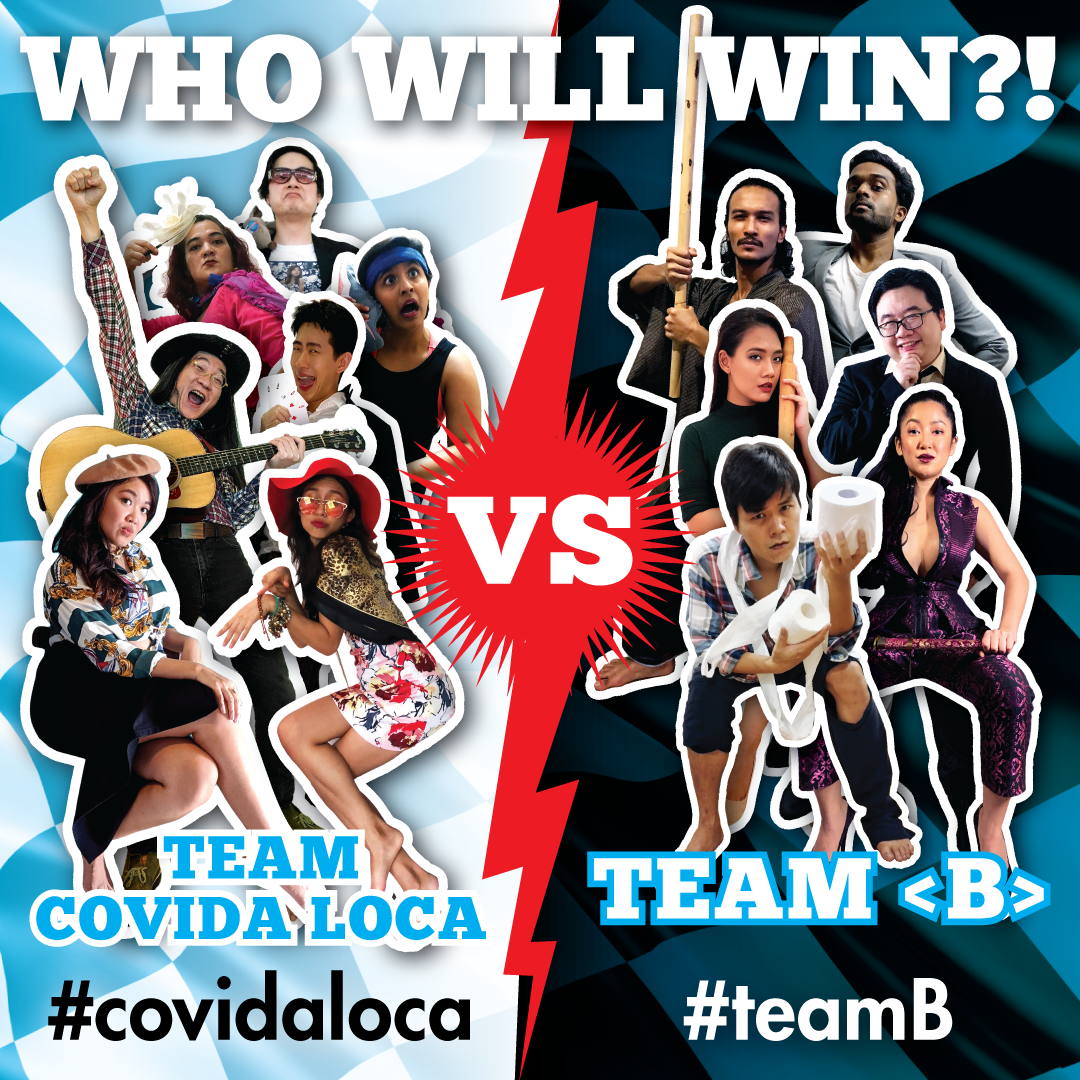 Directed by Freddy Tan, and featuring sketches written by Uihua Cheah, Adriana Nordin Manan, Terence Toh and Tung Jit Yang, indicinelive is an all-Malaysian production affectionately poking fun at the Malaysian COVID-19 experience and movement control order. Choosing Facebook livestream as their medium (with help from multimedia designers Coebar Abel and Sebastian Ng), indicinelive showcases plenty of versatility across its sketches, from touching on issues from border controls to news coverage of COVID-19.
Perhaps the common thread that binds all these sketches is how willing they are to lean into the absurd and surreal aspects of COVID-19, with ordinary situations often veering into the unexpected. Whether it's the unexpected appearance of a dead body, or a Malaysian bomoh, the only thing that's certain as you watch is never to be sure of how any sketch will play out.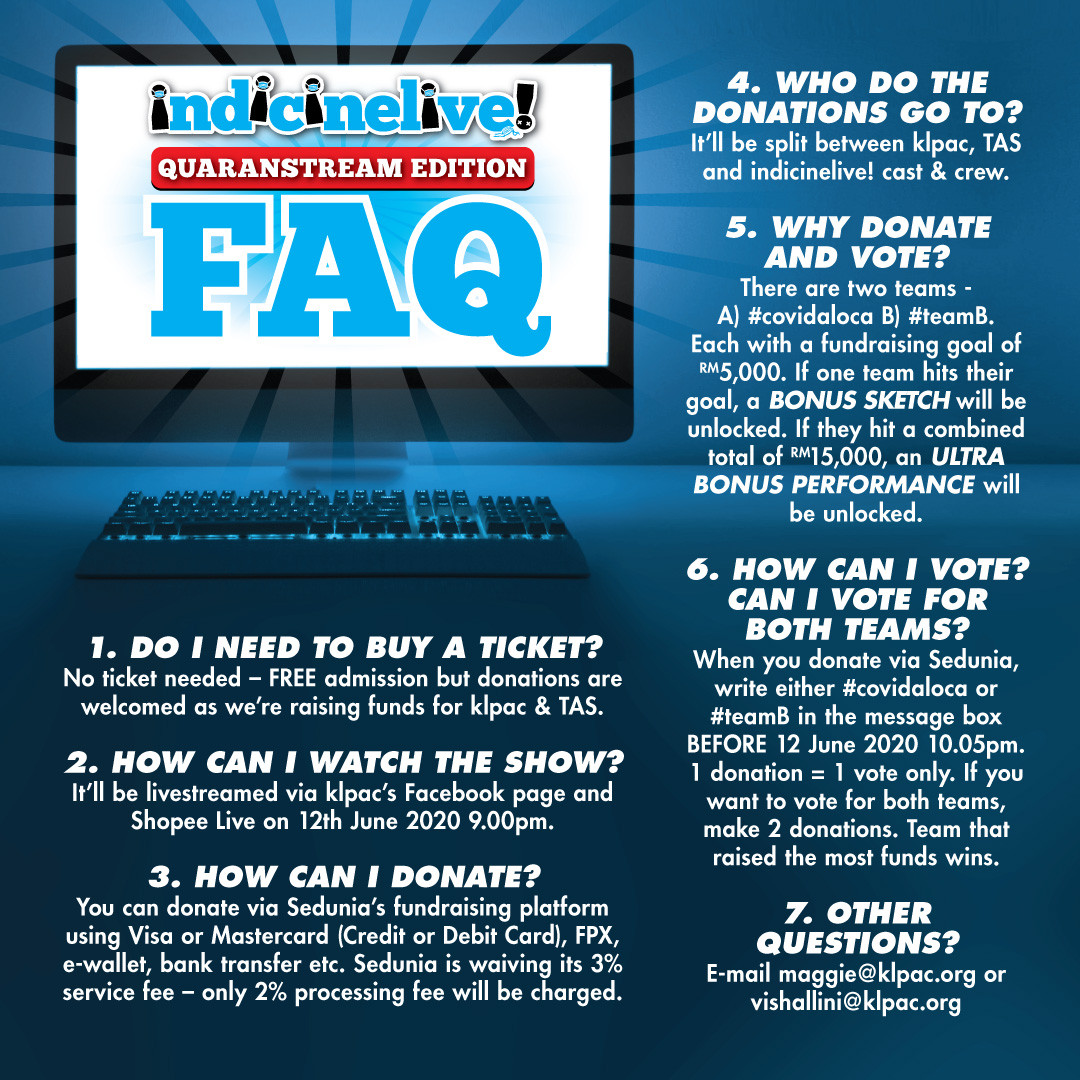 The cast behind indicinelive is massive, with performers Anrie Too, Adriana Nordin Manan, Jon Chew, Kamini Senthilathiban, Oxford Tong, Tiara Anchant, UiHua Cheah, Dinesh Kumar, Jad Hidhir, Nabilah Hamid, Siti Farrah Abdullah, Terence Toh, and Tung Jit Yang all making appearances across the sketches. Each performer leans into their role with gusto, embodying each new character they portray and giving off an enthusiasm that shows just how hungry they are to perform once again.
All this makes for a collection of playlets that shows off the potential Malaysia's (or at least Kuala Lumpur's) arts scene has, and the determination of the arts community to come together to put on a good show, against all odds. There's a sincerity to it that makes us feel for their efforts, and a cheeky awareness of the 'new normal' that allows the team to bring out genuine laughs from their brand of humour. Having hit their fundraiser goals, indicinelive! – Quaranstream edition is a beacon of light amidst the dark, as Malaysia's arts scene slowly recovers from COVID-19, and holds the hope that with a little humour and heart, this too shall pass.
indicinelive! was streamed online on 12th June 2020, 9pm on Facebook and Shopee Live. The performance was free, however, you can continue contributing to their fundraiser helping klpac and The Actors Studios here