Have made its debut last week, the 2020 Singapore French Summer Festival is finally here as the first ever totally digital French film festival in Singapore! Presenting a gamut of films, including 8 brand new, never-before-seen films in Singapore, the festival is hosted completely online with Shaw Theatres' brand new online streaming service – the KinoLounge, ensuring that all presentations are safe and to be enjoyed from the comfort of home.
We spoke to Ambassador of France to Singapore, H.E. Marc Abensour, as well as Shaw Organisation Executive Vice President Christopher Shaw, and invited them to share their views about this collaboration, and what Singapore can look forward to from the French Embassy and Shaw in the months to come. Read the interviews in full below:
H.E. Marc Abensour, Ambassador of France to Singapore
Bakchormeeboy: Firstly could we talk about how you've been? It's been an unprecedented 4-5 months of the coronavirus, could you share what have you been doing during this time? 
Marc: I have been doing well, thank you for asking. As for everyone else, the Covid-19 pandemic has considerably impacted our daily lives, including work. The Embassy was entirely mobilised to ensure the safety of our fellow citizens. This crisis has also highlighted the solidity of the strategic partnership between Singapore and France as we have also been able to deepen our bilateral cooperation in some key areas such as healthcare and food industry.
Bakchormeeboy: The French Embassy has always been at the forefront at many festivals and initiatives in Singapore, Could you share with us how these festivals are realised? 
Marc: Partnerships, co-creations and coproductions are at the heart of our cultural cooperation with Singapore. It is reflected in the way we build and create initiatives such as our flagship yearly festival, Voilah! France Singapore Festival. Thanks to the support of 100 partners from France and Singapore, the 2019 edition of Voilah presented a wide range of over 50 programmes spanning from culture, education, science and lifestyle. Despite the current crisis and uncertainties, we are working hard on the preparation of the 2020 edition which is slated to open on 22nd October. 
Bakchormeeboy: Could you share how and why the Singapore French Summer Festival (SFSF) was introduced this year as a new film festival?  
Marc: As the world was hit by the pandemic and people were confined, art and culture helped people to cope a lot with this unprecedented situation. The cultural and creative industries have taken many initiatives since the start of the crisis, although there were severely affected. The SFSF was built with Shaw Organisation in line with this trend of bringing more cultural contents at home. With the closure of most international borders, we are also glad that this festival can allow the public to travel and wander in different realities and cultures through this selection of 8 never-seen-before French movies and several other classics.
Bakchormeeboy: The SFSF opened on Bastille Day this year. What was it like planning for the celebrations in Singapore amidst this difficult period around the world, and how have the French been celebrating it back home? 
Marc: It was a very special Bastille Day as we were not able to organise the traditional reception, which usually gathers over 600 guests. Instead, we had an « e-celebration » of the French National Day in Singapore on our social media platforms which actually reached out to a larger audience. We also wanted to share a piece of France on this special occasion, with our Singaporean and international friends as well as with the French community. It is why we decided to offer our guests and the French community a free screening of The Lost Prince, one of the movies of the SFSF, on Bastille Day.
Bakchormeeboy: How do you see the celebration of Bastille Day as a symbol of resistance against the challenges that the world is facing right now?
Marc: Every year on 14th July, we commemorate the Storming of the Bastille, the victory of liberty and equality over privilege. This moment is also a time of fraternity and national unity celebration. This year, in this specific context, France paid tribute to the health and frontline workers who ensured the continuity of our daily lives and who embody the resistance and resilience against these new challenges. This crisis has also demonstrated that our societies can be stronger and more resilient by cooperating together. I am glad that Singapore and France managed to keep the same level of engagements and cooperation through these testing times. 
Bakchormeeboy: Were there any big challenges as to planning and organising the SFSF? 
Marc: This is the first 100% digital film festival that the Embassy of France in Singapore is co-organising and it was entirely built from scratch in 6 weeks. So the first main challenge was indeed the time frame: building the programme, finding a title, inventing the marketing plan, organising Q&A sessions, designing a key visual and a communication strategy. All of it through weekly Zoom meetings scheduled with Shaw Organisation team. The second challenge was to position the SFSF as a major contributor for the launch of KinoLounge VOD platform together with its permanent French films offer, and to find a way to inform both Singaporeans and French moviegoers. The Bastille Day appeared to us as an excellent occasion to promote the whole project.
Bakchormeeboy: Personally, out of the new films, which one are you most looking forward to seeing, and why? 
Marc: I am personally looking forward to watching Proxima which seems to be an unusual intimate space movie, centred around this single-mother and astronaut (Eva Green) who is preparing for a year-long mission on the International Space Station. If you are looking for a family friendly film, I would recommend you to watch The Bear's Famous Invasion of Sicily. This French-Italian wonderfully-animated movie was selected for Cannes Festival's Un Certain Regard in 2019 and sets its story around the eternal clash between humans and other members of the animal kingdom.
Bakchormeeboy: How would you say the selection of films for SFSF differs from the usual French Film Festival?
Marc: I would say that the selection is more family-oriented than the French Film Festival. We did not compromise on the quality and recentness of the movies though, with 8 newly-released movies as well as a few classics. The selection may be slightly tighter than the French Film Festival which usually features around 25 movies. But it manages to showcase the diversity of French cinema, with special emphasis around family movies, comedies, adventures, animation films, and drama.  
Bakchormeeboy: What would you say makes SFSF a must watch and a good showcase of French cinema? 
Marc: Escape, relax and enjoy French cinema from your home! And expect more French movies in Singapore with Le French Cinema corner on KinoLounge, Alliance Française's weekly screenings, The Projector's French movies selection in theatres and online, the upcoming French Film Festival in November and much more along the way.
Mr. Christopher Shaw, EVP, Shaw Organisation
Bakchormeeboy: What was the impetus behind introducing the KinoLounge at this point in time? 
Christopher: KinoLounge By Shaw Theatres is an extension of our traditional physical cinema and an added avenue to provide our customers with a wider variety of films as well as host film related events all from the comfort of their homes.  At this time of the "new normal" when global film festivals as well as many releases are migrating online,  launching KinoLounge is a natural evolution of what Shaw does best and that is bringing the best in world cinema to film lovers wherever they may be.
Bakchormeeboy: The word Kino refers to the highest tier of cinemas. How does KinoLounge aim to reflect that?
Christopher: KinoLounge from the outset aims to bring a carefully curated, high level of quality films by film enthusiasts for film enthusiasts. To this end, many of the films selected for KinoLounge are associated with various global or regional film festivals, are critically acclaimed, award winning or have achieved cult status among film fans – which means they can be very commercial and are not necessarily "art films" per se.
Bakchormeeboy: The KinoLounge is a brand new initiative from Shaw, and the SFSF is the first festival to be featured on it. Why did Shaw decide to begin by partnering the French embassy? 
Christopher: Shaw has partnered with the French Embassy for many years for the star studded French Film Festival which is held annually in November. The festival is now one of the most anticipated events in the local calendar for film lovers. The success of our partnership led us to launch the first Singapore French Summer Festival (SFSF) together on Bastille Day to give both the French and the wider community an opportunity to enjoy the sights and sounds of France 'virtually' via a selection of French movies during this period where travel has not been possible.
Bakchormeeboy: Do you think that putting these films on an online platform does them justice as opposed to say, seeing them in a cinema?
Christopher: We at Shaw believe there is no comparison in terms of the immersive impact and intensity a cinematic big screen experience provides. That said, we believe there is a space for a complimentary experience like KinoLounge where patrons would be able to catch films that for whatever reason they missed at the cinema and also many quality gems from around the world that would only be available online.
Bakchormeeboy: Streaming is now available everywhere, from Netflix to Amazon. How does the KinoLounge differentiate itself enough that people are willing to rent these films on demand instead of simply choosing something else on Netflix?
Christopher: The films on KinoLounge are presented very differently from the various on demand streamers like Netflix which are essentially a buffet of content.  On KinoLounge, a film is only selected if it is critically acclaimed or award winning, for instance, or it may be launched in association with various film festivals, archives or societies. Film lovers visiting KinoLounge can also expect to not only watch a film but perhaps also participate in an online social event incorporating "live" discussions with the cast or watch bonus behind the scenes features. This thoughtful selection of films and in combination with film events is what makes KinoLounge special.
Bakchormeeboy: How was the curation for SFSF done? What other festivals can we expect to see ported to the KinoLounge in future? 
Christopher: For the SFSF we wanted to showcase a wide variety of popular French films, both new and old, that could transport our audiences to France this summer "virtually" and that meant running a full gamut of genres from French comedies to drama, fantasy, romance and animation. In the future, we endeavour to bring more great films from around the world so audiences can travel from their armchairs to various countries straight from the portal of our KinoLounge.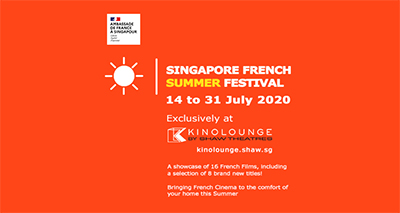 Bakchormeeboy: How does KinoLounge continue to coexist alongside Shaw's cinemas in the future, as a complement rather than a competitor? 
Christopher:  KinoLounge will run alongside Shaw physical cinemas as a complimentary space to show specially curated content, some of which may also have been screened in cinemas (but which patrons may have missed) but many of which would be exclusive to KinoLounge. KinoLounge will also be offering bonus features like "live" events such as Q&A from cast and crew around selected films which would be different from what a traditional cinema offers.
The Singapore French Summer Festival runs from 14th to 31st July 2020 online at KinoLounge. For more information, visit their website here