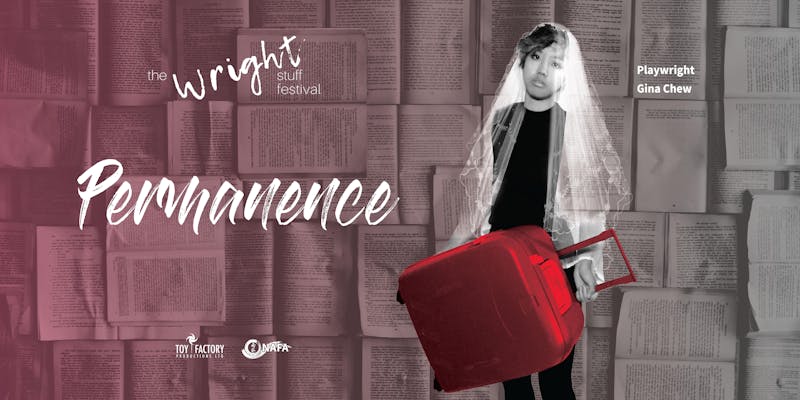 A party girl's fears of a life less romantic.
Marriage is terrifying. There's good reason why people love to joke that it's like a ball and chain, clamped to you like a weight you can't shake for your entire life. And for those who've lived their entire lives freely and with reckless wild abandon, it's a prospect that may well result in nothing but unhappiness and regret.
That is a trap that is explored more fully in Gina Chew's Permanence, rewritten and reimagined for the stage as it returned to open the 2019 edition of Toy Factory's The Wright Stuff Festival. Once again directed by Mitchell Fang, Permanence follows our protagonist Blanche (Chanel Chan), a party girl in her youth with a string of havoc-filled encounters, from unwanted pregnancies, falling-over-drunk nights out, and a hurricane-like tendency to sweep in and out of people's lives.
When she returns home with luggage in tow and rekindles her relationship with former flame Chris (Jamil Schulze), as uncertain and temporal as the affair feels, she at least seems happy. The longer she remains in the relationship however, the more problems emerge as they each express fears over the impossibility of a future together, leading to the inevitable breakup that drives her instead into a desperate search for stability, one that she comes to regret almost immediately, and for the rest of her life.
At the heart of Permanence is the ongoing conflict between happiness and stability, manifested respectively in her relationships past and future, where it seems neither can exist at the same time. As we see-saw between both past and future Blanche (the latter played by Grace Lee-Khoo) caught in relationships of varying toxicity, it's not hard to see why she's such a mess as she pursues men who are quite simply, not right for her. While both Chris and Nathan (her future husband, played by Terrance Tan Jun Yan) aren't written to be particularly appealing, if anything, Blanche being caught between a rock and a hard place does make us sympathise for her a little more.
It's somewhat annoying that Blanche's backstory seems overcomplicated, from having gone to Germany for a year before returning home with problems of her own, mostly because these are details that add little to us understanding her, and feel as if they detract from the far more interesting aspects as to what her motivations are or why she chooses to act out. Permanence then, is at its strongest when Blanche turns a reflective eye on herself and showcases moments of self-awareness, speaking uncomfortable truths such as when she realises and takes us through the sad cycle of domestic routines.
The one aspect of Permanence that is both theatrically bold and supports this self-reflection is its unusual decision to play with concepts of time, with both past and future versions of Blanche coming together within the same space at various points to confer with each other. While at times confusingly staged due to the non-linear narrative that goes back and forth in time, the times both Blanches meet allow both Chanel or Grace showcase genuine expressions of pure fear and desperation to escape as Blanche realises just how disappointed she is with her life. It's hard not to sympathise with her in those moments for anyone who's ever dealt with feeling like they've ever completely screwed up.
Permanence still requires some editing to allow it to shine, such as how scenes between Blanche and Chris often feel like filler rather than contributing to our belief in their happiness, and perhaps even reconceptualising, such as how a final confrontation could have anchored the entire play on its own, yet is only fleeting before it leads to a rather abrupt ending that ultimately leaves one deeply unsatisfied. But for Gina Chew's first script, it's certainly one that offers a fresh, young voice to the scene that's aware of millennial fears and shows an ability to occasionally tease out genuine relatable moments in conversation.
Photo Credit: Toy Factory
Performance attended 11/10/19
Permanence ran from 10th to 13th October 2019 at the NAFA Studio Theatre.
The Wright Stuff Festival 2019 runs from 10th October to 3rd November 2019 at the NAFA Studio Theatre. Tickets available from Eventbrite