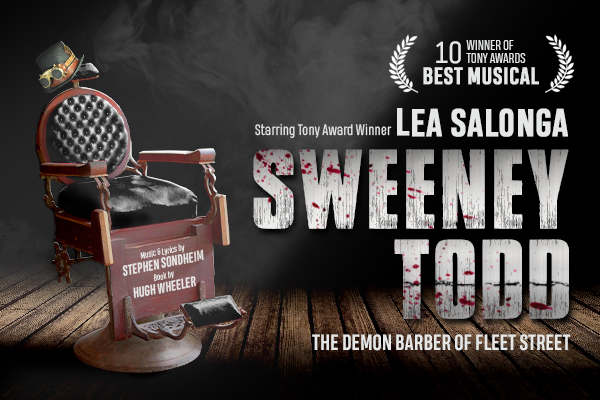 Celebrating its 40th anniversary this year, it's a wonder that the Stephen Sondheim musical thriller has never before been brought to Singapore. Thankfully, Atlantis Theatrical Entertainment Group and the Singapore Repertory Theatre are here to resolve that, as Sweeney Todd hits the Sands Theatre at Marina Bay Sands for a two week run, fresh from a critically-acclaimed run in Manila.
Beyond the fact that it'll be making its Singapore premiere, by far the biggest draw of the show has to be its top-billed stars – rock icon Jett Pangan and Broadway legend Lea Salonga, starring as protagonists Sweeney Todd and Mrs Lovett respectively. "Director Bobby Garcia and I have worked together for a long time on so many projects," says Lea. "One fine day, we started talking about doing Sweeney Todd, and as we wondered who would play Sweeney, he exclaimed that the only person who could play the role would be Jett Pangan. The stars aligned, and here we all are today!"
"When Bobby Garcia asked me to take on the role, I accepted it not because I had to, but because he genuinely believed in me," adds Jett. "I've worked with Bobby since 2002, and till today, I trust him completely when he says that he believes I can do a specific role. This belief is something you respect and embrace, and acknowledge that trust. Plus, how could I say no to performing alongside Lea and a host of other great actors? All it took was a blind leap of faith."
First appearing as a character in a 19th century Victorian penny dreadful, Sweeney Todd received a play adaptation in 1973, before that play was adapted into Sondheim and Hugh Wheeler's 1979 musical of the same name (which itself went on to get adapted into Tim Burton's 2007 film starring Johnny Depp and Helena Bonham Carter). Winning eight Tony Awards (including for Best Musical), Sweeney Todd follows the titular barber as he returns from exile seeking revenge against the judge who framed him. Plotting his vengeance with pie shop owner Mrs Lovett, it's not long before a nefarious scheme to hack, slash and be rid of his victims is hatched, and the meat pies that result from it selling like hotcakes.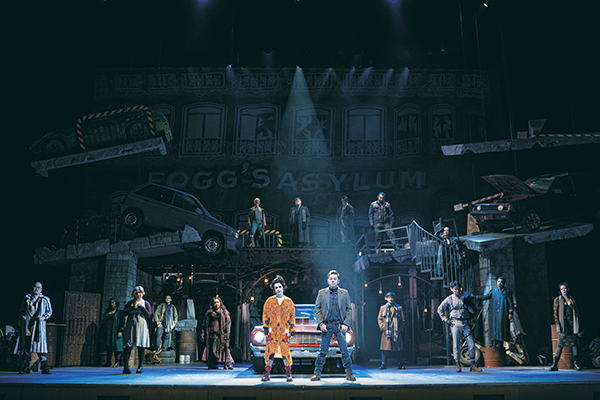 Speaking on how this new production will differ from previous ones, Lea comments: "I think Bobby has done a great job of reintroducing this for a new audience. He's taken it out of its Victorian setting and adapted it in a way that's very much is own. When he was young, he and his friends would go to scary places in Manila to tell horror stories to each other, and he's applied that to Sweeney Todd. It's almost like a show within a show, where you've got this bunch of people gathered in a decrepit parking structure that used to be a decrepit insane asylum. Everything is in a state of disrepair, with things falling apart and old cars onstage that look like they could fall. Even the orchestrations took inspiration from a staging that used a small orchestra affectionately known as the "Teeney Todd", and you've got a total of nine people playing. Yet it still feels so full and big, while being gritty and dirty, empty when it needs to be and not full on embellished or gratuitous, perfect for Sweeney Todd."
"Even with other musicals Bobby has done," Lea adds, "there's always been so much clarity in his direction, be it Jersey Boys or Waitress or Beautiful. He always finds a way to make the storytelling crystal clear, and not get lost in the songs or dance numbers, and challenges all his actors to do that with their diction and physicality. And he really succeeded at that, because when we did Sweeney Todd in Manila, there was this influx of young fans who gathered at the stage door and really loved the show, making it relevant for a new audience today."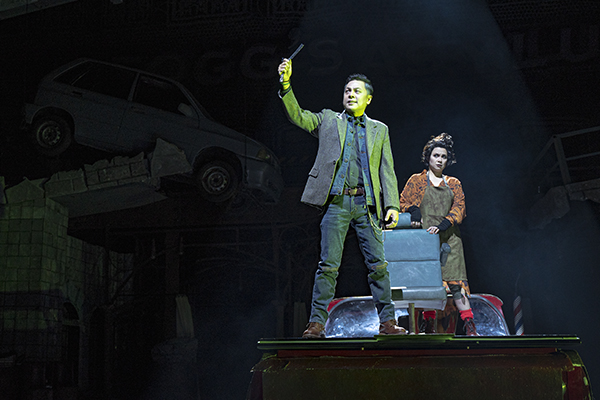 The multiple award-winning Sondheim has a string of musical credits to his name, including West Side Story, Company, Pacific Overtures, Sunday in the Park with George and Into the Woods. Notorious for difficult yet insanely clever lyrics and composition, Sweeney Todd is no less of a challenge for both Lea and Jett, each musical veterans in their own right. Jett in particular, saw the musical about ten years back, and in his heart, never expected to ever attempt such a difficult role.
"I knew I was going to have a hard time learning the music, and that I'd have to dedicate a lot to getting it down," says Jett. "But a lot of it is really a matter of opening yourself up to the pain and hard work, and accepting it. A decade ago I might have said no to this role, but with more experience in various roles, I've gotten more confident and better able to tackle a role as big as this. Sondheim is such a genius because once you learn his songs, they never leave you, and when we were doing pickup rehearsals before coming to Singapore, I was pleasantly surprised that the lyrics just came rolling out of my mouth when I thought I'd forgotten them, and my body just went into autopilot mode. Part of me even thinks Sondheim made his songs difficult on purpose so that you'd rehearse the heck out of it and it'll be practically branded into your body!"
"A lot of my friends on Broadway have worked on a Sondheim musical in some form or another, and they agree – once you learn a Sondheim song, it never leaves you," Lea adds. "There're musicals out there that are easy to learn but also easy to forget. A Sondheim musical is a Herculean task, but one you will never be able to get out of your head because of such great flow and such fine craftsmanship in his composition and writing."
This certainly isn't Lea Salonga's first tussle with Sondheim, having actually performed her first Sondheim musical in a production of Into the Woods in 1994, brought to Singapore by the Singapore Repertory Theatre. Mrs Lovett, however, is a very different role from those she's played before, where she is often cast as the heroine or ingénue in shows from Miss Saigon to Flower Drum Song. "I'm glad I'm at the age I can finally play these roles, and I've relegated my past roles to the younger actresses out there," says Lea. "The challenge of Mrs Lovett, beyond the music, is also in developing the Cockney accent, and finding a physical language that tells audiences there's something off about this woman. Bobby Garcia would often tease me that because I've been playing leading ladies for so long, my body would automatically conform to that onstage, and I've had to rethink and recalibrate my mind just to stop my hands from being so graceful and dainty!"
"Certainly, it's the antithesis to just about all the roles I've played before," she continues. "But it's an absolute highlight of my professional career, because playing the villain is such a departure, and really fun. I walk into a room and people still identify me as a leading lady even when I'm not doing that, and I try not to think about it too much. Instead, I choose to focus on doing the best work I can and influence the environment I'm in so everyone will have a wonderful time."
As one of the most successful Asian actresses to break into Broadway, Lea expresses her joy at seeing more roles and opportunities for Asians open up onstage these days, in particular, the race-blind casting carried out for Hamilton. "It was so inspiring to see people of all colours onstage at the same time, it was so diverse," Lea gushes. "There was an Asian George Washington, and an Asian friend of mine was a swing who covers King George. I saw some photos of them together, and I think I even started crying. I could never imagine I'd see diversity of this degree onstage within my lifetime. Certainly, there's some resistance, but we're seeing all the possibilities and change start to happen."
Despite the horrific acts of violence Sweeney Todd commits, Jett believes that it's completely possible to sympathise with him and understand where he's coming from. "This is a man who had done no wrong, and then he's been wronged to the nth degree," explains Jett. "Any man who's been pushed to the edge at some point would understand him totally. The difference is that Sweeney chose to give in to the hate and anger inside him, which brought out a far darker side. Watching this show helps you live vicariously through Sweeney's action, but of course, that certainly doesn't mean you should do as he does!"
Ultimately, both Lea and Jett do believe that Sweeney Todd is still very much relevant for the times, and remains a must-watch this theatrical season. Lea concludes: "All across the news, on TV on social media, we see powerful people acting with impunity and abusing their power. I wish we could say that Sweeney Todd was a museum piece and that we don't see that happening anymore but we do, and that's something the new generation can still relate to as they read about powerful people getting away with their misdeeds all the time, making this a musical that still feels so timely 40 years on."
Sweeney Todd: The Demon Barber of Fleet Street plays from 28th November to 8th December 2019 at the Sands Theatre at Marina Bay Sands. Tickets available from SRT