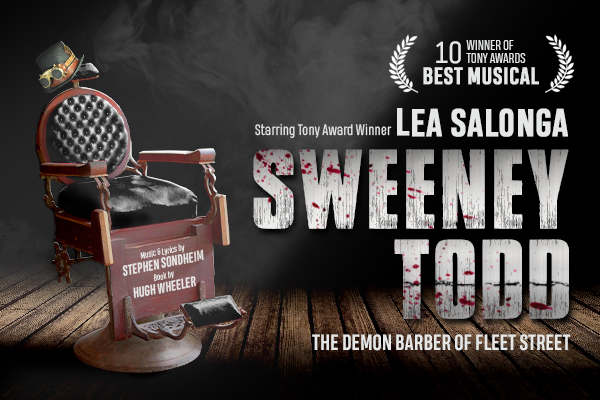 ★★★★☆ (Performance attended 28/11/19)
Reimagined version of Sondheim's macabre musical thriller a refreshing take on an oft-forgotten classic, with Broadway star Lea Salonga a highlight.
In the Victorian era, penny dreadfuls were some of the more popular forms of entertainment, a serialised form of literature that derives its name from how every issue would cost just one penny. As for the 'dreadful' portion, well, that lies in the often macabre, gory, and sensational content these stories contained, derided as vulgar and lacking in class.
It's quite incredible then, that one such dreadful has managed to find a revival come the 20th century, in the form of legendary musical composer Stephen Sondheim's Sweeney Todd: The Demon Barber of Fleet Street. Even more surprising perhaps, is that while it retains the same bloody sensibilities as its origin story, it's a tale that manages to find resonance with our modern day politics, as a bitter diatribe against the powerful and corrupt, and a treatise against the dangers of being driven by revenge.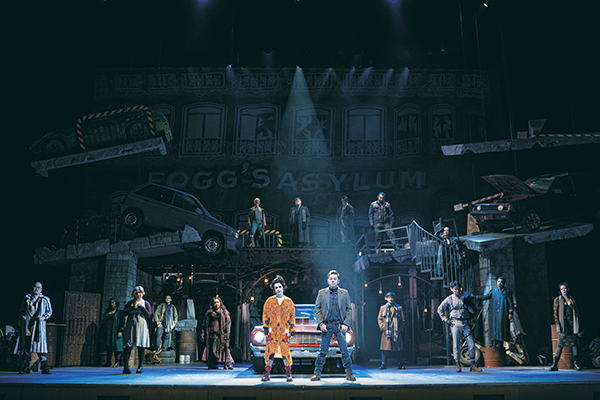 Produced by the Philippines' Atlantis Theatrical Entertainment Group and presented by the Singapore Repertory Theatre, Sweeney Todd, in brief, follows the titular 'demon barber of Fleet Street' as he returns from exile after 15 years. swearing revenge on the corrupt Judge Turpin, the man who both raped his wife and sentenced him. He encounters struggling pie maker Mrs Lovett, who informs him that while his wife has poisoned herself, they are survived by their daughter Johanna, who Turpin has adopted. Together, the two hatch a bloody revenge plot that involves very sharp razors and meat pies, one that takes audiences right to the darkest depths humanity can be driven to in the face of desperation.
As far as Broadway/West End musicals go, it's rather rare for a completely re-imagined staging. But with this new production, Sweeney Todd has decidedly eschewed its traditional Victorian London aesthetic, with director Bobby Garcia now presenting the entire production as a play-within-a-play, as a group of players gather to recount this tale, as inspired by its iconic opening lines "attend the tale of Sweeney Todd". The musical now takes place in a derelict parking facility (from set designer David Gallo), cars threatening to slide off broken concrete platforms with rusty metal poles half poking out. Even before this place became a parking facility, we see the vestiges of what it was before – the words "Fogg's Asylum" loom large, an actual location in the musical that suggests all this is history not fiction.
Instead of corsets and suspenders and Gothic makeup, the cast now dons modern day streetwear, from ripped jeans to houndstooth prints, representing contemporary actors playing characters rather than characters themselves. Particularly interesting is the contrast between Sweeney and Mrs Lovett's costumes; while the former is dressed smartly and fashionably in a casual coat and jeans, the latter appears shabby and poor in a cheap-looking dress, further highlighting an impossible romance between the two with their class differences. And with both as criminals, regardless of attire, the costume choices only go to show that anyone and everyone is capable of darkness, no matter how dapper or disheveled they look.
Locations such as the murderous barbershop and cannibalistic pie shop are now represented by a battered old automobile, while pies are represented by canisters of car polish, only adding to the makeshift feel of the entire production. Not to mention, the fantastic 9-piece orchestra (in lieu of a full one) led by Gerard Salonga, which captures the darkness and grit of each song. All of this cements the production's commitment to its play-within-a-play setting, and helps set limits to the expectations of the realism we see onstage.
Starring as Sweeney Todd is rock icon Jett Pangan, who bears his character's age and listlessness, heavy with eyebags and sallow cheeks as he moves slowly, bearing the weight of all he's been through. His voice is equally dour, depressed and hopeless, expressing a fundamental disbelief in humanity while a quiet rage and thirst for revenge burns beneath. Haunting to witness and threatening with the madness that dances at the edges, this is a Sweeney Todd we can sympathise with for the way he's been wronged and exiled, this feeling coming through especially strong in numbers such as "The Barber and his Wife".
Opposite him, Broadway legend Lea Salonga stars as Mrs Lovett, and by her performance alone, is reason enough to come see this show. While best known for her roles as ingénues and heroines, as Mrs Lovett, Lea Salonga is given quite a different task from her usual leading-lady type characters. There is a manic energy that Lea exudes in her performance, the polar opposite to Sweeney Todd's stillness, as she traipses across the stage with her movements large and expressive. Armed with a Cockney accent, Lea gets the chance to display her knack for comic timing, doing especially well in numbers such as "By the Sea" (her impression of a seagull squawking is both shocking and hilarious).
Even in more rapid, lyrically-challenging numbers such as "The Worst Pies In London", Lea maintains clarity in her enunciations, capturing every word, while still fully embodying Mrs Lovett's crazed personality. There is a method to her madness, and even at her most despicable, we understand her very human obsession with Sweeney, thanks to Lea's ability to catch all her subtle nuances and emote past simply playing Lovett as a madwoman. Not to mention, between Jett and Lea, their onstage chemistry works well with their characters' contrasting personalities. The unrequited relationship is clear from the very beginning with numbers like "My Friends", while Act 1 closing number "A Little Priest" is a delight with how both of them derive glee from imagining the many victims they'll have baked into a pie, further strengthened by Sondheim's darkly comic lyrics. Salonga, in short, showcases musical theatre professionalism and skill at its finest.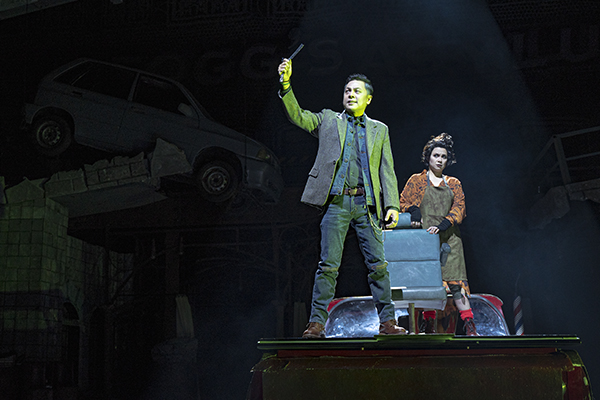 While both Jett and Lea make for strong leads, the remainder of the cast is a little more unsteady and inconsistent in terms of their performance. There are standouts such as Mikkie Bradshaw-Volante, playing innocent, golden-haired Johanna, whose voice soars in each song she sings, while Luigi Quesada, as Tobias Ragg, captures the boy's youth and naiveté with aplomb. Nyoy Volante, as rival barber Pirelli, provides some much needed comic relief, while Andrew Fernando, large and imposing, looks the part of the malicious Judge Turpin, an immediate symbol of the corruption and abuse that continues to run rampant amongst those in power. As a whole, while the cast works well together, they are sometimes marred by fluctuating accents in both speech and song, and with how clear lyrics and precise enunciation are especially key to Sondheim musicals, diminishes cast members' portrayal of their characters, as much as their chemistry is present.
Beyond its dark material, Sweeney Todd is also a challenge to watch, running at almost 3 hours (inclusive of intermission). While the plot itself isn't too hard to follow, it's a musical heavy on the lyrical content, requiring audiences to prepare themselves for it, paying attention just about every step of the way to catch and fully appreciate all the characterisation and lyricism that goes into it. There are moments that feel just a little too long in-between scenes that also add to the production's length, while certain efforts to further raise our suspension of disbelief could have been made, such as the glaring omission of a physical object to represent Mrs Lovett's harmonium.
Still, for its Singaporean debut, this is a production of Sweeney Todd that captures the essence of the original while introducing an unexpectedly original take on a classic. In this world where it can be tempting to seek revenge through violence on all who've wronged us, Sweeney Todd is a timely reminder that violence begets violence, and that even the sweetest of victories often comes with a bloody price to pay.
Sweeney Todd: The Demon Barber of Fleet Street plays from 28th November to 8th December 2019 at the Sands Theatre at Marina Bay Sands. Tickets available from SRT