KUALA LUMPUR – As the world slowly gets back on its feet recovering from COVID-19, Malaysia's arts scene too is opening up and beginning to experiment with digital forms as more new content is pushed out. This week, popular KL revue show indicinelive! is back for its 7th edition as they present their first ever digital show, packing 75 minutes of fun and laughter across brand-new sketches, satire and parodies inspired by the pandemic, the recent political shift, and the 'new normal'.
Speaking to cast member Jon Chew, we found out a little more about the process that went into creating this brand new hybrid work. "It's quite different since we're working with Zoom backgrounds and props in our rooms, and there isn't a 'live' audience in front of us," says Jon. "All of us in the ensemble are always glad to have work though, and it's refreshing that we're really here doing something new. There's a novelty factor to presenting theatre online, and something that the Malaysian arts scene has yet to experiment with."
Not only does this online edition of indicinelive! act as an opportunity for the actors and creatives, but a key element of this show lies in its fundraising efforts. While audiences can opt to watch the show for free, the show doubles as a fundraiser to help support KL arts organisations Kuala Lumpur Performing Arts Centre (klpac) and The Actors Studio. Audience members have the opportunity to contribute to the fundraiser both before and during the show, choosing one of two 'teams' to support. The more funding goals reached, the more bonuses are unlocked, such as bonus performances during the show.
"This is an important show to us because it's one of the first original Malaysian shows to emerge in the wake of the coronavirus," says Jon. "Besides that, we also wanted to take this opportunity to contribute to the arts scene financially, by positioning the show as a fundraiser to help both klpac and The Actors Studio, who've supported us in the past."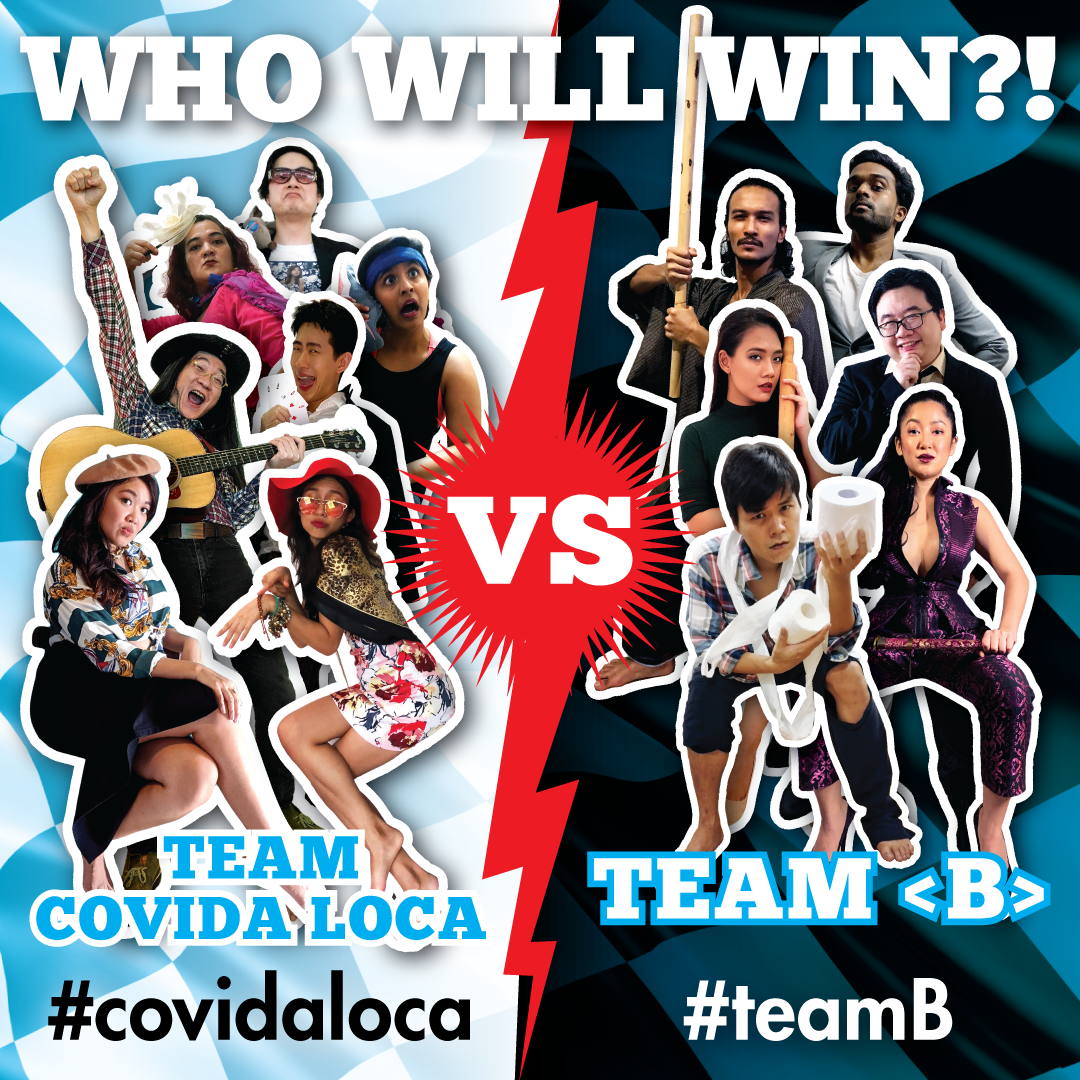 Perhaps one of the most appealing parts of indicinelive! is how it remains a quintessentially Malaysian production, written by a team of Malaysian writers (Uihua Cheah, Adriana Nordin Manan, Terence Toh, and Tung Jit Yang), and put up by Malaysian creatives, about Malaysian issues. "Malaysian theatre has a lot of competition these days, with most Malaysians preferring to spend their money on movies, or to sit at home watching Netflix instead," says Jon. "Even when it comes to productions, a lot of Malaysians would rather watch something imported from West End or Broadway rather than an original Malaysian production, and I've always felt that there is a need for more Malaysian scripts and stories to be seen onstage. Angels In America was presented in Malaysia a few years ago for example, but I find myself questioning whether such shows are relatable to their Malaysian audiences."
"As a country that's culturally diverse, we have audiences who're both primarily Malay-speaking, and audiences who are primarily English-speaking," he adds. "To appeal to the English-speakers and get them to come watch our work, it's really up to the theatre companies and creatives to bridge that gap and get their support. I think there's plenty of room for more playwrights to write in English, and for them to use it as a medium to tell more Malaysian stories. But even beyond that, we need people who can help dramaturg these productions to bring these stories to life."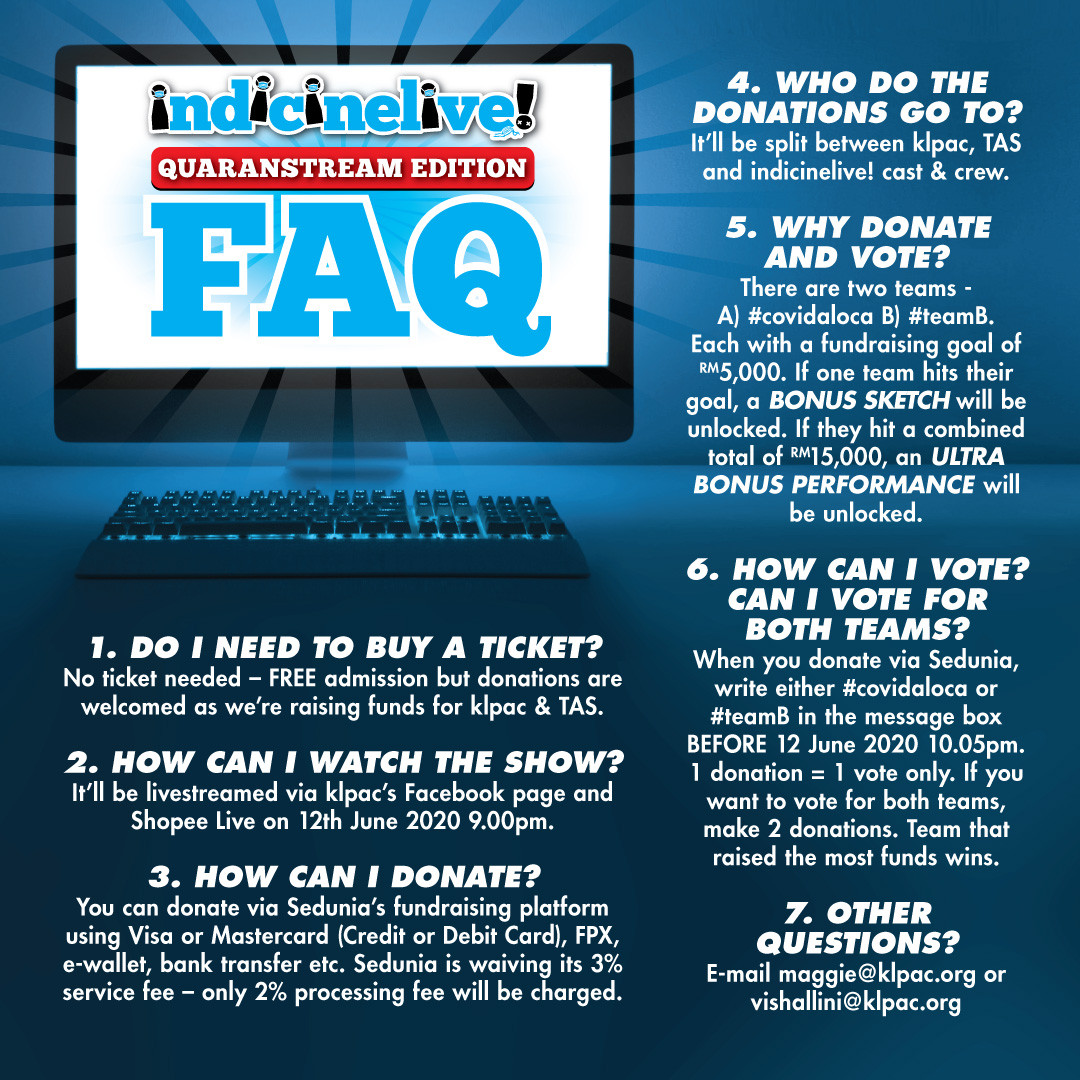 Circling back to this edition of indicinelive! itself, Jon expresses how much this is a new form for the group and for Malaysians out there. "We do retain our regular sketch format, and we'll have maybe 15 sketches this time around, lasting for about one and a half hours," he says. "We've got a great team of writers on board, and they've all written work that's very Malaysian and also relatable to the masses, and we can't wait to see how it goes over with our audiences. It's an interesting format, because there's so much freedom for the audience to come in and out of the stream as and when they want if they need a break. Maybe they won't like all of the sketches, but audiences are sure to find something that will appeal to them."
"Because this is a very ground-up production, and because of the current situation, publicity has been limited to our team promoting the show on social media and spreading it via word of mouth. Hopefully, the word has gotten out, and people will be curious enough to come online to watch and experience it," he adds.
Speaking about the Malaysian arts scene as a whole and how COVID-19 has impacted artists, Jon expresses how it's been an uphill climb, but remains optimistic about the future. "I've been an actor for 10 years now, and sustainability is still one of the hardest things for someone in the arts scene," Jon says. "Often, we work other jobs to make sure we survive, and most of these sources of income have also been affected by COVID-19. I guess that's part of the reason why we were so motivated to do this show. If it's a success, it's a win, not just for us, but for the arts scene as a whole, and helps pave the way forward for the arts industry in Malaysia."
"Ultimately, there's still a lot of work to be done, especially when it comes down to the infrastructure," he concludes. "The arts industry in Malaysia really just needs to band together as a community, and learn how to better tackle improving the industry. To do that, we need to support each other more, such as how the funds raised from indicinelive! will help both klpac and The Actors Studio. There isn't a simple solution for the road ahead, but at least for now, this is a step forward towards making things better, and a way to show the world that our arts scene is worth saving and supporting."
Catch indicinelive! online on 12th June 2020, 9pm on Facebook and Shopee Live. The performance is free, however, you can contribute to their fundraiser helping klpac and The Actors Studios here, both before and during the performance.