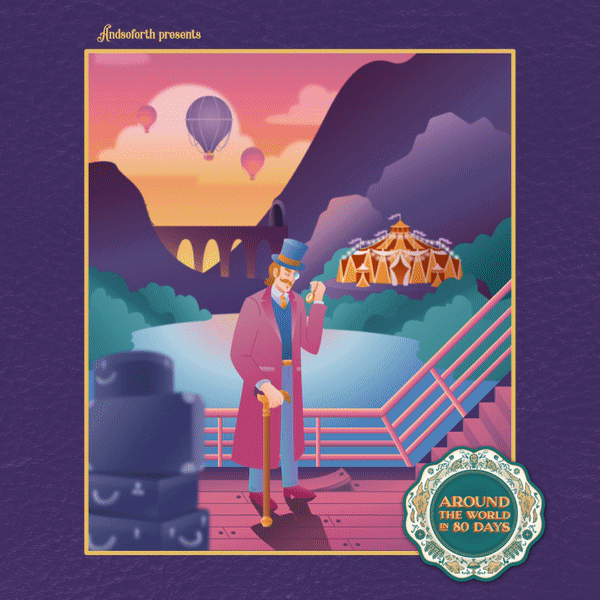 Outdoing themselves yet again, Around The World In 80 Days is a great experience, and a lesson in excellence in spite of the odds.
For a couple of years now, we've been following local immersive theatre company Andsoforth and their works. From our first encounter at the psychedlic The Imaginarium of Disco David back in 2017, to the more recent, Norse-inspired Valhalla and the Chambers of Asgard in 2019, Andsoforth has always impressed us with their commitment to the experience, fully transforming a blank canvas into an entirely new world with every production. And with their latest event, they've continued to show this commitment to quality, adapting to the restrictions of the pandemic without compromising on creativity, with Around The World In 80 Days – A Book Analysis Workshop. 
Drawing inspiration by Jules Verne's classic novel Around the World In 80 Days, Andsoforth takes participants on a literary journey through their Book Analysis workshop, not only recreating scenes that take place in the book itself, but imparting practical skills and useful knowledge to guests, thanks to their team of facilitators in place.
From the moment we arrive at their secret location, it's evident that Andsoforth has put in all efforts to ensure that safety is paramount, from the check-in procedure to the safety distancing while waiting for the workshop to begin, much like how actually travelling would involve all these new measures. This is by far the most important aspect that Andsoforth has adapted to for this workshop, and ensures that everything is in place as we prepare to embark on our 'journey'. In line with COVID-19 safety restrictions, a maximum of ten guests are allowed in each room at a time, always safely spaced at least a metre apart, and always with their masks on, unless eating or drinking. Facilitators don face shields when addressing the audience, and must mask up and cannot speak when audiences are eating and drinking. Physical contact with objects is kept to a minimum, if at all, and participants are given individual materials when hands-on activities are conducted. In short, health and safety is evidently one of Andsoforth's top priorities for this workshop, and guests will absolutely feel safe over the course of their experience.
Starting off our experience at the Gaiety Theatre in London, guests follow the same path protagonist Phileas Fogg and his trusty butler Passepartout took on their whirlwind trip around the world, sailing a ship, hopping a train, bashing through jungles, traipsing through a mine, and even lifting off in a hot air balloon. To achieve this, Andsoforth have managed to make each of the seven featured rooms look and feel unique, not just in terms of the realistic looking backdrops and interior design (thanks to set designer Lloyd Chia), but even in the transitions from room to room.
You might find yourself tunnelling underground for instance, or finding secret doors that practically teleport you to the other side of the world. The Miike coal mine of Japan, for example, is likely to make you feel ten feet under thanks to the naturally uneven rocky walls, or even the sense that you're on a moving train while in the Hong Kong room, thanks to the clever use of video screens as 'windows' and atmospheric sound design. Other rooms, like the HMS Mongolia on the Suez Canal, or the lush Bombay jungle (look out for the giant elephant puppet) are simply beautiful, and when we weren't in the midst of eating or an activity, found our eyes wandering to admire the sheer amount of detail, especially with how well-integrated the hidden doors were and how each transition would leave us surprised and delighted; arriving at the New York room, we find ourselves travelling in a 'hot air balloon', where the lighting and sheer size of it made it feel as if we were about to take off.
As a workshop, Andsoforth differentiates this experience from their usual production by emphasising the importance on learning a range of skills and knowledge we learn over the course of the workshop. The sheer variety is impressive; from learning what goes into making a cocktail, to tying two types of knots, to sake appreciation, jungle survival skills, adding flair to English letter writing, and even a trapeze demonstration, all alongside a concise but complete summary of the novel to help frame the experience, all proof of how much research and preparation went into this workshop. Unless you're some kind of savant, you'll almost certainly walk away with at least one new piece of trivia in your back pocket, ready to show off during your next meet up.
Whether it's because the team has already done this workshop over 200 times now, or because of the sheer amount of rehearsal time that has gone into it, the facilitators in every room exceeded expectations, with high energy, strong improvisation skills, and careful pacing that allowed them to banter with participants while teaching us all we needed to know in every section of the workshop. Lian Sutton, for example, opens the entire workshop on a high note, thanks to his enthusiasm and ability to draw audiences into the fantasy world of the workshop, and sets the right tone for the rest of the experience, ensuring everyone understands what is to be expected of us in his briefing.
Andsoforth founder Stuart Wee also appears in this room, and his big personality helps hype up and engage the participants, giving us a taste of how the rest of the rooms would play out, like how Stephanie Sim, in the coal mines of Japan, commits entirely to her role as a loutish miner regaling us with history about how miners lived, from what they ate to making sake during winter to sustain themselves. Even though each room lasts between 20 to 30 minutes, time practically flies by, and you'll have just enough time to enjoy each room before moving on to the next, while wanting a second chance to experience it all again.
As with most Andsoforth experiences, Around The World In 80 Days also features an innovative menu prepared by chef Jason Ang. Following the novel's plot, each dish takes inspiration from each of the various locations guests find themselves in, with one course for almost every room (save for the last). Besides an aperitif we're guided into preparing ourselves, we were served a hearty bourride (French seafood stew), a standout 'butter chicken taco' (innovatively wrapped in a thosai), dim sum and knife cut noodles, soft-shell crab and sake, and caramel corn ice cream, complete with crunchy, liquid nitrogen-cooled popcorn – making for a clever take on a deconstructed popcorn. Even if you come on an empty stomach, you're likely to end the workshop very satisfied, both by the amount of food, and the quality and creativity that goes into creating each one.
When we reached the final room, we were tired from the journey, but absolutely happy with all that we'd learnt, as we mellowed out and went over everything we (and Phileas Fogg) experienced with the help of a facilitator and a massive map spanning the floor to the ceiling. A good wrap-up to the journey, the space also showcases merchandise Andsoforth produced for this workshop; the gorgeous travel stickers and postcards illustrated by Thomas Brunning are good buys, and for this period, the limited edition mulled wine to take home for Christmas.
Against all the odds COVID-19 has presented this year, Andsoforth has adapted and come through stronger than ever, and outdone themselves with what Around The World In 80 Days. Much like how Phileas Fogg succeeds at his impossible task, Andsoforth has emerged in top form with this workshop, with their signature high production value, charming sense of humour, and commitment to delivering an experience to remember, while still leaving us with plenty of skills and new knowledge to take home. Around The World In 80 Days is Andsoforth at their best, and a reminder of the times we can travel freely again.  
Around the World in 80 Days Book Analysis Workshop runs till February 2021, with tickets now on sale from their website here.