If the Singapore theatre scene is to continue to grow, then it must lay the groundwork for the next generation of theatremakers to inherit it when the time comes. For local theatre company Toy Factory, they've taken on that responsibility in the form of The Wright Stuff Festival, making its return this October as they mentor the playwrights of tomorrow.
The Wright Festival began with an open call for scripts in October 2018, receiving about 20 submissions in total. Toy Factory Chief Artistic Director Goh Boon Teck, along with Associate Artistic Director Stanley Seah then met and interviewed each and every one of the applicants to find out more about their plays, writing styles and creativity, along with how willing they were to learn and grow. Over the course of a year, the scripts were then workshopped and edited before a creative team to stage each work was formed to further rework their scripts and come to a shared vision and voice between director and playwright. Now, the scripts are finally ready to be staged and presented to the general public over four weeks at the Nanyang Academy of Fine Arts (NAFA) Studio Theatre, where final-year students of NAFA's Diploma in Theatre will also be working closely with the playwrights and the directors of each play.
Says Goh Boon Teck: "We wanted to choose scripts that were a little unusual. We were honestly taken aback by the number of scripts we received, and if we had more resources, would gladly have staged 10 of them. Essentially, we wanted to build on playwrights who already had a strong idea in mind and continue developing them from there. We wanted to build up their confidence and foundation in the craft so they could eventually move on to do something even bigger and more exciting after leapfrogging from this platform."
He continues: "The biggest issue is about how to make sure they continue to doing the work they do after this one production, and often, a lot of people stop at one. We do a lot of handholding, a lot of encouragement in the hopes they'll stay active in the scene, and show them that it isn't that hard to have the chance to showcase their work in Singapore. We want to change this mindset, this fear of rejection and make them more open to criticism and not judge them so hard as they're just beginning, so that they can come out and really express themselves with their work."
On how The Wright Stuff will be involving NAFA final year theatre students as cast members, Boon Teck adds: "It's interesting because working together with these younger creatives, we've been ourselves exposed to new ways of seeing the world, as much as they're getting a chance to be exposed to professional theatre themselves. I think that there's a lot of untapped potential and space for the local arts scene to look into for new actors and new writers to come in, and it's really a matter of daring to contribute and excavate these spaces for use."
Says Dr Jeffery Tan, Vice-Dean, School of Arts Management, Dance & Theatre, NAFA: "NAFA's Theatre Programme shares Toy Factory Productions' commitment in nurturing young theatre makers in Singapore. This new collaboration will not only provide opportunities for the three young playwrights to have their plays staged, it also enhances our industry-based learning approach by offering our students the chance to work with professional directors and production teams."
A total of four scripts will be presented during this year's programme, opening with Gina Chew's Permanence, a rework of the script she presented during The Wright Stuff 2017. This will be followed by the premiere of three brand new works over the next three weeks, namely, Rajkumar Thiagaras' Ashes, Ashes, Mark Cheong's Random Access Memory, and Titus Yim's The Puppet King. Details of each play as follows: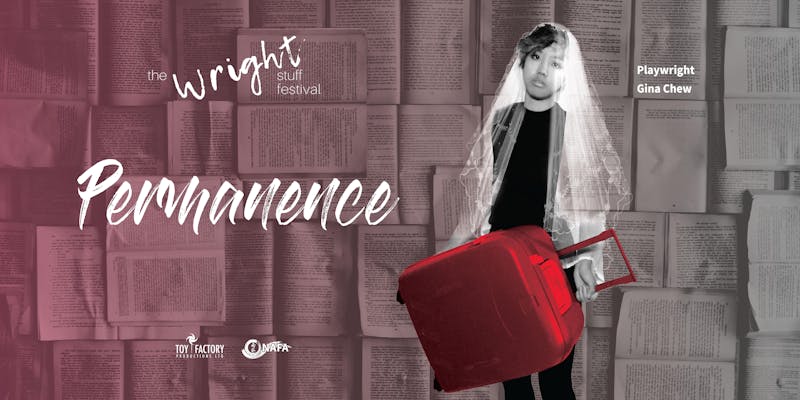 Written by Gina Chew and directed by returning director Mitchell Fang, Permanence follows Blanche as she returns home to her old life. Recovering from some difficult times, she prepares herself to face the dread of domesticity, fraughtness of relationships, and a toxicity from her past that she can't seem to shake off.
On the return of Permanence, Boon Teck comments: "We wanted there to be a consistency and continuity with The Wright Stuff as we nurtured our writers. We thought Permanence had the most potential of all the scripts in our first instalment, and we wanted to guide it a bit more and push it to new heights. Gina has realised some of the flaws since its first run, and know what it takes to tighten it up. Given the new space as well, there's a lot more possibilities staging-wise, and Permanence is now a lot stronger and tighter at communicating its themes to audiences."
For Gina herself, this new production and reworked script for Permanence marks a kind of maturity for herself, as she herself has changed over the last two years since its previous run. Says Gina: "When I first wrote Permanence, I was just looking for a story to tell, and I was going through some issues of my own, meeting new people, trying new things and collecting all these vignettes. I thought about how people sometimes got into unhealthy relationships, sometimes not in physically violent ways, but emotionally, and tried to build my narrative around that."
"After reading the reviews from the first run," she continues. "I've talked to my director Mitchell a lot, and we've been figuring out how to bring things out differently, to anchor it to a certain place or memories local audiences can relate to and better resonate with. This time around, the process really has me working very closely with the set, lighting and sound designers, and I've become increasingly conscious about how things are coming together to make it more coherent, while maintaining the core themes and concerns of the play."
Gina recalls her first brush with playwriting, where in secondary school, she was tasked to write a one scene play that got her hooked. "But I don't think I want to be labelled a playwright," adds the 24-year old, who works in a film production company. "I'm currently in the midst of writing a comic book actually, and hopefully that'll be published next year. I'm very thankful that I've had this opportunity to write stories across so many different mediums."
Compared to film, Gina explains how different working in theatre has been: "Often, film is such a visual medium, and you can have entire pages of script that describe the scene. The problem filmmakers often have is that while they have a great eye for the cinematography, it's the dialogue that's hard for them to imagine and conceptualise instead, something that theatre excels at."
On how she hopes people see her after this production, Gina says: "I want my audiences to go away and experience and understand the negativity, frustration and emotions within the play, let it linger on them a little, and allow them to reflect on it and how their past has affected them today. It's all a bit nerve-wracking for me, hearing their reactions as each scene plays out, but I'm sure at the end of the day, they'll have a good time watching this show."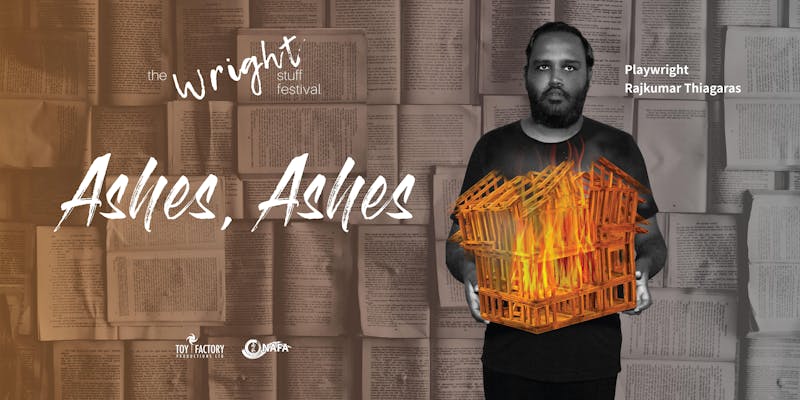 Following Permanence, Rajkumar Thiagaras' Ashes Ashes, directed by Andy Pang, follows the elderly Janaki revisiting her childhood home for the last time as she faces up to a lifetime's worth of recollection filled with trauma and grief over the devastating losses of her siblings.
On the play's origins, Raj says: "I first wrote this play about 2 years ago for a playwriting class in NTU. I wanted to write something reflective of my own culture, because there's not a lot of Indian stories we currently see onstage. This particular piece was inspired by an article I read in the Straits Times where I learnt the Lakshmi Villa was due to be demolished. It's an old colonial villa owned by a well-to-do Indian family that sold it off for redevelopment into a condo, but it has such a rich history, tied to community halls and even a small temple."
"It's quite sad to learn that all this culture and heritage was set to go," he continues, "and I imagined what it was like for a person living in such a house all their life and finally letting it go. In my play, while Janaki has a lot of good memories of the house, there's also a lot of trauma from the fact that all her siblings died in a fire that occurred there (hence the name) and all about how she deals with the ghosts of the past, and how her experiences even affect the next generation. I wondered about personal histories and the legacies we leave behind for people, drawing from that train of thought and my own experiences growing up in a South Indian household."
The 30-year old freelancer and NTU English Literature Masters student has been involved in theatre since his JC days, and most recently, was seen as a member of young & W!ld. Says Raj: "Over the years, you wanna be involved in something more than just being onstage, and do works that say something about your community. Theatre becomes that platform for me to express my opinions, and I hope that one day, with more plays and productions that arise based on the minority or marginalised experience, it no longer becomes the exception, but the norm, where people don't applaud it for giving a voice to minorities, and really just treating it as part of the mainstream."
As for his future goals, Raj intends to explore theatre not just as a playwright, but also as an actor and director in both English and Tamil. "With this production, it was a great opportunity to find my own voice and to get a chance to experience the whole process of going from page to stage," he adds. "It can be so hard just to write your own script and practically cutthroat trying to get it staged locally by a company. I'm really glad Toy Factory recognises the need for having a platform for the next generation to come in and get introduced to the scene, especially with the incubation process they have."
"Having Andy as a director is quite interesting," Raj comments. "As a non-Indian person directing a play about a South Indian household, there's a lot of back and forth between the two of us, because he's also learning about our rituals and seeing how he can adapt it for stage so that even those not familiar with these practices can be introduced to them. Honestly, it's easy to go around talking about racial harmony and tolerate each other, but it's difficult to really put that into practice, and having this opportunity for all of us to share has really helped us better understand each other and channel that creative energy properly."
As for how he hopes this play will achieve, Raj concludes: "As someone drawn to characters and stories, I hope people can learn to appreciate what it's like to live as an Indian in society, and hope they appreciate the cultural practices we have in the play and the emotional arc of the characters. Essentially, we all relate to each other as humans, who want to be a part of a community that gives you love, and lead fulfilling lives without the baggage. If my audience can at least feel that from my writing, then that's a personal victory for me already."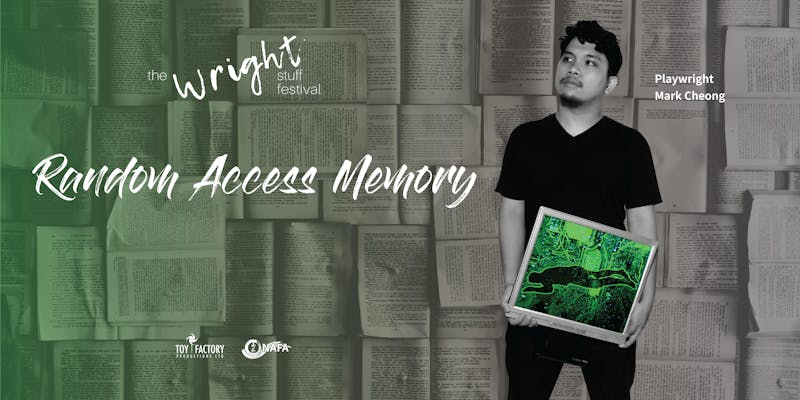 The third play to be presented will be Mark Cheong's Random Access Memory. Directed by Toy Factory Associate Artistic Director Stanley Seah, watchas RAM and GIG, two parts of a computer, are tasked to decide which memories of a dead boy is worth keeping. As they struggle with the weight of the impossible job, they are confronted again and again on what it means to be human – and what legacy truly means.
Says Mark on the play's origins: "I first penned a version of this script in university, where it was just 10 minutes long. It received a reading at Late Night Texting two years ago, and after submitting it for The Wright Stuff, it's now been expanded into an 80 minute play. That was tough, because there's a lot to create, and a lot more characters now, and the character conflicts are now a lot more fleshed out. Stanley's been quite accommodating with the mentorship process, and because we both direct within our own capacity, he's a bit more at ease when it comes to the editorial process. I do have creative control over the writing at the end of the day, but we do thrash things out when there's a need for change, and seeing it all come together onstage, it's something that's surprised me with all these new ways of thinking about what I put on the page."
Now working full-time with the Singapore Drama Educators Association (SDEA), Mark elaborates more about working with this new team and the parallels it has with his experience working as a member of The Second Breakfast Company. "It's quite refreshing to work on this actually. Back in The Second Breakfast Company, I had a lot of control over sound design, set design and even directing. But being under Toy Factory, it's quite freeing that I can focus on the playwriting aspect and leave the design aspects to the professionals. Working with the NAFA students is interesting because much like The Second Breakfast Company, I've always been interested in showcasing new voices and new talent. It's a different but familiar feeling of having such young performers put my words into a production."
Mark concludes: "To me, the most important part of this whole process was being able to develop a script with professionals and to work on it at this scale. I'm glad I've gotten this experience, and even though I don't think the play will be perfect, that's ok, because this is precisely the kind of platform we need where there's this potential risk of failure and we dare to try things. Ultimately, I do think I've become better at theatremaking, and I hope that people see how writing is an accessible skill that people can tap into."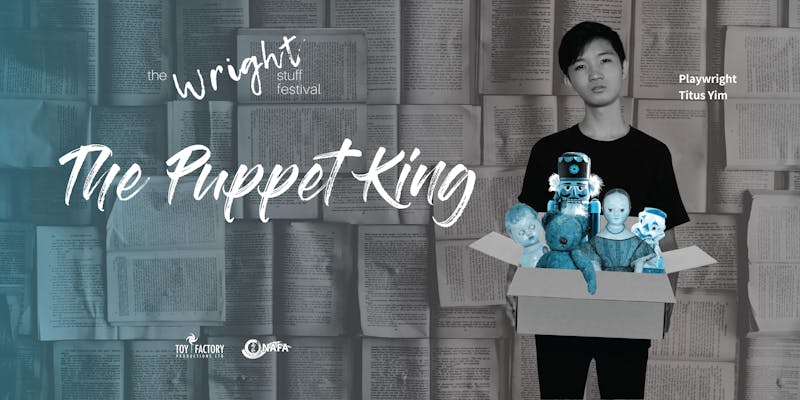 Finally, directed by Renee Chua, Titus Yim's The Puppet King takes place in an abandoned toy shop, where 5 defective toys, ruled by an elusive Puppet King, are about to face their demise with the looming demolition of the shop. The toys turn against each other, and discover that to uncover the true meaning of their existence, the only way out is to venture deeper in.
On his play's origins, Titus says: "I was interested in the concept of existentialism and a life purpose. I didn't quite know how to put it into words though, and started writing based on the idea of the term 'puppet king', literally making it a play about toys. I did that so that my audiences have some kind of distancing effect to recognise my characters as human-like, but not human so that they can use it as a means to reflect on the themes and concepts I'm trying to bring across."
Titus is by far the youngest of the playwrights, an 18-year old student on the brink of his A-levels, and is carefully juggling his time between the two responsibilities. Says Titus: "In juggling them, I've had to learn to let go of certain things as and when the other needed more attention. It's been quite a learning experience for me throughout, especially with working with a team that's so much older and more experienced than me. Watching the NAFA students make annotations on my script and ask me so many questions about character motivations and my thought process has been quite humbling, and I've been working hard to develop the script as much as possible."
As for his future, Titus expresses hope and confidence that he'll still be in the scene, saying: "I've always known I wanted to be involved in the arts, but having The Wright Stuff as a platform makes me think that it's actually possible as a future career, something I'd love to continue in future."
Adds Toy Factory Artistic Director Goh Boon Teck, as he reflects on the importance of The
Wright Stuff Festival: "Planting seedlings is tiring and time-consuming. It can also present many disappointments. Yet, it is a most sacred and important duty to begin cultivating the forest of tomorrow, today."
"Ultimately," he concludes. "We want the audience to come in and welcome these young talents, and to see that we do have the talent in Singapore with refreshing, new ideas, all with the potential to do such great things in future. We want to give them all the support we can with these first productions, because we have to, if we want to keep our country's culture alive and growing, and set the foundations for them to keep developing in future too."
Heralding the coming of a new wave of talents, catch these brand new scripts given form and sharpened for success under established artists, as The Wright Stuff 2019 introduces audiences to the the future of Singapore's arts scene.
The Wright Stuff Festival 2019 runs from 10th October to 3rd November 2019 at the NAFA Studio Theatre. Tickets available from Eventbrite