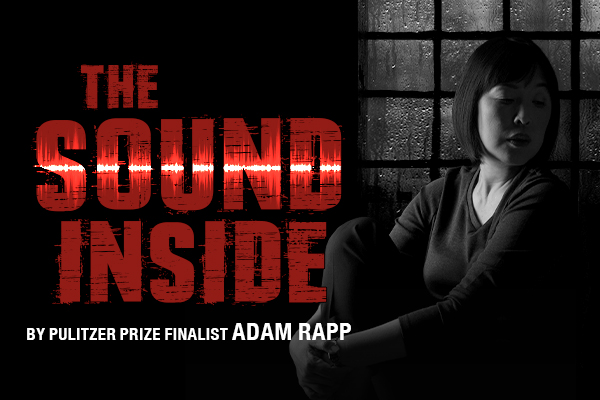 We're only as alone as we want to be.
If it's one thing that the coronavirus lockdowns have made us realise, it's that no man is an island, and human contact is a necessity. In The Sound Inside, the latest play by Singapore Repertory Theatre (SRT), playwright Adam Rapp takes that idea a step further, with how it is human contact that can spell the difference between life and death.
As the play opens, our eyes are immediately drawn to the centrepiece hanging above the stage, with 'branches' holding pages depicting sonic waveforms, a possible symbol of 'the sound inside' us, one we know is there but cannot hear. Serene Chen steps onstage, and breaks the fourth wall as she introduces herself as Yale creative writing professor Bella Bird. While the initial monologue can be overwhelming, this barrage of information quickly endears us to Bella, almost like meeting an old friend again. Bella becomes a protagonist we come to root for because of her frankness, her unabashed love for books and carefully curated library, and how these descriptors are imbued with details that showcase her flair for the English language.
But while this monologue filled with evocative words and poeticisms, it's also laced with hard truth and authenticity that allows us to fully understand how Bella came to be the way she is. When she speaks candidly about her mother's death, we realise how much it's affected her, the final image of her grotesque, cancer-ridden body seared into her mind, before almost matter-of-factly segueing into talking about her own 'normal' cancer, one she is determined to ignore.
Petrina Dawn Tan's monochrome set helps emphasise Bella's disillusionment with life, comprising blank white 'books' arranged as furniture, almost as if Bella's world is like a bookshelf, allowing her to organise and control every aspect of it. Their whiteness seems to suggest she sees life as devoid of colour, yet has found a kind of peace in her own solitude, learning to put aside the shadow of death lingering in her cancer.
As much as Bella is determined to have her life revolve only around herself, things change when she encounters a truly strange student. Barging into her office one day, Christopher John is unabashed and confrontational as he questions Dostoyevsky's Crime and Punishment, declares that he hates email, and that writers need either master Twitter, or commit suicide (examples on his absurd list include Sylvia Plath, Ernest Hemingway, and David Foster Wallace). Krish Natarajan excels at playing this socially awkward character, and it is clear how annoyed Bella is at his antics.
But once she gets past his audacious behaviour and puts her foot down, Bella takes a shine to him when he confesses he's writing a novel, seeing herself in him, and appreciating this act of vulnerability to share such a personal project with her. As the first person she's really interacted with in years, the two begin to bond over conversation, a light in each other's life, as we realise their bright clothes are the only things that stand out amidst the monochrome set. Their growing closeness is made clearer still when Serene quickly swaps between being Bella the character, and Bella the narrator, as she observes and describes the situation from the third person point of view, with Genevieve Peck's lighting helping distinguish these two perspectives Bella takes.
Eventually, they become comfortable enough to even have dinner together. Their loneliness seems to fade, as they realise how much they have in common. Notably, the steaks they consume are both white, suggesting similar ways of viewing the world, as social misfits choosing to live in solitude. This is a friendship that's finally meaningful for Bella, kindred spirits standing in stark contrast to the random man she picks up for a sad and absurd one night stand, or the nameless visiting professor she has weekly tennis matches with.
Fact and fiction begin to blend when the two discuss their respective novels, and The Sound Inside produces an eerie, almost surreal sensation in us with the improbability of the storylines, yet oddly affecting in their ability to evoke sympathy. The writing becomes a medium for them to express a hidden side to their cold exteriors, and when they engage with each other's work, the lights change and the music lifts, to showcase how completely enraptured they are by each other's writing, their chemistry powerful, and further enhanced by Daniel Wong's deeply evocative music. 
But all it takes is a single unexpected touch to distance them, and they shy away from each other, afraid of getting too close for fear of getting hurt, or hurting each other. Each one retreats into their own shell; Christopher finishing his novel, and Bella coming to terms with her deteriorating condition. For Bella, her isolation brings out the worst in her, repeating the words 'listen to the sound inside' over and over during an automatic writing exercise, almost like a desperate cry for help, before getting sucked into an internet wormhole as she researches the best methods for suicide.
The play's final act moves like a whirlwind as Christopher and Bella reconnect over stranger circumstances. Even then, they still share an unspoken bond, each one trusting an incredibly intimate part of their life to each other. Director Cherilyn Woo shows a keen understanding of the text and her characters, having taken us on this bumpy journey, from their initial inability to even converse, to the eventual pain and burden eased when they share it with each other. All the more heartbreak is felt then in the play's climax, as Bella betrays Christopher's trust, failing to see his anguish when she glosses over his final novel draft, in favour of her own selfish desires. As they part ways for the final time, it is hard not to well up with emotion, holding our breaths as we wonder what becomes of them.
By the play's end, showered in pages, Bella has been plunged into a sea of agony as she finds new significance in the novel, rereading it and realising how many details she missed out before. She is a changed woman, yet it is too late to change the past as she breaks down, Serene's crushing performance bringing the show to a close, while the set itself dramatically reflects the immense weight of her loss.
The Sound Inside is the rare play that shrouds itself in mystery with the many things left unsaid, yet never needs to explain it all. The final message is left mostly ambiguous, but what we are left with is a haunting production that promises we are never alone in our suffering. It is to the team's credit that they've created the terrifying weight of existence and solitude felt throughout the play, and still manages to lighten that load by the end, backed by confident, clear direction, and excellent performances from both cast members. The unexpected friendship may not survive the play, but it's enough to remind us that we are never alone, and all it takes is for one person to listen to the sound inside.
Photo Credit: Singapore Repertory Theatre
The Sound Inside plays from 10th March to 16th April 2021. Tickets available from SRT