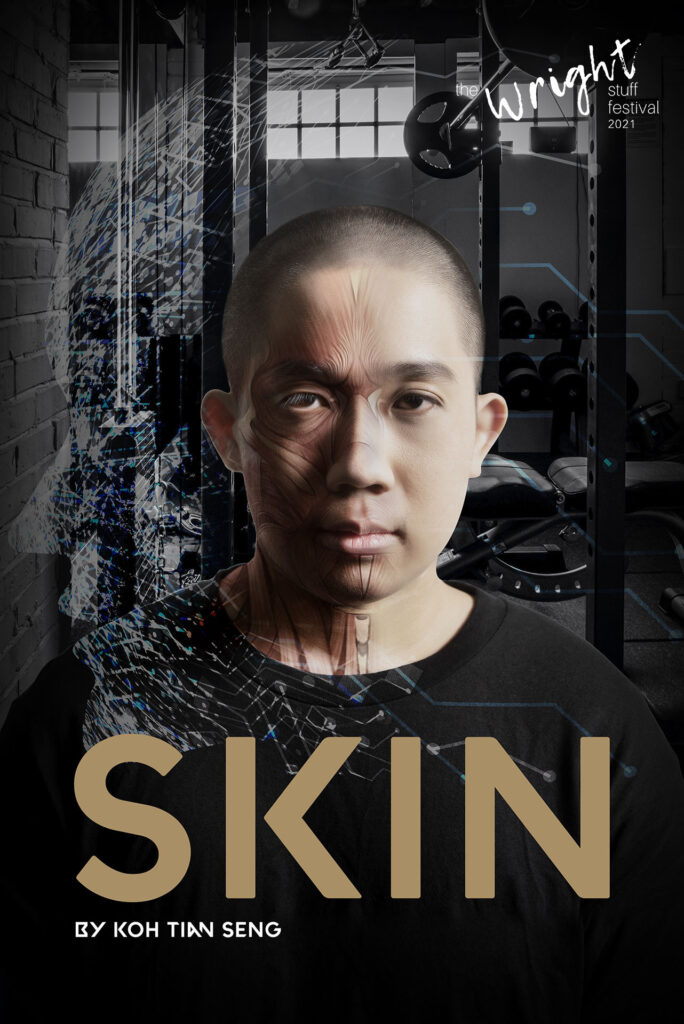 Let bygones be bygones.
Written by Koh Tian Seng and directed by Adeeb Fazah, Skin, the final play to conclude Toy Factory's 2021 Wright Stuff Festival, is a promising new work that deals with ideas of faith, commitment, and bodybuilding. The story follows Yang Xin (Dennis Sofian) as he decides to take his relationship with Afifah (Elisa Mustika) to the next level. But before he does that, he must face the greatest challenge of all – Afifah's fearsome father (Wan Ahmad).
The trope of the protective father-in-law is a well-worn one, but Singapore theatre has never quite seen a conflict like the one seen in Skin. Beyond simply gatekeeping his precious daughter's hand in marriage, writer Koh reveals a much deeper history between Yang Xin and his prospective father-in-law.
It's quickly revealed that Afifah's father owns a gym, and Yang Xin used to live with him, and train with him to become a bodybuilder. Their relationship becomes strained when Yang Xin refuses to take steroids, and he leaves. Now, coming face to face with each other again, the years of unresolved tensions erupt, and Afifah's father decides to put Yang Xin's commitment to his daughter to the test.
As a director, Adeeb Fazah is highly aware to the nuances of faith and the tensions present in the play, and leads his actors into expressing them with sensitivity and humour in their delivery. Yang Xin's casual approach to Islam is clear, as he comments about how it's just about 'not eating pork', spurring Afifah's father to question his commitment even further, and challenge him to a bodybuilding competition. The prize? His blessing for the marriage, while the punishment would be circumcision. Given just a few weeks to build their bodies up to competition standard, much of the show revolves around Yang Xin and Afifah's father reflecting on their relationship, as they each train themselves up.
As Yang Xin, Dennis Sofian possesses a world-weariness about him, where nothing he does ever seems to please his future father-in-law. There is a constant sense of insecurity he brings to the character as he tussles with the quality of a progress vlog he records for followers, and easily draws out our sympathy for him. On the other side, despite his young age, Wan Ahmad is fantastic as Afifah's father, commanding the authority demanded of his character, and a gruff facade that gives way when interacting with his daughter.
While our two main men are often separated, there is a ferocious, underlying tension that allows sparks to fly when they share a scene with each other. This is a particularly strong element of the play, and director Adeeb's vision is clear, ensuring that the tensions are clearly felt, an almost animalistic rage that arises when the two see each other. Early on, when Yang Xin and Afifah's father first meet, they already engage in a metaphorical cockfight as they attempt to stuff their face with more rice than the other, humourous yet quickly establishing their competitive nature, and foreshadowing the escalating competition between the two.
But just watching the two men tussle doesn't make for drama, and writer Koh has introduced an additional element – a hip, cool imam (Fadhil Daud) who happens to be a mutual friend between both men. As an imam who gyms as well, he understands the difficulty of gaining and cutting, while raising parallels of the gym to a religion. Almost 'magical' in nature, the imam constantly breaks the fourth wall and appears in dreams, while also providing avenues for Yang Xin and Afifah's father to express their frustrations and work through their emotions. Fadhil Daud adapts comfortably to the role, and matches his energy with the character's larger than life personality and offbeat sense of humour, allowing us to see him as a modern mystic, and it is a joy to see that this is a play that allows itself to dispel the myth of how 'serious' faith needs to be all the time.
And finally, as Afifah, Elisa Mustika encapsulates what a good supporting actress can do, given the right role. With Afifah always there to offer care and comfort to her father or partner, Elisa shows why both men dote on her so much, with her easygoing nature, domestic talents, and calm demeanour. Elisa even gets a chance to show off some of her dramatic chops in a scene where Afifah muses aloud to her late mother, lamenting the predicament she's found herself in.
Perhaps the main flaw of Skin lies in how its concerns about race and religion seem to eventually take a backseat, raised but never really discussed in detail, only for bodybuilding to take centrestage instead. Certain issues, such as sexuality and bullying, are also briefly touched on, but not quite enough to leave an impact, all of which skirt the idea of masculinity without really leaning in to the heart of the issue.
Thankfully, Skin is anchored by its core theme of forgiveness and letting go of the past, where the most outstanding scene sees Afifah's father thinking of the day he first met Yang Xin as a child, as the imam guides his memories. Here, with the help of mood lighting and his actors fully in the moment, Adeeb has crafted a deeply solemn and emotional atmosphere, and one cannot help but feel his regret pour forth as Afifah's father's tone softens, and finally accepts Yang Xin as his inheritor.
As Afifah's father begins chanting a prayer, there is a beautiful moment as the cast gathers chairs and arranges them into a perfect cube, representing the hajj, itself symbolic of total commitment to Islam. Skin nails its ending, and is a sensitively handled and well-executed musing on faith and masculinity. Watching as Yang Xin poses, strong and confident, we know that he's proven his devotion once and for all, triumphant as he beats his doubts and finally becomes the man Afifah's father always wanted him to be.
Photo Credit: Poh Yu Khing
Skin ran from 15th to 17th October 2021 at Gateway Theatre, as part of Toy Factory's The Wright Stuff Festival 2021.
The Wright Stuff Festival ran from 1st to 17th October 2021 at Gateway Theatre.