"I think it's been about nine years since I last did a feature film," actress Selena Tan confesses. "I always feel very awkward seeing myself or hearing my voice on screen, because all I see are flaws. I keep thinking to myself: I didn't do it right, and I end up watching everything else but the scenes I appear in."
The last time we saw Selena on the big screen was probably back when she still acted in Jack Neo films like I Not Stupid (2002) and Home Run (2003). Those of course, are now Singapore classics, and these days, the Dream Academy founder and artistic director has been going strong producing and acting in stage shows each year, including the ongoing Happy Ever Laughter over at the Capitol Theatre. Despite having a lot on her plate, she breathes a sigh of relief as she expresses how well this year's edition of Happy Ever Laughter has been going, saying: "Tickets are selling really well, it's being well-received by the audiences, and everything is going according as planned."
But playing a supporting role in the upcoming Hollywood film Crazy Rich Asians may just see the biggest Dim Sum Dolly make her long awaited return to the silver screen, as she prepares to head over to Los Angeles for the red carpet on 7th August. Says Selena: " I only had a small role, but to me, it's really something to be able to go there and walk the red carpet. We're all stressing about what to wear and how to walk on the red carpet. It still hasn't quite sunk it how big a deal this is, and maybe even when we step out of the limousine as the cameras start flashing, it still won't quite have hit me!"
Directed by Jon M. Chu (Now You See Me 2, Jem and the Holograms) Crazy Rich Asians is based off Singaporean author Kevin Kwan's bestselling novel of the same name. When American economics professor Rachel Chu (Fresh Off The Boat's Constance Wu) travels back to Singapore with her boyfriend Nick Young (Henry Golding), she finds herself suddenly thrust into the lifestyle of his eponymous 'crazy rich Asian' family, and must confront his dragon lady mother Eleanor (Michelle Yeoh). The first major Hollywood film to be fronted onscreen and off by a team of Asians, Crazy Rich Asians will also be featuring a host of familiar local actors, from Janice Koh to Tan Kheng Hua, Pierre Png to Koh Chieng Mun. Meanwhile, Selena plays Alix Young, youngest aunt to Nick.
On how she's preparing for the red carpet and no doubt influx of interviews in America, Selena says: "In Singapore I'm always so casual, but over there it's so different, and honestly, right now I'm just trying to get all my clothes in order, whether it's for the red carpet or for interviews. I'm a big sized girl, and we've got Frederick Lee designing my outfit for the red carpet. He's been working with us since Dim Sum Dollies and did some Happy Ever Laughter costumes too, so Frederick knows my body, and I've got friends hooking me up with makeup artists."
Selena remembers how she received the audition call while on Phuket for a holiday. "When I received the call I was all sunburnt and told them I had to reschedule! When I came back, I did my nails, got a facial and my hair done like this 'tai tai' hairstyle, and went for the audition. I remember the whole Dream Academy office laughing when I did the tai tai getup, because I'm the furthest thing from one, before I got the callback a couple of days later!"
Speaking of her method when it comes to acting on film, Selena explains: "My biggest form of preparation is by not stressing myself out. I don't want to over think things. I'm in a small supporting role, so there's no real room for a big character arc. But even so, I think that whatever we do, we put a little bit of ourselves in everything, and we find that connection to that character one way or the other, be it in their life or motivations. Jon (Chu) has been really good at finding that and letting me act from a very natural place, and he had such a great vision."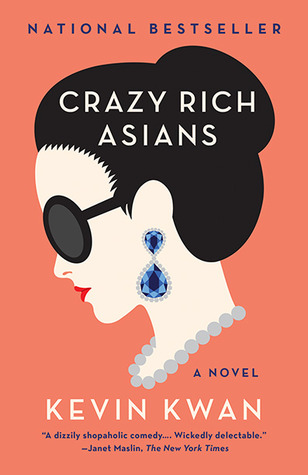 Rarely do Singaporean actors get a chance to have a taste of the Hollywood treatment, if at all, and Selena counts herself incredibly lucky to have experienced that. On the difference between shooting a local film and an international one, Selena reveals: "Local film has a lot of constraints with time and money, so we have to do everything fast. In one day, sometimes you end up doing two scenes, but in Hollywood, they end up breaking a scene into 6-7 parts and sometimes you only end up doing 2 parts in a day!"
She elaborates: "I finally understand why so many film sets have trailers. You'll find that there's actually a lot of waiting in between shoots and it's something that can really kill your mood if you're out there in the hot sun. But meeting people like Awkwafina, Ronny Chieng, Nico Santos, and Amy Cheng, who I ended up sharing a trailer with, it's a lot of fun and we hung out so much during filming. It's really a different experience to be able to head over to Kuala Lumpur and shoot these scenes in a big house, or even have whole rooms in Marina Bay Sands dedicated to makeup and wardrobe alone."
Selena ends off wistfully and hopeful: "You know, Crazy Rich Asians is really a different show. It's a love story, but its also so much more than that, with its all Asian cast and creative team. I laughed, I cried, and you come out of it feeling like you want to hug someone, to fall in love again and just be with your family."
"With three books and a movie coming out, I'm really happy for the success Kevin (Kwan) is enjoying. Still, at this stage, I don't think anyone really knows what lies in the future for the film and how it'll be received. But if my WhatsApp, Facebook and what I'm seeing online is any indication, it's gonna be big in the states, big in Asia, and really, a film to catch."
CONTEST
Win tickets to catch Selena Tan and her brethren of comedians battle it out in Happy Ever Laughter this week! All you have to do is:
1. Comment on our Instagram post with your favourite comedian in Happy Ever Laughter.
2. Like us on Facebook and Instagram
Winners will received a private message from us on Instagram.
You can currently catch Selena Tan in Happy Ever Laughter, which runs till 29th July at Capitol Theatre, tickets available from SISTIC. After returning from Los Angeles, Selena will be back for the Crazy Rich Asian Singapore premiere on 21st August. Crazy Rich Asians then opens in Singapore cinemas 22nd August 2018.